Vasan Lab
The Vasan laboratory is affiliated with the Department of Medicine in the Division of Hematology/Oncology in the Herbert Irving Comprehensive Cancer Center at Columbia University. Our research centers on oncoproteins: proteins are the building blocks of life, and oncoproteins are the building blocks of cancer. In particular, we ask how oncoproteins called kinases drive breast cancer and other solid tumors. We are especially interested in using biochemical and proteomic approaches to understand how mutant kinase proteins and modified kinase substrates modulate cancer cell signaling and drug response. Our goal is to apply these findings to discover new drug targets to prolong the lives of cancer patients.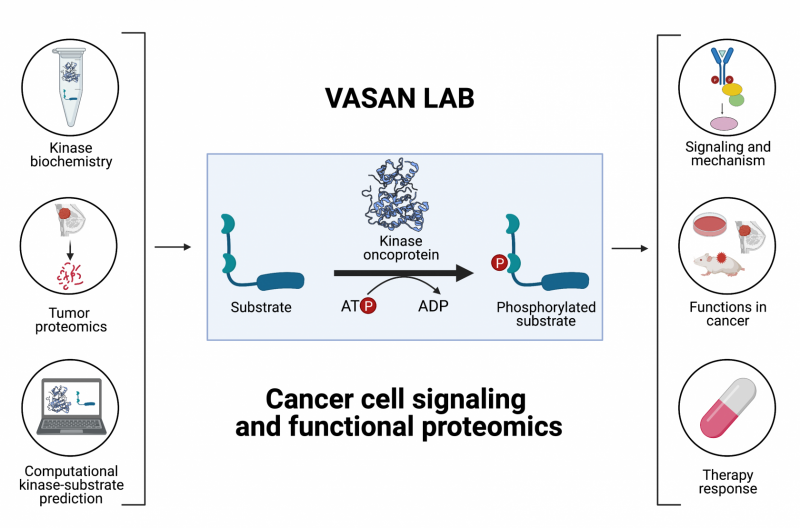 Research
Solving the PI3K mutational code to tailor PI3K inhibition in breast cancer
PIK3CA is the most frequently mutated oncogene in human cancer and PI3K inhibitors are a standard of care therapy in PIK3CA mutant breast cancer. However, in most patients, it is unknown which PI3K mutations are activating and/or drug-sensitizing. We have previously characterized double mutations in PI3K which hyperactivate PI3K resulting in increased PI3K inhibitor sensitivity (Vasan, et al. Science 2019). We now will comprehensively characterize PI3K protein variants using deep mutational scanning and structural biology. This work will define the repertoire of activating and drug-sensitive patient mutations and will guide the development of mutant-selective PI3K inhibitors.
Discovering and targeting new phosphoprotein drivers of cancer
Functional genomics has identified numerous genetic drivers of cancer, giving rise to a new generation of targeted therapies. While proteins are the primary functional machinery in cells, the vast majority of modified proteins---including phosphoproteins---lack a known kinase or biological function. We aim to illuminate this "dark phosphoproteome" by finding novel substrates of kinases using phosphoproteomics and validating frequent phosphoproteins in cancer. To this end, we have already discovered new frequently phosphorylated substrates including phosphatases, epigenetic modifiers, and metabolic enzymes, which we will functionally characterize to elucidate novel targetable phosphoprotein drivers of cancer.
Developing tools to identify new proteomic biomarkers of drug resistance in breast cancer
The response to anticancer therapies is limited by drug resistance, part of which can be explained by tumor genomics (Vasan, et al. Nature 2019). In contrast, we have little understanding of how anticancer therapies modulate the tumor proteomes of patients. Recent advances in mass spectrometry now permit unbiased proteomics of formalin-fixed paraffin-embedded (FFPE) tissue, which is how the majority of archival tumor specimens are stored. We are performing proteomic profiling of cohorts of FFPE breast tumors from patients exposed to chemotherapies and targeted therapies, in collaboration with our clinical colleagues, in order to nominate and test new proteomic markers of therapeutic resistance and response.
Lab Members
Principal Investigator
Neil Vasan, MD, PhD

Assistant Professor of Medicine

Neil Vasan is a physician-scientist who studies how oncoproteins function in cancer cell signaling and therapeutic response, with a clinical focus on breast cancer. Neil earned his AB/AM in Chemistry at Harvard College and his MD/PhD at Yale University School of Medicine. He received his clinical training in Internal Medicine at Massachusetts General Hospital and in Medical Oncology at Memorial Sloan Kettering Cancer Center, where he was a Chief Fellow, before joining the faculty at MSKCC in 2018. He completed his postdoctoral fellowship in the laboratories of José Baselga, Maurizio Scaltriti, and Lewis Cantley. He has received multiple national awards, including a Susan G. Komen Career Catalyst Research Grant (2019) and an NIH/NCI K08 Award (2020); in addition, he was selected as a NextGen Star of the American Association for Cancer Research (2020).
Select Publications
Gorelick A, Sanchez-Rivera F, Cai Y, Bielski C, Biederstedt E, Jonsson P, Richards A, Vasan N, Penson A, Friedman N, Ho YJ, Baslan T, Bandlamudi C, Scaltriti M, Schultz N, Lowe S, Reznik E, Taylor B. Phase and context shape the function of composite oncogenic mutations. Nature 2020 582:100-103.

Razavi P, Dickler MN, Shah PD, Toy W, Brown DN, Won HH, Li BT, Shen R, Vasan N, Modi S, Jhaveri K, Caravella BA, Patil S, Selenica P, Zamora S, Cowan AM, Comen E, Singh A, Covey A, Berger MF, Hudis CA, Norton L, Nagy RJ, Odegaard JI, Lanman RB, Solit DB, Robson ME, Lacouture ME, Brogi E, Reis-Filho JS, Moynahan ME, Scaltriti M, Chandarlapaty S. Alterations in PTEN and ESR1 promote clinical resistance to alpelisib plus aromatase inhibitors. Nat Cancer 2020 1:382-393.

Vasan N, Razavi P, Johnson JL, Shao H, Shah H, Antoine A, Ladewig E, Gorelick A, Lin TY, Toska E, Xu G, Kazmi A, Chang MT, Taylor BS, Dickler MN, Jhaveri K, Chandarlapaty S, Rabadan R, Reznik E, Smith ML, Sebra R, Schimmoller F, Wilson TR, Friedman LS, Cantley LC, Scaltriti M*, Baselga J*. Double PIK3CA mutations in cis increase oncogenicity and sensitivity to PI3Kα inhibitors. Science 2019 366:714-723.

Vasan N, Hyman DM, and Baselga, J. A view on drug resistance in cancer. Nature 2019 575:299-309.

Razavi P, Chang MT, Xu G, Bandlamudi C, Ross DS, Vasan N, Cai Y, Bielski CM, Donoghue MTA, Jonsson P, Penson A, Shen R, Pareja F, Kundra R, Middha S, Cheng ML, Zehir A, Kandoth C, Patel R, Huberman K, Smyth LM, Jhaveri K, Modi S, Traina TA, Dang C, Zhang W, Weigelt B, Li BT, Ladanyi M, Hyman DM, Schultz N, Robson ME, Hudis C, Brogi E, Viale A, Norton L, Dickler MN, Berger MF, Iacobuzio-Donahue CA, Chandarlapaty S, Scaltriti M, Reis-Filho JS, Solit DB*, Taylor BS*, Baselga J*. The genomic landscape of endocrine resistant advanced breast cancers. Cancer Cell 2018 34:427-438.