Esophageal Cancer
Make an Appointment
Our team of dedicated access representatives is here to help you make an appointment with the specialists that you need.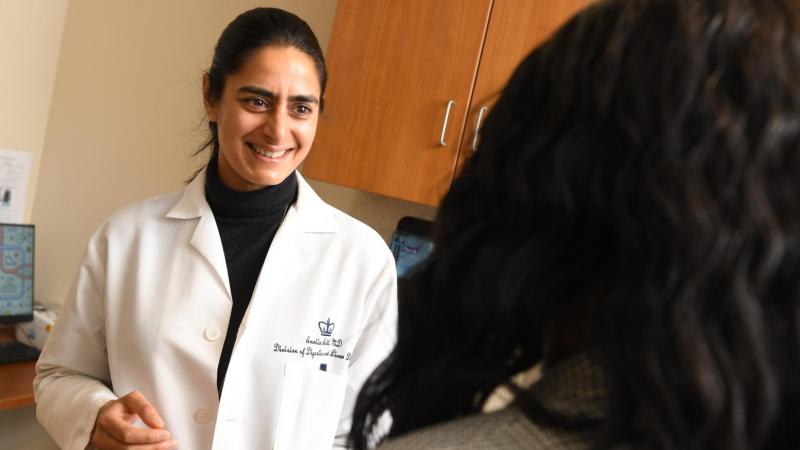 If you have esophageal cancer, you need top cancer care from a team of experts dedicated to you. At Columbia Cancer, our highly experienced cancer caregivers know that you have specific health needs and unique aspects to your individual cancer. We use science and hands-on care to develop a treatment plan just for you. 
You'll receive state-of-the-science treatments that are backed by—and even developed by—the world-renowned researchers at Columbia University. And with your compassionate care team at NewYork-Presbyterian Hospital, you'll receive the supportive care you need to navigate through every step of your cancer journey, from diagnosis to treatment to survivorship.
Our Expertise at Your Service
A cancer diagnosis can be overwhelming. Your team of compassionate caregivers are here for you and will work with you to make sure you understand all your options and can make an informed decision that makes you feel empowered, not helpless. 
Our physicians are among the most experienced in the nation, and we are one of the highest-volume centers dedicated to esophageal disease in the country. We specialize in esophagus-sparing and minimally invasive techniques for esophageal cancer that minimize risks, make your recovery faster, and produce better long-term outcomes. 
We use the power of cutting-edge technology and discoveries made in our labs to provide you with personalized, comprehensive care. Our team of researchers and physicians lead clinical research trials that bring new ideas and new treatments into our clinics. 
We're ranked among the best hospitals in the nation by U.S. News & World Report's Best Hospitals, and we're backed by the power of the National Cancer Institute, which designated Columbia University as a Comprehensive Cancer Center, its highest designation.
You'll Have Your Own Team of Esophageal Cancer Experts
Cancer diagnosis and treatment requires an entire team of specialists and support caregivers. Your clinical care team will meet with you to create a care plan just for you, and then they'll coordinate care across the spectrum of treatment and survivorship. That means you will have expert resources beyond your doctors and nurses.
You'll Have Access to Leading Clinical Trials
At Columbia Cancer, we believe that our discoveries here will end cancer everywhere. People with cancer may be able to participate in a clinical trial, often available only at our center. Our clinical trials give you access to the latest treatments, such as targeted therapies, before they are widely available.
You'll Have a Wealth of Support Resources
We created our support services to treat the whole person, not just their cancer. These services provide care and support outside of a patient's traditional treatment plan, from customized nutrition counseling to spiritual support and resources for managing stress. Each patient is different, so our team gives them the freedom to choose what they need and then streamlines those services to provide care in tandem with their treatment plan.