Head and Neck/Oral Cancers
Make an Appointment
Our team of dedicated access representatives is here to help you make an appointment with the specialists that you need.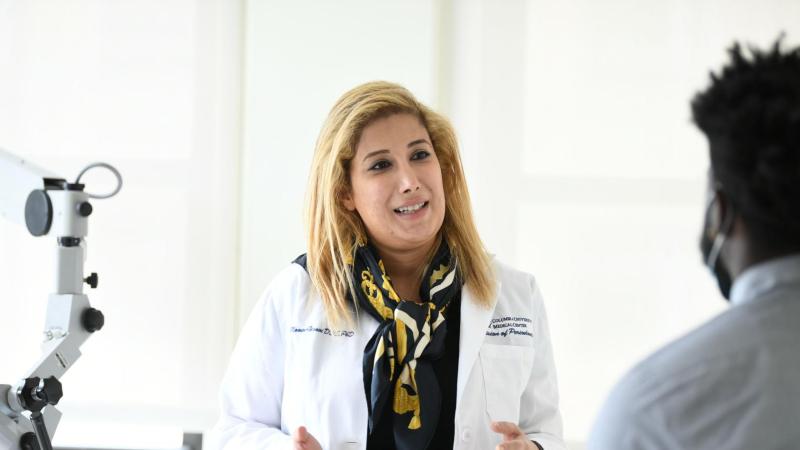 When you're diagnosed with head, neck, or oral cancer, you need the experience and expertise of a cancer treatment program that is backed by cutting-edge research and that offers a team approach to care.
At Columbia Cancer, our highly experienced caregivers are here to help you navigate every step of your cancer journey. Head and neck cancers are complex cancers that often require many different specialists, and outcomes for head and neck cancers are proven to be better at high-volume centers like ours. We have a team of experts with a wealth of experience and will coordinate your care across all your doctors so you have less to worry about.
We're ranked among the best hospitals in the nation by U.S. News & World Report's Best Hospitals, and we're backed by the power of the National Cancer Institute, which designated Columbia University as a Comprehensive Cancer Center, its highest designation.
Your team of head, neck, and oral cancer specialists will work together to design a treatment plan that is unique to your cancer. You will feel like a valuable part of this team, because you are.
Our Expertise at Your Service
The Head, Neck, and Oral Cancer Program at NewYork-Presbyterian Hospital/Columbia University Irving Medical Center has extraordinary experience treating these cancers, including rare forms. Our role as a major research center allows us to see many people with your kind of cancer. Studies have shown that high-volume centers like ours have better outcomes. And our physicians and researchers work to design new treatments so that you can have access to the newest therapies.
Learn More About Our Expertise
State-of-the-Art Care
At Columbia Cancer, we are constantly working to find new treatments for head and neck cancers. Our world-renowned researchers at Columbia University work hand-in-hand with our expert care teams to bring you the newest and best treatments for you.
Our head and neck specialists aim to give you the best outcome while minimizing the effects of your treatment on your daily life. Our surgeons take minimally invasive approaches to surgery whenever possible. We also have some of the best reconstructive surgeons and speech and swallowing therapists to help you regain as much normal function as possible after treatment.
Your compassionate care team at NewYork-Presbyterian Hospital will treat you with the warmth and respect you deserve.
You'll Have Your Own Team of Head, Neck, and Oral Cancer Experts
We bring together some of the best experts in head, neck, and oral cancers to create a care plan that is specific to your cancer and your personal needs, all in one place.
Your care team will include head and neck surgeons, medical oncologists, pathologists, dentists, oral and maxillofacial surgeons, radiation oncologists, speech therapists, nurses, nutritionists, social workers, occupational therapists, and rehabilitation specialists.
They will coordinate your care from treatment through survivorship. You will also have access to resources and support beyond your doctors and nurses.
You'll Have Access to Leading Clinical Trials
At Columbia Cancer, the discoveries made here in our labs lead to new ways to treat cancer.
People who have head, neck, and oral cancers may have the opportunity to participate in a clinical trial in addition to current treatments. Clinical trials bring you access to the newest therapies, such as targeted treatments and immunotherapies.
Supporting You Through Your Care
We created our Patient Support Services to provide you with care and support outside of traditional medical care. Through this service, you'll have access to complementary treatments like acupuncture, resources for stress management, yoga therapy, spiritual support, patient support groups, and more.