Colon and Rectal Cancer
Make an Appointment
Our team of dedicated access representatives is here to help you make an appointment with the specialists that you need.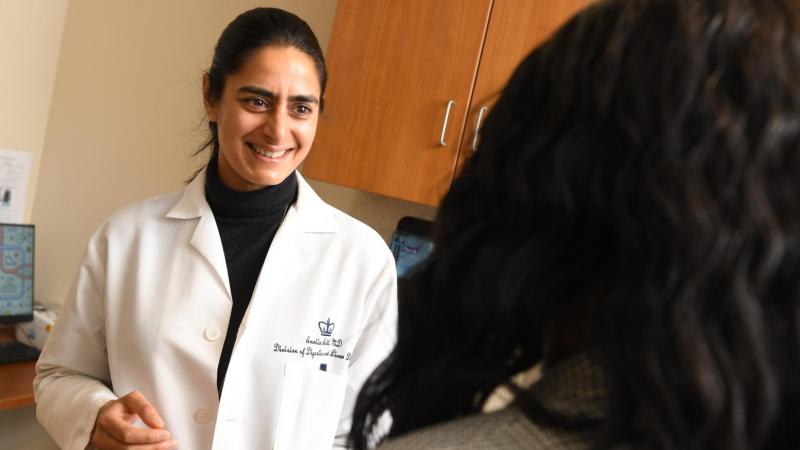 If you have colorectal cancer, you need top care from a team of experts dedicated to you. At Columbia, our highly experienced cancer caregivers know that you have specific health needs and unique aspects to your individual cancer. You'll receive state-of-the-science treatments that are backed by—and even developed by—the world-renowned researchers at Columbia University. And with your compassionate care team at NewYork-Presbyterian Hospital, you'll receive the supportive care you need to navigate through every step of your cancer journey, from diagnosis to treatment to survivorship.   
Flexibility in How and Where to Receive Treatment
Our specialists are conveniently located in Manhattan and at our regional outpatient locations in Westchester County and Hudson Valley. This provides our patients with the same outstanding care from Columbia doctors closer to home. Our team of coordinators in our new patient access center are here to help you make any appointment you may need.
Our Expertise at Your Service
Our colorectal cancer team is nationally and internationally renowned, providing expert care to our patients whether they visit our New York campus or any of our satellite centers. You can receive all the care you need in one place, coordinated with all your doctors so you have less to worry about. 
Our doctors routinely train surgeons from across the country in the latest and greatest minimally invasive techniques for colorectal surgery and our overall surgical outcomes exceed the national averages for colorectal cancer. Our world-class colorectal surgery program leads the field in finding new and better ways to treat colorectal cancer. Our team of experts work together to find the best treatment for you, and we can often provide options that restore or maintain continence when other centers can't. 
We're recognized by U.S. News & World Report as one of the top hospitals in the nation, and backed by the power of the National Cancer Institute, which designated Columbia University as a Comprehensive Cancer Center, its highest designation. 
You'll Receive State-of-the-Art Care
When you come to Columbia Cancer, you'll be cared for by an internationally renowned team that is pioneering the latest treatments and training doctors across the country on the most advanced techniques available to treat colorectal cancer. 
Our medical oncology team strives to provide personalized cancer care to patients with localized, regional, and metastatic colorectal cancer. Patients treated at Columbia routinely undergo molecular and genetic testing of their tumors, to better tailor cancer-directed therapy for every individual. For patients with localized colorectal cancer on surveillance, we use the newest technology in imaging and blood testing to make sure we detect recurrences as early as possible. 
Below take a look at some of the outstanding services we offer: 
Our surgeons are experts in minimally invasive and laparoscopic surgery, and use specialized techniques that avoid permanent ostomy, even in advanced, rare, and complex cancers related to the intestine, colon, and rectum 
Our radiation oncologists are pioneers in the use of highly targeted radiation delivery methods, such as intensity modulated radiation therapy, which minimize side effects and the total number of treatments needed 
We hold advanced knowledge in robotic colorectal surgery, an emerging technology available at only a handful of surgical centers 
Our adoption of technological innovations, such as robotic surgery and transanal endoscopic microsurgery, allows for a minimally invasive approach in many circumstances, even locally advanced cancers, providing faster recovery times, better outcomes, and improved quality of life. 
We house specialists at all of our regional outpatient locations, providing the same outstanding care wherever might be closest for you 
We offer a full range of supplementary and support services to coincide with your treatment 
Utilizing advanced and minimally invasive techniques, our interventional radiologists are able to provide a full range of treatments options that directly target the tumor. 
Your Own Team of Colorectal Cancer Experts
Cancer diagnosis and treatment requires an entire team of specialists and support caregivers. We use a patient-centered multidisciplinary clinical care team, who will meet to create your personalized care plan. Then they'll coordinate your care from treatment through survivorship. You will have access to information and support beyond your doctors and nurses.
You'll Have Access to Leading Clinical Trials
Our medical oncologists develop and lead clinical trials that can give you access to the newest therapies, many of which are only available here. We offer a wide range of clinical trials, including immunotherapy, which harnesses the power of your own immune system to fight cancer. Your oncologist will work with you and all of your other specialist to find the best treatment plan for you.
You'll Have a Wealth of Support Resources
We created our Patient Support Services to provide you with care and support throughout your medical care. Through this service, you'll have access to complementary treatments like acupuncture, resources for stress management, yoga therapy, spiritual support, support groups, and more.
Our monthly Colorectal Cancer Support Group offers you and your family members a positive in-person forum to share stories, reflect on your experiences, and share resources while connecting with people who are in your shoes, held every fourth Thursday.
Contact colorectalsupport@nyp.org or call 212-342-1155 for information and directions.