Multiple Myeloma
Make an Appointment
Our team of dedicated access representatives is here to help you make an appointment with the specialists that you need.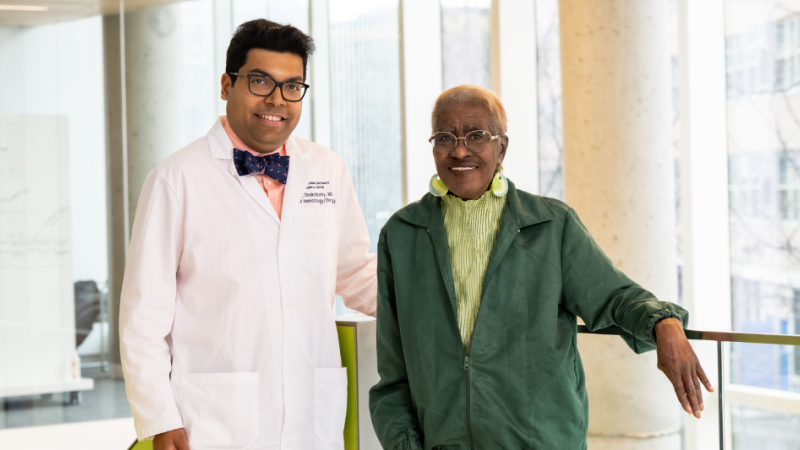 When you have a rare cancer like multiple myeloma, you need the experience and expertise of a cancer center that is backed by cutting-edge research and that offers a multidisciplinary approach to care.
At the Herbert Irving Comprehensive Cancer Center (HICCC), our highly experienced cancer care team is ready to go to work helping you navigate every step of your cancer journey.
Our Expertise at Your Service
At the HICCC, our caregivers see many people with multiple myeloma. This is a rare disease that has fewer than 4,000 people in the tristate region diagnosed each year. It's even more important to choose a cancer center that has the right experts to help you.
We follow—and we're creating—gold-standard care for multiple myeloma. You'll have the benefit of working with doctors who are also Columbia University researchers working on new ways to treat multiple myeloma.
We're ranked among the best hospitals in the nation by U.S. News & World Report's Best Hospitals, and we're backed by the power of the National Cancer Institute, which designated Columbia University as a Comprehensive Cancer Center, its highest designation.
You'll Have Your Own Team of Multiple Myeloma Experts
Multiple myelomas are complicated, and they require a team effort.
You will have a team of multiple myeloma specialists who will design a treatment plan that is specific to your cancer and your personal wishes. You will feel like a valuable part of this team, because you are. And your compassionate care team at NewYork-Presbyterian Hospital will treat you with the warmth and respect you deserve.
Your dedicated team will coordinate your care from treatment through survivorship. You will also have access to information and support beyond your doctors and nurses with specialists in every area at NewYork-Presbyterian Hospital and Columbia University Irving Medical Center.
You'll Have Access to Leading Clinical Trials
At Columbia Cancer, the discoveries made here in our labs lead to new ways to treat cancer.
Because multiple myeloma is so rare, it's important to have access to clinical research studies only available at academic cancer centers like Columbia Cancer. These research studies are testing new drugs that fight cancer and new ways of delivering therapy.
You'll Have a Wealth of Support Resources
We created our Patient Support Services to provide you with care and support outside of traditional medical care. Through this service, you'll have access to complementary treatments like acupuncture, resources for stress management, yoga therapy, spiritual support, support groups, and more.