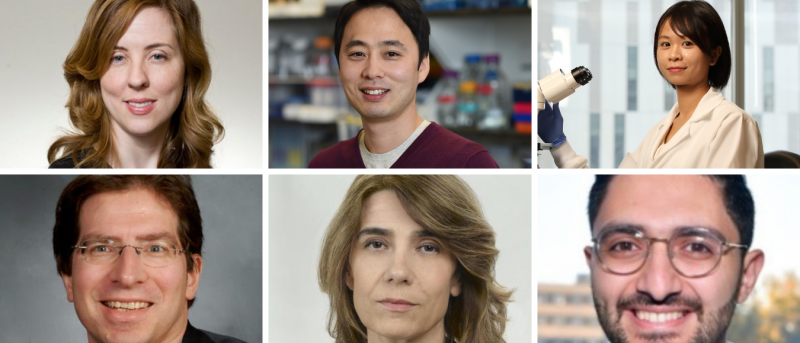 Velocity Fellows Win Early-Stage Grants to Advance Critical Cancer Research
Five Columbia University cancer researchers have been named 2020 Velocity Fellows and awarded pilot grants to support early-stage cancer research. The seed funding for the winning pilot projects stem from Velocity: Columbia's Ride to End Cancer to benefit the Herbert Irving Comprehensive Cancer Center (HICCC) at NewYork-Presbyterian/Columbia University Irving Medical Center. Last fall, due to the global pandemic, the annual fundraiser adopted a personal approach called Your Velocity, rallying Columbia community and friends virtually and raising close to $1.1 million to support cancer research at the HICCC.
"Each year we are grateful for the amount of support as our community comes together for Velocity and works towards our collective mission to advance innovations in cancer research and quality care," says Anil K. Rustgi, MD, director of the HICCC and Interim Executive Vice President and Dean of the Faculties of Health Sciences and Medicine at CUIMC. 
"Velocity awards are a critical source of support and accelerate bringing discoveries and new approaches to our patients and our community. This year's class of fellows are most deserving of support from the funds raised from Velocity. We congratulate them on their success in a very competitive process for funding and on their exceptional work."
This year, the HICCC also established the Velocity Data Science Fellowship, an award targeting young investigators and made possible with the generous support of Richard E. Witten. Witten, who sits on the HICCC Cancer Advisory Council, is an alumnus of Columbia College, special advisor to University President Lee C. Bollinger, and senior managing director at the investment firm, the Orienta Group.
The new class of Velocity Fellows are focusing on varied research interests including novel therapeutic targets, studying depression in breast cancer patients, and examining what drives drug resistance in cancer patients. 
This year's Velocity Fellows are:  Iok I. Christine Chio, PhD, assistant professor of genetics and development in the Institute for Cancer Genetics at Columbia University Vagelos College of Physicians & Surgeons (VP&S); Eileen Connolly, MD, assistant professor of radiation oncology at VP&S; John C. Markowitz, MD, professor of clinical psychiatry at VP&S; Laura Pasqualucci, MD, professor of pathology and cell biology in the Institute for Cancer Genetics at VP&S; and Hee Won Yang, PhD, assistant professor of pathology and cell biology at VP&S. 
The inaugural recipient of the new Velocity Data Science Fellowship is Ali Soroush, MD, chief gastroenterology fellow in the Division of Digestive and Liver Diseases at Columbia whose work melds machine learning approaches and clinical data to address GI cancers.
Velocity fellow applicants were required to assemble a team with interdisciplinary skills and expertise, bridging together experts from the clinic and the lab and to propose research that will accelerate benefit to patients through new treatment approaches, improved clinical outcomes, new research avenues, policy changes, or improved strategies in cancer prevention, care, and survivorship. Each Velocity fellow will receive $100,000 in grant money to fund their projects for one year. 
Registration for Your Velocity is open now. The virtual event gives participants a chance to support the HICCC and cancer research by riding, walking, running, or doing any activity of their choice on or before October 3, 2021—Velocity Day.
New Class of Velocity Fellows and Winning Projects:
"A Chemical Proteomic Approach to Overcome Immune Evasion in Pancreatic Cancer"
Lead Investigator: Iok I. Christine Chio, PhD
Co-investigator: Marko Jovanovic, PhD
Recent advances in immunotherapy have dramatic effects in curing patients suffering from many cancers. However, these advances have not been effectively translated to pancreatic ductal adenocarcinoma (PDA), where the major histocompatibility complex I (MHC-I) is not effectively expressed at the membrane. Dr. Chio's project centers on restoring MHC-I surface expression in PDA to translate immunotherapy to this disease. In addition to illuminating basic mechanisms, successful completion of these studies will create forward momentum for the malignancies. 
"Checkpoint Inhibition and High-dose Radiation"
Lead Investigator: Eileen Connolly, MD
Co-investigator: Darrell Yamashiro, MD
Combining immunotherapy with high-dose radiation therapy holds promise for cancer treatment. However, tumor resistance and relapse, which is causatively linked to increased immunosuppressive immune response in the tumor microenvironment, are still prevalent. Dr. Connolly and her collaborators have demonstrated that combining an inhibitor of the transcription factor Notch with immunotherapy and high-dose radiation therapy synergistically inhibits tumor growth. Their project will investigate the underlying mechanism of synergy determining whether Notch signaling regulates immunosuppressive immune responses in tumors after radiotherapy, and will provide preclinical data for the design of future clinical trials to evaluate the efficacy of combined-modality treatment with immunotherapy, radiotherapy, and anti-Notch therapy.
"Randomized Feasibility Trial of Tele-IPT and Tele-Pharmacotherapy for Depression In Patients with Non-Metastatic Breast Cancer"
Lead Investigator: John C. Markowitz, MD
Co-investigators: David Hellerstein, MD; Dawn Hershman, MD
Cancer and depression commonly occur together, and each worsens the other.  Dr. Markowitz and collaborators conducted a large psychotherapy study treating depression in breast cancer patients, showing that psychotherapy lowers symptoms. However, no studies to date have compared depression-focused psychotherapy to antidepressant medication for patients with breast cancer and depression. Expanding on his work, Dr. Markowitz and his team will investigate whether breast cancer patients would accept either psychotherapy or medication as treatment. In this study, the researchers also will measure a potential biomarker called C-reactive protein, a blood test of inflammation elevated in both cancer and depression, which may predict medication response allowing doctors to tell ahead of time which patients will benefit from anti-depressant therapy. 
"Hypermutated super-enhancers identify novel therapeutic targets in diffuse large B cell lymphoma"
Lead Investigator: Laura Pasqualucci, MD
Co-investigators: Riccardo Dalla-Favera, MD; Alberto Ciccia, PhD
Diffuse Large B-cell Lymphoma (DLBCL) is the most common, aggressive blood cancer and remains incurable in some 30% of patients. One barrier to success is the remarkable heterogeneity of these tumors, which comprise multiple subtypes reflecting in part the involvement of distinct coding-genes (i.e. genes containing the information to produce proteins). However, the non-coding portion of the DLBCL genome (~98% of all cell DNA) remains largely unexplored. Dr. Pasqualucci and colleagues discovered a pervasive mutational activity that introduces DNA changes in specific non-coding regions, known as super-enhancers and delegated to switch-on critical genes that potentially facilitate tumor development. This project aims to dissect the consequences of these mutations and identify unique weaknesses of the lymphoma cells that are dependent on mutated super-enhancers and could be used for the design of more effective targeted therapies in DLBCL. 
"Deciphering mechanisms of CDK4/6-inhibitor resistance to determine new breast cancer therapeutic opportunities"
Lead Investigator: Hee Won Yang, PhD
Co-investigators: Gary Schwartz, MD; Hanina Hibshoosh, MD, PhD; and Minah Kim, PhD
Breast cancer is the second most common cause of death from cancer in women. Metastatic breast cancer is responsible for the vast majority of those deaths. Historically, metastatic breast cancer has rarely been curable, but recently FDA-approved cyclin dependent kinase 4 and 6 (CDK4/6) inhibitors have shown promising clinical outcomes. However, the development of resistance to CDK4/6 inhibitors has severely limited the success of these agents. Dr Yang and his team are studying mechanisms that lead to therapeutic resistance in patients with metastatic breast cancer and drug combinations that could overcome resistance.
Velocity Data Science Fellow
"Personalized upper GI cancer risk calculation using an EHR-based algorithm"
Ali Soroush, MD
Upper gastrointestinal (UGI) cancers of the esophagus and stomach account for a major proportion of cancer-related deaths worldwide. The two most prevalent UGI cancer subtypes globally are esophageal squamous cell cancer and gastric cancer. In the United States, these two cancers have a higher incidence and mortality in African Americans, Asian Americans, and Hispanics compared to non-Hispanic whites, yet guidelines do not recommend routine screening for these cancers. As UGI cancers are associated with high mortality, detection of premalignant lesions and early cancer is key to reducing these disparities. Dr. Soroush and his collaborators hypothesize that an automated machine-learning approach can identify risk profiles for UGI cancers using existing electronic health records. Risk cohorts identified with this algorithm will be used to personalize patient selection for endoscopic screening with a broader goal of improving outcomes and reducing disparities in UGI cancers.