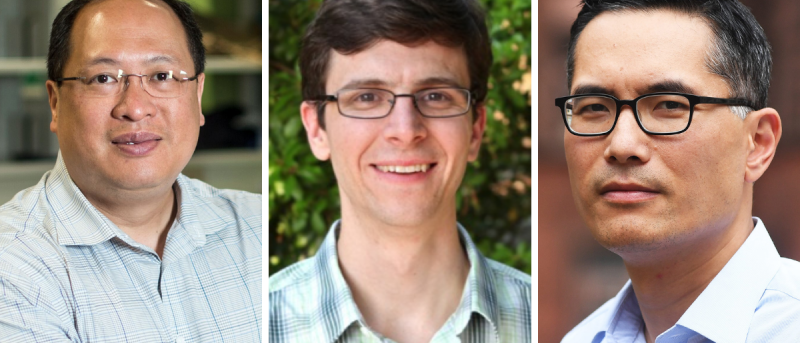 Engineering Cancer Solutions
Pilot grant awards support innovative engineering-cancer research collaborations.
Two Columbia University research teams led by researchers in oncology and engineering have won pilot grant awards from the Herbert Irving Comprehensive Cancer Center (HICCC) and Columbia Engineering. The winning projects, jointly funded by the two divisions, exemplify cutting-edge work that sit at the cross section of cancer and engineering, addressing solutions to cancer with truly innovative scientific technologies and research methods.
Lance Kam, PhD, professor of biomedical engineering at Columbia Engineering, is the lead principal investigator on a multidisciplinary team focused on delivery and production of engineered lymphocytes for promising new immunotherapies such as chimeric antigen receptor (CAR) T cell therapy. Dr. Kam is a member of the HICCC and its Tumor Biology and Microenvironment research program. 
Peter Sims, PhD, associate professor of systems biology at the Vagelos College of Physicians and Surgeons and HICCC member of the Precision Oncology and Systems Biology program, and Samuel Sia, professor of biomedical engineering at Columbia Engineering, are co-lead investigators on a project to develop a novel drug screening platform for tailored cancer treatments. The system aims to predict which treatment is most likely to benefit a given patient tailored to their cancer type. This is the second consecutive year of funding for Drs. Sims and Sia who received a HICCC-Engineering pilot grant in 2020. 
The two teams have each received a one-year $80,000 award. The HICCC-Columbia Engineering joint research pilot grant program funds innovative, collaborative research on topics or problems that cross disciplines and unite researchers. The ever-expanding partnership has included educational initiatives and additional funding opportunities that aim to spur inventive, out-of-the-box ideas and solutions to end cancer.
Winning Projects: 
T cell Adoptive Immunotherapy through 3D Biomaterials and Mechanobiology
Lead Investigator: Lance Kam, PhD 
Co-Investigators: Benjamin Izar, MD; Helen Lu, PhD; and Ran Reshef, MD
Adoptive transfer with autologous tumor-infiltrating lymphocytes (TILs) or Chimeric Antigen Receptor (CAR)-based therapies are promising approaches for patients with solid tumors. These  therapies harness the body's own immune system to fight cancer. Both TILs and CAR T-cell therapy involve taking a patient's own T cells, altering them in the lab, and transferring them back to the patient, boosting the patient's immune system to more effectively identify and eliminate tumor cells. Clinically, the deployment of such therapies is limited by the ability to produce and manufacture the engineered cells from small amounts of tissue or blood without reducing anti-tumor efficacy of the final cell product. 
The researchers are combining their expertise in clinical T-cell therapy, mechanobiology, and biomaterials, to design a next-generation platform to improve the potency and quantity of cells used in cell therapy. T cells from a patient, to date, can't be copied and produced in sufficient quantity, as they have been fighting cancer for some time and enter a state of exhaustion. Reengineering the biomaterials used in cell production can rejuvenate these cells. Development of such a system could lead to new devices capable of processing the large numbers of cells needed for cellular therapy, and offer insights into how the local tumor structure and mechanics of tissues and tumors influences T-cell function.
 
Microfluidic Platform for Automated Multiplexed Drug Testing on Intact Biopsy Samples
Lead Investigators: Samuel Sia, PhD, and Peter Sims, PhD
The Sia and Sims labs are co-developing a microfluidic drug screening platform for large-scale analysis of cell type-specific drug response directly on intact patient tumor tissue. The technology will allow for the analysis of multiple drugs repeatedly across slices of tissue biopsy or resection specimens using high-throughput single-cell RNA-sequencing as a readout for the drug screens. The single-cell analysis, an expertise area of the Sims lab, enables researchers to analyze drug response in every single cell type in the tumor, giving researchers more information about how cells work and interact. The joint project leverages Dr. Sia's expertise in microfluidic devices, an advanced system for miniaturizing complex, unwieldy bioassays. Because of the anticipated rapid turnaround of these assays (days), the researchers say this approach could facilitate faster clinical decision-making than approaches that require the development of personalized, cell-based models (weeks). By offering a preview of cell type-specific drug response directly in intact patient tumor tissue, the team's long-term goal is to develop novel cellular and molecular enrollment criteria for clinical trials and to improve outcomes in early trials.