Our Approach and Expertise
Make an Appointment
Our team of dedicated access representatives is here to help you make an appointment with the specialists that you need.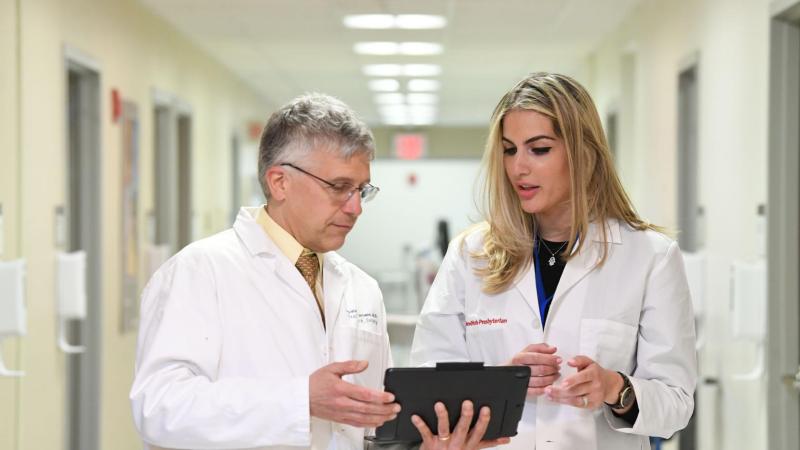 The Head, Neck, and Oral Cancer Program at NewYork-Presbyterian Hospital/Columbia University Irving Medical Center has extraordinary experience treating cancers of the mouth, throat, sinuses/nasal cavity, larynx, thyroid, and skull base (such as pituitary tumors). Our exceptional team includes head and neck surgeons, oral surgeons, medical oncologist, radiation oncologist, oral surgeons, maxillofacial prosthodontics, dentists, and speech therapists.
Some of these cancers are rare, with as few as 2,000 people being diagnosed a year. It's critical that you come to a research center like ours that sees many people with your kind of cancer. Studies have shown that high-volume centers like ours have better outcomes. Additionally, our physicians and researchers work to design new treatments so that you can have access to the newest therapies.
You will receive care from our experts in head, neck, and oral cancer diagnosis, treatment planning, and delivery, plus a team of people to help you in your recovery.
We're known for:
A team approach to care, bringing together experts from different disciplines to look at your cancer treatment and recovery from a 360-degree view.
Pioneering minimally invasive surgeries to reduce your need for a tracheostomy or feeding tube after surgery and to speed your recovery.
Personalized medicine that looks for molecular changes in your cancer to target with new treatments.
Reconstructive surgeons with specialized training and expertise in facial reconstructive surgery. These experts aim to stop your cancer and minimize any side effects on your quality of life.
Understanding the difficult issues involved with head, neck, and oral tumors, and providing you with an entire team of support with psychosocial resources, rehabilitation, nutrition, and speech and swallowing therapy.