Yvon Woappi, PhD
Herbert and Florence Irving Assistant Professor of Physiology and Cellular Biophysics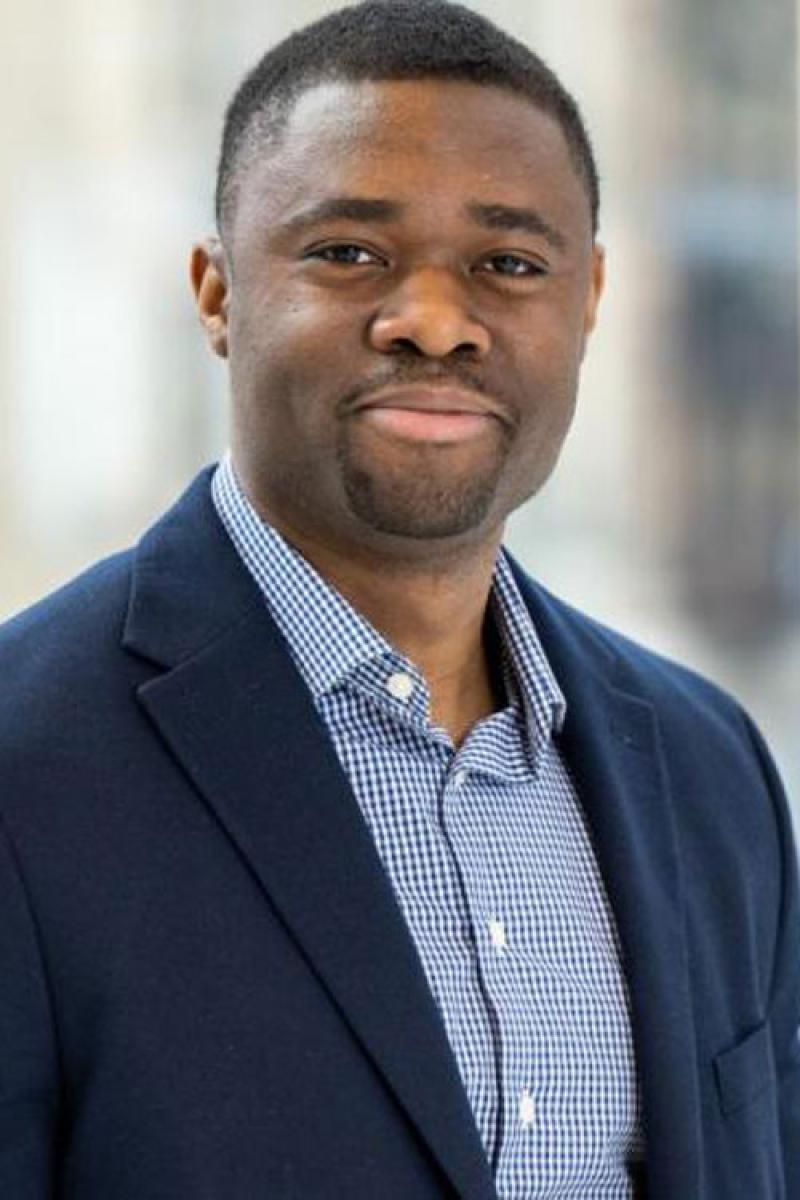 Overview
Dr. Yvon Woappi (Pronounced: E-Von wah-PEE) is an Assistant Professor of Physiology and Cellular Biophysics, and the Endowed Herbert and Florence Irving Assistant Professor of Dermatology in the Vagelos College of Physicians and Surgeons at Columbia University. He equally holds an affiliate faculty appointment in the Department of Biomedical Engineering at the Fu Foundation School of Engineering and Applied Science at Columbia University.

Yvon's passion for life science and engineering ignited during his childhood in Douala, Cameroon and was magnified after his family immigrated to the U.S. during his middle school years. He went on to earn his B.S. in Biology from the University of Pittsburgh and his Ph.D. in Biomedical Sciences as a Grace Jordan McFadden Fellow under Lucia Pirisi-Creek, M.D. at the University of South Carolina School of Medicine. His doctoral work established the skinoid culture platform for the extraction and expansion of epidermal stem cells, which helped characterize the relationship between epithelial regeneration and virus-induced neoplasia (J Virol 92:e00331-18). This research laid the groundwork for synthetic regeneration, the research concept he would later pursue in his independent lab.
Yvon went on to complete his postdoctoral training in the Harvard Dermatology Research Training Program at Harvard Medical School and Brigham and Women's Hospital. There, he studied epidermal stem cell renewal in inflammation and cancer, developing novel tissue-specific gene editing platforms to investigate skin stem cell biology in vivo. His postdoctoral work was awarded the NIH K99/R00 pathway-to-independence MOSAIC award to advance his research on skin stem cell biology and regeneration.
He joined the faculty at Harvard Medical School in 2021 as an Instructor of Dermatology, then transitioned into his Assistant Professorship in the Fall of 2022 at Columbia University. He is currently the director of the Synthetic Regeneration and Systems Physiology Laboratory at Columbia.

Yvon's research accomplishments have earned numerous distinctions, prizes, and awards, including the MIT Rising Star Award and designation among the "1000 Inspiring Black Scientists in America" by Cell Press News and the Community of Scholars. Yvon is also an inaugural recipient of the NIH MOSAIC fellowship from the National Institute of General Medical Sciences and is an ardent proponent of inclusive excellence. Outside of the lab, he enjoys spending time with his wife and daughter, and going on nature walks. He is equally an avid chess player.
Academic Appointments
Herbert and Florence Irving Assistant Professor of Physiology and Cellular Biophysics
Research
The Woappi Lab
The Woappi lab for Synthetic Regeneration and Systems Physiology aims to understand how varied cells mediate restoration of damaged tissue, with the goal of leveraging this insight to develop novel treatments for large-scale tissue injuries. We study tissue as a system and develop gene-editing tools and synthetic biotechnologies, along with 3D skin culture systems, to delineate the genetic, epigenetic, and biophysical events orchestrating distinct cells towards restoration of tissue.
Our laboratory has three major research interests:
Defining the biophysical mediators of wound healing by developing microphysiological systems (MPS) of wound mimicry
Developing synthetic biotechnologies to examine the regeneration potential of mammalian tissue
Characterizing the immunological responses to wound injury. 
Wound Physiology
Our research established the human skinoid culture system, which enables spatiotemporal modeling of human tissue reconstruction ex vivo. We are furthering this work by creating microphysiological systems mimicking human wound healing and using these platforms to model the cellular heterogeneity of tissue healing .
Synthetic Regeneration 
Our team is motivated to define the molecular, genetic, and epigenetic events enabling heterogenous cells to orchestrate restoration of damaged tissue. We are developing novel synthetic biotechnologies to functionally dissect the role of specific cell populations in tissue maintenance, neoplasia, and wound healing. 
Systems Immunology of Wounds 
Our research seeks to understand how localized immune cells enable proximal and distal orchestration of tissue stem cells to a healing state. Our group employs quantitative systems biology to uncover novel immune contributions to tissue healing. We leverage this insight to develop synthetic immunosurveillance systems (S.I.S) with prophylactic and therapeutic potentials for wound patients. 
Selected Publications
Boudra, R;
Woappi, Y*
; Wang, D; Xu, S; Wells, M; Schmults, C; Lian, C; Ramsey, R.
Regulation of 5-hydroxymethylcytosine by TET2 contributes to squamous cell carcinoma tumorigenesis.
Journal of Investigative Dermatology (2021). DOI: 10.1016/j.jid.2021.09.026   *= co-first author
Woappi, Y*
; Altomare, D; Creek, K; and Pirisi, L.
Self-assembling 3D spheroid cultures of human neonatal keratinocytes have enhanced regenerative properties
. Stem Cell Research (2020). DOI: 10.1016/j.scr.2020.102048   *= co-first author 
Feng, Li;  Yuan, C;  Xu, S;  Zu, T;
Woappi, Y,
Lee, C;  Abarzua, P; Wells, M; Ramsey, M; Frank, N; Wu, X; Mandinova, N;  Frank, M; Lian, C; and Murphy, G.
Loss of the Epigenetic Mark 5-hmC in Psoriasis: Implications for Epidermal Stem Cell Dysregulation
(2020). Journal of Investigative Dermatology. DOI: 10.1016/j.jid.2019.10.016
Woappi, Y*
; Hosseinipour, M; Creek, K; and Pirisi, L.
Stem Cell Properties of Normal Human Keratinocytes Determine Transformation Responses to Human Papillomavirus 16 DNA
(2018), Journal of Virology. DOI:
https://doi.org/10.1128/JVI.00331-18 
 *= co-first author
Woappi, Y*
; Jangiti, R., Singh, Om.
Synthetic immunosurveillance systems: Nanodevices to monitor physiological events
(2014). DOI: 10.1016/j.bios.2014.04.056