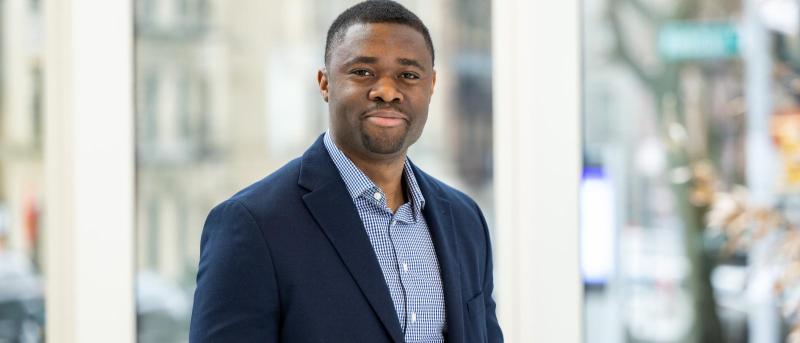 Yvon Woappi, PhD: Path to Cancer Research Begins with a Walk in the Park
Dr. Woappi shares moments from his upbringing that helped shape the scientist he is today and why joining the HICCC gives him the perfect research environment to collaborate with clinicians and patient groups.
Yvon Woappi's passion for life science and engineering ignited during his childhood in Douala, Cameroon. Regular visits to local parks as a kid led to a fascination with fireflies and later, a firefly collection. Periodic nature walks with his father, a physicist, who enjoyed talking about science and astronomy during their time together, helped shape Dr. Woappi's early interest in the natural and biological world.
This grew throughout his middle school and high school years, which were spent in Pennsylvania when his family immigrated to the U.S. His father, who was also a computer engineer, and his mother, a librarian, emphasized the importance of education. 
"My parents really wanted us to come here and access the opportunities in the U.S. for a world-class education; it was important for them to give all of us that opportunity," he says. "My siblings—there are four of us—all went into computer science or related fields. I'm the only one who turned to biology."
Dr. Woappi was just a junior in college when he lost his father to colorectal cancer. That life-changing experience propelled him into cancer biology—a field he had not yet considered pursuing as a career. Now as a member of the Herbert Irving Comprehensive Cancer Center (HICCC) at New York-Presbyterian/Columbia University Irving Medical Center (CUIMC), Dr. Woappi has devoted his career to investigating better and improved ways to treat cancer and heal tissues. 
Focus: Tissue regeneration and cancer
Dr. Woappi, a Herbert and Florence Irving Assistant Professor of Physiology and Cellular Biophysics, joined Columbia in September of 2022, following postdoctoral training at the Harvard Dermatology Research Training Program at Harvard Medical School and Brigham and Women's Hospital. There, he studied epidermal stem cell renewal in inflammation and cancer, developing novel tissue-specific gene editing platforms to investigate skin stem cell biology in vivo. At Columbia, where he has faculty affiliations in the Department of Dermatology and the Department of Biomedical Engineering at Columbia Engineering, Dr. Woappi has established a lab focused on tissue regeneration.
"Cancer is really a non-healing wound. Many of the phenotypes and transcriptomic profiles of cancer cells mimic that of a wound, except cancer never actually heals," says Dr. Woappi. "While we have an interest in tissue regeneration, our lab actually seeks to uncover pathways that are seen in cancers but can be safely repurposed in normal tissue to help regenerate large injuries and stimulate repair of non-healing wounds."
Dr. Woappi's Synthetic Regeneration and Systems Physiology lab is working with single cell RNA sequencing and CRISPR gene-editing techniques to identify key genes that enable normal skin cells to stop dividing once they've completed the wound-healing process. They are studying these mechanisms using mice models, squamous cell carcinoma cell lines and skin organoids to identify potential therapeutic targets. 
Rising star
Columbia has been a big draw for Dr. Woappi since participating in the inaugural Rising Stars in Engineering in Health Workshop in 2020 as a postdoc. The workshop, now in its third year, is a partnership between CUIMC, Columbia's School of Engineering and the Department of Biomedical Engineering at Johns Hopkins University. The two-day program selects a cohort of postdoctoral fellows, research scientists and graduate students across the U.S. on the brink of advancing their career to faculty positions. It provides them with research and educational programming alongside faculty from Columbia, the HICCC and Johns Hopkins specializing in the intersection of biomedical engineering and science. 
"What I love about the medical center environment is my proximity to patient groups and access to clinical collaborators," says Dr. Woappi. "I feel strongly that [clinicians'] input should inform the science we do in the lab, and that our discoveries should impact clinical care." 
Diverse perspectives to truly advance research 
Dr. Woappi is currently focused on recruiting members to join his lab, and a key tenet of his research approach is grounded in "inclusive excellence." More voices and brain power at the table, tackling the hard problems in science and medicine, are better than the one.
"Creating environments that really capture the broad talent in our society is where creativity and innovation dwell; that is inclusive excellence," says Dr. Woappi. 
"I find that imaginative and ingenious thinking often comes from our different lived experiences. We must harness this resource strategically," he adds, "to solve some of the biggest, most challenging questions of the modern society, like how to cure cancer, how to heal tissue, how to regenerate organs. We need more engagement from trained people of all sorts of backgrounds, with all sorts of lived experiences and perspectives to solve these grand challenges."