Xiaowei Chen, MD
Cytopathology, Gynecologic Oncology, Pathology - Anatomic & Clinical, Pathology-Anatomic/Pathology-Clinical
More specialties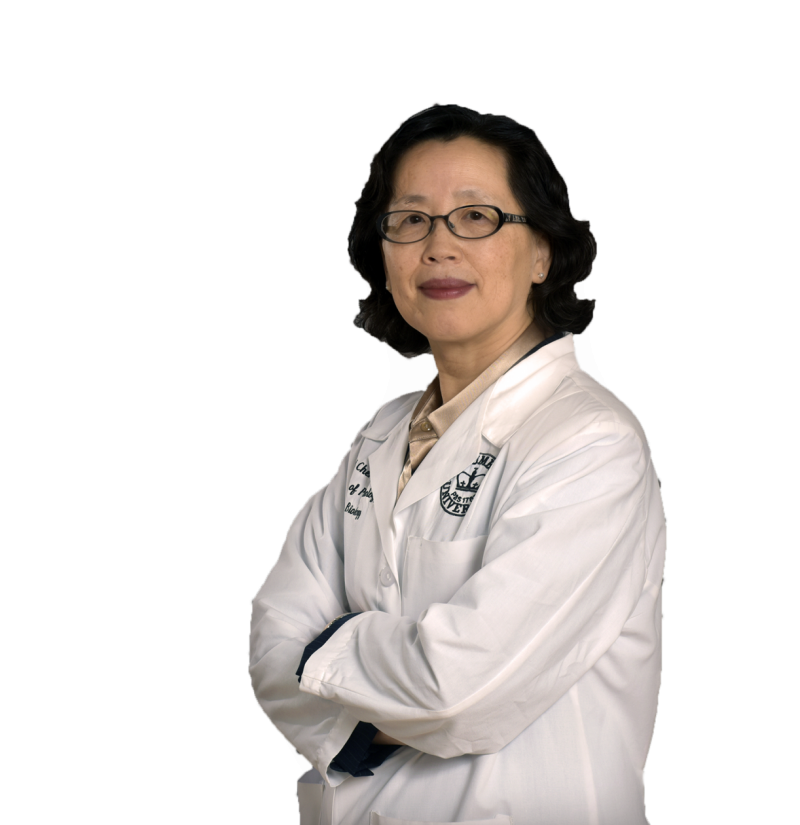 Overview
Dr. Xiaowei Chen is a board certified pathologist who specializes in gynecologic pathology and cytopathology. Her main clinical services are focused on gynecologic pathology, gynecologic cytology, non-gynecologic cytology, and fine needle aspiration cytology at Columbia University Medical Center. Her research interests include gynecologic tumors, gynecological cytology, and general cytopathology.
Dr. Chen earned her medical degree at Norman Bethune University of Medical Sciences, Changchun, China, followed by the residency in anatomic pathology and clinical pathology at Mt. Sinai Medical Center in New York, where she also completed a fellowship in cytopathology.
Dr. Chen has published many valuable articles in the fields, including peer-reviewed articles, abstracts, and presentations.
Email: xc2159@cumc.columbia.edu
Areas of Expertise / Conditions Treated
Academic Appointments
Associate Professor of Pathology & Cell Biology at CUMC
Hospital Affiliations
NewYork-Presbyterian / Columbia University Irving Medical Center
Schedule an Appointment
Connect Patient Portal
For existing patients, login to make an appointment, view documentation or contact your care provider.
Insurance Accepted
Cigna
EPO
Great West (National)
HMO
POS
PPO
Emblem/GHI
Medicare Managed Care
PPO
Emblem/HIP
ConnectiCare
EPO
Essential Plan
HMO
Medicaid Managed Care
Medicare Managed Care
POS
PPO
Select Care (Exchange)
Vytra
Medicare
Railroad
Traditional Medicare
UnitedHealthcare
Columbia University Employee Plan
Compass (Exchange)
Empire Plan
HMO
Medicare Managed Care
POS
PPO
*Please contact the provider's office directly to verify that your particular insurance is accepted.
Credentials & Experience
Education & Training
Jilin Medical College, China
Residency: Mount Sinai Medical Center
Residency: 2002 Mount Sinai Medical Center
Fellowship: Mount Sinai Medical Center
Committees, Societies, Councils
1. American Society of Cytopathology (ASC)
2. The United States and Canadian Academy of Pathology (USCAP)
Board Certifications
Cytopathology
Pathology-Anatomic/Pathology-Clinical
Research
Selected Publications
Peer-Reviewed Publications in Print
1. Chen X, M.D., Arend R, M.D., Hamele-Bena D, M.D., Tergas A, M.D., MPH, Hawver M, M.D., Tong G, M.D., Wright T, M.D., Wright J, M.D.: Uterine carcinosarcoma: clinical, histopathological and immunohistochemical characteristics Int J Gynecol Pathol (Accepted)
2. Green DA, Whittier S, Greendyke W, Win C, Chen X, Hamele-Bena D: Outbreak of Rapidly Growing Nontuberculous Mycobacteria (RG-NTM) Among patients Undergoing Cosmetic Surgery in the Dominican Republic. Ann Plast Surg; 2017; 78(1): 17-22
3. Tong GX, Hawver M, Wei JJ, Chen X, Bena DH: Mutually Exclusive Expression of PAX8 and p63 in Transitional Cell Tumors of the Ovary: The Diagnostic and Histogenetic Significance. J Pathol & Microbiol 2016; 1(1): 1004.
4. Vink JY, Qin S, Brock CO, Zork NM, Feltovich HM, Chen X, Urie P, Myers KM, Hall TJ, Wapner R, Kitajewski JK, Shawber CJ, Gallos G. A new paradigm for the role of smooth muscle cells in the human cervix. Am J Obstet Gynecol. 2016; 215(4): 478e1-478e11[Epub ahead of print]
5. Chen X, Wright JD, Abellar RG, Koehne de Gonzalez A, Collins N, Wright TC, Hamele-Bena D: Cytological Features of Choricarcinoma in a Pap Test: a case report and literature review. Diagn. Cytopathol 2015; 44(4): 324-328
6. Chen X, Hamele-Bena D, Galic VS, Liu-Jarin X, Ko KY, Herzog T, Wright JD, and Wright TC: Infiltrating adenomyosis of cervix with features of a low grade stromal sarcoma: a case report and literature review Int J Gynecol Pathol 2014; 33(3): 253-257
7. Chen X, Lagana S, Poneros J, Kato T, Remotti F, He H, Kaminsky D, Hamele-Bena D: Cytological diagnosis of angiosarcoma arising in an immunosuppressed patient 6 years after multi-visceral transplantation: a case report and literature review. Diag cytopathol 2014; 42(10):884-889
8. Chen X, Hamele-Bena D, Chow KF, Hawver M, He, H, Raphael B, Jain S, Wright TC: B-cell lymphoma of the vagina occurring after treatment for classic Hodgkin lymphoma: a case report and literature review. Diagn. Cytopathol 2013; 41(5):463-465
9. Jain S, Raphael B, Friedman K, Chen X, Ibrahim S: Relationship between classical Hodgekin's lymphoma and diffuse large B-cell lymphoma: Separate entity or biologic continuum. IJCRI 2011; 2(5):13-20
10. Brady PC, Chen X, Burke, WM, Deutsch I, Sun X, Herzog T, Wright JD: Detection and Significance of Parametrial Micrometastases in Early Stage Cervical Cancer. Anticancer Res.2011; 31(1): 243-247
11. Tong G, Devaraj K, Hamele-Bena D, Yu W, Turk A, Chen X, Wright J, Greenebaum E: PAX8: A Marker for Carcinoma of Mullerian Origin in Serous Effusion. Diagn. Cytopathol 2011; 39(8): 562-566
12. Chen X, Remotti F, Tong G, Gorczyca E, Hamele-Bena D: Fine Needle Aspiration Cytology of Subcutaneous Toxoplasmosis: A case report. Diagn. Cytopathol Diagn. Cytopatho 2010; l 38(10): 717-720
13. Chen X, Yu K, Tong G, Hood M, Storper I, Hamele-Bena D: Fine Needle Aspiration of Pleomorphic Lipoma of the Neck. Report of Two Cases. Diagn Cytopathol 2010; 38 (3): 184-184
14. Szporn A, Chen X, Wu M, Burstein D: Collagen balls in cervical-vaginal smears. Acta Cytologica 2005; 49(3):262-264
15. Szporn A. Chen X, Wu M, Sabo E, Burstein D: Increase in the incidence of peritonea collagen balls over a 10 period. Acta Cytologica 2005; 49(4):387-390
16. Jaffer S, Chen X, Lee L, Bleiweiss I: Pleomorphic solid and cystic papillary carcinoma of the breast: cases occuring in young women. Ann Diagn Pathol 2004; 8(3):126-129
17. Shapiro J, Shujaat A, Wang J, Chen X: Creutzldt-Jacob disease presenting as refractory nonconvulsive status epilepticus. J. of Intensive Care Medicine. 2004;19(6): 345-348
Global Health Activities
Participating a cytopathology volunteer program for preventing cervical cancer in China; teaching a cervical cytology course and also giving a lecture on "Challenges and Pitfalls of Pap Test: Approaches to the problematic cases in Pap test" at the 3rd East China cervical cytological Workshop sponsored by the Chinese Society of Colposcopy and Cervical Pathology (CSCCP) , May 2017, Shanghai, China.