Roger A. Maxfield, MD
Virtual Visits/Telehealth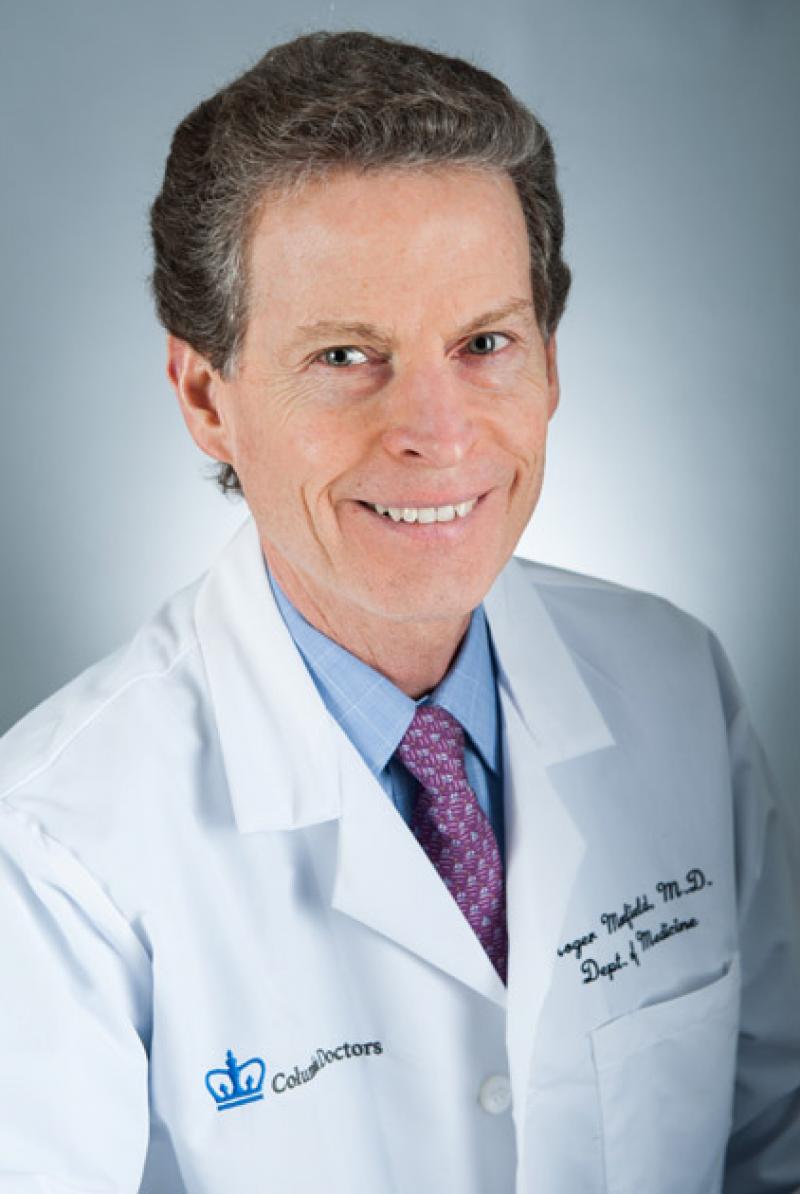 Overview
Dr. Maxfield treats patients with a wide range of pulmonary diseases, including asthma, emphysema, COPD, lung cancer, interstitial lung disease, and pulmonary infections. He also has a special interest in occupational lung disease. He is a National Institute of Occupational Safety and Health federally certified B-Reader for interpreting chest x-rays for pneumoconiosis (occupational lung disease).
Areas of Expertise / Conditions Treated
Asbestos Respiratory Problems
Asthma
Brachytherapy
Chronic Obstructive Pulmonary Disease (COPD)
Electrocautery
Emphysema
General Pulmonology
Hypertension
Interventional Bronchoscopy
Laser Surgery
Lung Cancer
Lung Nodules
Lung Volume Reduction Surgery (LVRS)
Occupational Lung Disease
Pneumonia
Pulmonary Infectious Diseases
Pulmonary Medicine
Radiation Therapy
Academic Appointments
Professor of Medicine at CUMC
Hospital Affiliations
NewYork-Presbyterian / Columbia University Irving Medical Center
Schedule an Appointment
Virtual Visits/Telehealth
Virtual Visits allow you to connect with your provider from the comfort, convenience, and safety of your own home.
New and Existing Patients:
Connect Patient Portal
For existing patients, login to make an appointment, view documentation or contact your care provider.
Insurance Accepted
Quality Health Management
Quality Health Management
UnitedHealthcare
Columbia University Employee Plan
World Trade Center Health Plan
World Trade Center Health Plan
*Please contact the provider's office directly to verify that your particular insurance is accepted.
Credentials & Experience
Education & Training
MD, Brown University School of Medicine, Providence, RI
BA, Brown University
Internship: Georgetown University Hospital
Residency: Georgetown University Hospital
Fellowship: Bellevue Hospital
Board Certifications
Internal Medicine
Pulmonary Disease
Honors & Awards
Academy of Clinical Excellence, Columbia University Medical Center, 2016-present
Fellowship in American College of Physicians, 1987-present
Fellowship in American College of Chest Physicians, 1988-present
America's Top Doctors, 9th-14th editions and 2016-2021 editions
New York Super Doctors 2008-2021, Hall of Fame 2017-2021
Top Doctors: New York Metro Area, 1st-18th editions and 2016-2021 editions
New York Magazine Best Doctors: 6/5/00, 6/15/09, 6/14/10, 6/13/11, 6/11/12, 5/30/16, 6/1/19, 6/8/20
Best Doctors 2001-2018 editions
Ewig Award for outstanding teaching, 2011-2012
USPHS National Health Service Corps Award for dedicated and outstanding service, 1983
Research
Investigating bronchoscopic lung volume reduction and other bronchoscopic treatments for advanced emphysema
Research Interests
Bronchoscopic Lung Volume Reductions
Lung Volume Reduction Surgery
Selected Publications
Frank C. Sciurba, MD; Gerard J. Criner, MD; Charlie Strange, MD; Pallav L. Shah, MD; Gaetane Michaud, MD; Timothy A. Connolly, MD; Gaëtan Deslée, MD; William P. Tillis, MD; Antoine Delage, MD; Charles-Hugo Marquette, MD, PhD; Ganesh Krishna, MD; Ravi Kalhan, MD; J. Scott Ferguson, MD; Michael Jantz, MD; Fabien Maldonado, MD; Robert McKenna, MD; Adnan Majid, MD; Navdeep Rai, MD; Steven Gay, MD; Mark T. Dransfield, MD; Luis Angel, MD; Roger Maxfield, MD; Felix J. F. Herth, MD; Momen M. Wahidi, MD; Atul Mehta, MD; Dirk-Jan Slebos, MD, PhD; for the RENEW Study Research Group. Effect of Endobronchial Coils vs Usual Care on Exercise Tolerance in Patients with Severe Emphysema The RENEW Randomized Clinical Trial.
JAMA. 2016;315(20):2178-2189
Ginsburg ME, Thomashow BM, Yip CK, DiMango AM, Maxfield RA, Bartels MN, Jellen P, Bulman WA, Lederer D, Brogan FL, Gorenstein LA, Sonett JR. Lung volume reduction surgery using the NETT selection criteria. Ann Thorac Surg 2011; 91:1556-60
Maxfield RA. New and Emerging Minimally Invasive Techniques for Lung Volume Reduction. Chest 2004; 125:777-83