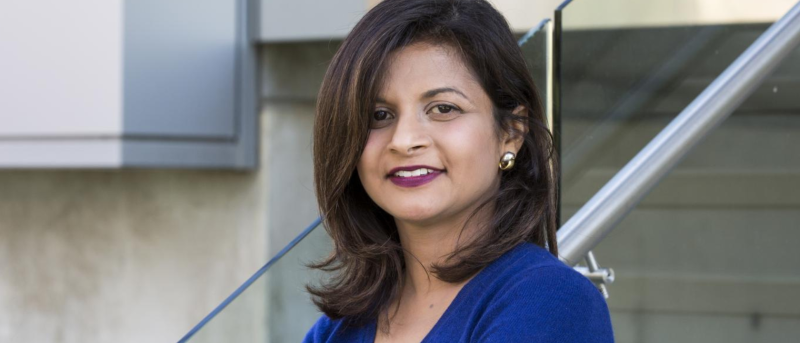 Tannishtha Reya, PhD: Building a New Paradigm for Translational Cancer Research
Tannishtha Reya, PhD, a leading translational scientist specializing in novel cancer therapeutics and advancing pancreatic cancer research, has joined the Herbert Irving Comprehensive Cancer Center (HICCC) at NewYork-Presbyterian/Columbia University Irving Medical Center as professor of physiology and cellular biophysics. Dr. Reya, who came to Columbia in the fall, was formerly professor of pharmacology and medicine at University of California-San Diego.
At Columbia, Dr. Reya aims to expand the HICCC's efforts and commitment in translational research.
A member of the Tumor Biology and Microenvironment Research Program at the HICCC, Dr. Reya has been appointed to two new roles within the cancer center, serving as associate director for  translation research and director of the new Irving Cancer Drug Discovery Program. She is building a comprehensive program and infrastructure devoted to helping faculty accelerate cancer research discoveries and advancements made in their labs  to the clinic.
"The goal is to ensure that we enable the translation of every new discovery that could make a difference in treating cancer," says Dr. Reya. "Academic institutions are where ideas for new medicines and new cures begin, but traditionally, translational efforts have largely been the purview of industry. Unfortunately, many projects are at an earlier stage than industry can pursue, leaving most discoveries untapped."
To not lose these opportunities, Dr. Reya believes academic institutions need to view translational research as an integral part of their mission and role in society.
Translating discoveries made in the lab into new lifesaving treatments for patients is a complex, time-consuming and expensive process and most academics do not have access to the funding, and infrastructure needed to drive such efforts. The Irving Cancer Drug Discovery program, which debuted this month, will address this need and  support novel efforts in cancer drug discovery, bringing together scientists and clinicians focused on transforming their science into new approaches to diagnose and treat cancer. The program will serve as an incubator and provide faculty with the necessary support, including funding, project management and counsel with pharmaceutical advisers and resources for drug development and screening.
Dr. Reya works with partners across Columbia involved in translational science, including Columbia Technology Ventures, Columbia CTSA and the HICCC accelerator, ACT, to  build and enhance the program.
In conjunction with her work to launch the new drug discovery program, Dr. Reya has also been focused on establishing the Reya lab at Columbia. Her research focuses on how stem cell signals can drive the initiation and growth of aggressive cancers. Dr. Reya has made key contributions to the field of cancer biology by defining the signals that control stem cell growth, and how these signals are hijacked to drive cancer progression and therapy resistance in the context of leukemia and pancreatic cancer. Her work has contributed to clinical trials for leukemia and pancreatic cancer and has led to the approval of a new therapy for acute myeloid leukemia.
The appointment at the HICCC brings Dr. Reya back to the east coast, now as a first-time New York City resident, after spending 12 years in California. "I am thrilled to be part of an institution with so much history, and surrounded by such an exceptional group of faculty," says Dr. Reya. "Everyone is so driven to make a difference, and  their interest in this new effort means a great deal and will allow us to ensure that the discoveries we make have a path forward to helping people in need. "