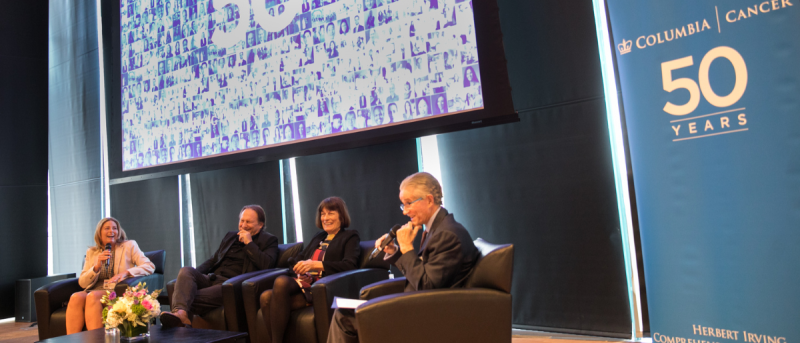 Anniversary Symposium Celebrates 50 Years of NCI Designation, Looks to the Future
The Herbert Irving Comprehensive Cancer Center (HICCC) commemorated its 50-year milestone of National Cancer Institute (NCI) designation with a special symposium, "New Frontiers in Cancer Research and Care: The Next 50 years". The Sept. 15 symposium, held at Columbia University Vagelos Education Center and via live stream to more than 300 registered guests, featured keynote addresses by Margaret Foti, PhD, MD, chief executive officer at the American Association for Cancer Research, and Ned Sharpless, MD, former director of the National Cancer Institute, along with a series of talks from leading members of the cancer center about the future of cancer research and care at Columbia.
Dr. Sharpless touched on the history of NCI-designated cancer centers and discussed the initiation of the Cancer Moonshot and future direction, illustrating the scientific progress that has been made to solve cancer. In her remarks, Dr. Foti underscored the importance of innovation in research and patient care, saluting some of the remarkable scientists and clinicians that have shaped Columbia Cancer through the decades. 
The afternoon program was divided into two sessions. The first  focused on exciting innovation advancing cancer research and treatment at Columbia. HICCC members shared their research in data science, artificial intelligence, and microfluidics, as well as explored how newer technologies and innovative approaches to cancer could have an impact on how cancer is studied and treated in the future.
The symposium's second session covered the topic of intercepting cancer in our community, with ideas by Columbia faculty that go beyond the traditional strategies of cancer risk reduction, spanning genetics for prevention, racial inequities in cancer, and social and environmental determinants of health. This session showcased ideas to end cancer before it even starts on both an individual level and population level.
The festive day brought together a community of Columbia clinicians and researchers, all devoted to advancing cancer research and uncovering newer, and more effective therapies for all.
Fifty years ago, the HICCC became one of the first cancer centers in the country designated by the NCI, sparking explosive growth and expansion of cancer research and care at Columbia. The $40M grant integrated 23 subprograms in 10 departments and divisions across Columbia University Irving Medical Center.
Today, the HICCC spans 6 schools across Columbia University, and 38 departments, bringing together world-class expertise with one goal: to end cancer, for good. With more than $30 million in new NCI funding, more than $100 million in research grants, and a new dedicated clinical cancer building planned, the center is poised for a new wave of growth and innovation.