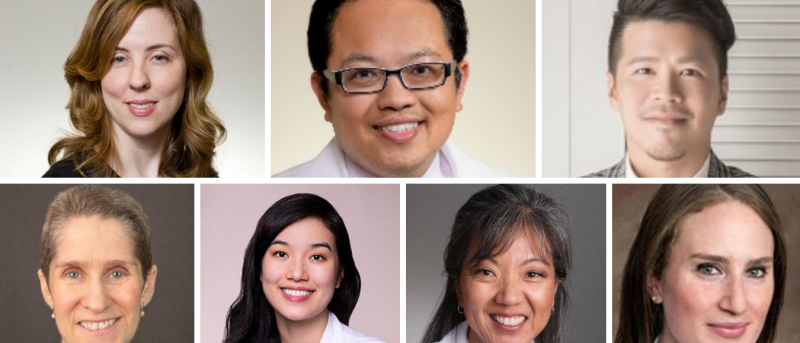 Spotlight on Radiation Oncology: Recent Milestones
Congratulations to the following clinicians and scientists at Columbia's Department of Radiation Oncology for recent achievements, awards, and milestones.
Sally Amundson, ScD, associate professor and member of the Center for Radiological Research, was awarded $2,600,825 over four years from the National Cancer Institute for her work entitled, "Linear Energy Transfer (LET) Dependencies for Understanding Pancreatic Tumor Control and Relevant Molecular Endpoints in Support of RBE-Based Heavy-Ion Radiotherapy". Pancreas cancer is extremely difficult to treat and Dr. Amundson is exploring a different type of radiation to ascertain if it is more effective and why.
Christine Chin, MD,  assistant professor, has been awarded the NRG Oncology NCORP Health Disparities Committee seed grant award to support a multi-center pilot in collaboration with Drs. Leah Katz and Julie Choi at Hudson Valley and Lawrence, entitled, "Breaking Down Sexual Health Barriers in Underrepresented Female Cancer Patients Receiving Pelvic Radiation Therapy". The overarching goal of this award is to obtain important pilot data that can lead to a large national trial.
Eileen Connolly, MD, assistant professor, has been awarded the SWOG/Hope Foundation Career Engagement award to support her clinical trial, "SWOG2003: A Phase II Study of Intraoperative Radiotherapy (IORT) for DCIS after Breast Conserving Surgery." 
James Hong-Jian Wei, PhD,  has received the 2021 ASTRO Basic/Translational Science Abstract Award for his work, with his mentor Dr. Fred Wu, on the use of focused ultrasound in the treatment of intrinsic pontine glioma. This is a highly competitive award with a success rate of only 1.5%.