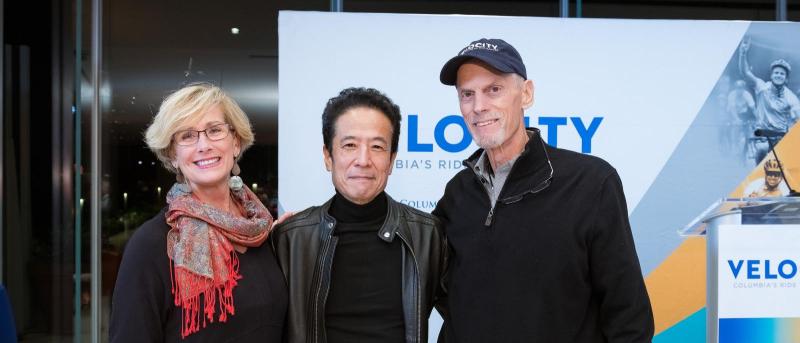 Sam's Velocity Ride: Cycling for Life-Changing Care
For Sam and Terri Cundiff, this year's Velocity ride served as a celebration of survival following a 12-year cancer journey. 
After Sam was diagnosed with aggressive  B-cell lymphoma in 2010, he underwent a range of treatments, including years of chemotherapy, radiation, stem cell transplants, and several surgeries. By 2016, Sam was in a dire situation. As a result of his cancer, multiple necrotic masses had formed in his body, obstructing many of his organs and even his ability to eat.
It was then that his care team pointed Sam and his wife, Terri, to Dr. Tomoaki Kato, MD, chief of the Division of Abdominal Organ Transplant and surgical director of Adult and Pediatric Liver and Intestinal Transplantation at NewYork-Presbyterian/Columbia (NYP/Columbia). Dr. Kato is world-renowned for providing ex vivo surgery, a pioneering surgical technique where up to six organs are temporarily removed from the body in order to excise cancerous tumors.
Once Sam was healthy enough to travel, he was transferred to NYP/Columbia, where he underwent a 20-hour surgery under the care of Dr. Kato. The results have been remarkable, and six years later, Sam is healthy enough to join Terri, as a Velocity participant. 
"Dr. Kato and his team saved Sam's life," says Terri. "The care he received was impeccable." 
While the planned Velocity Day Finish Line Festival on Oct. 2 was canceled due to inclement weather, the Cundiffs later completed an abbreviated bike ride to mark the occasion.
Sam got a little overwhelmed after finishing that ride, which took them past NYP/Columbia. "This is huge," he says. "I didn't think back then that I would ever be able to ride again, especially by the place that saved my life!"
The Cundiffs plan to return to NYP/Columbia Nov. 16 for a special event to honor this year's Velocity participants and recognize their fundraising efforts to support the HICCC. Members of NYP/Columbia and friends will gather at the medical center campus to celebrate patients, their caregivers, Velocity fellows and the broader Columbia community, all committed to advancing cancer research and care.
More than 500 people participated in the annual Velocity ride, raising over $1.1 million this year. Since its inception, Velocity has raised $7 million, supporting numerous initiatives at the HICCC.