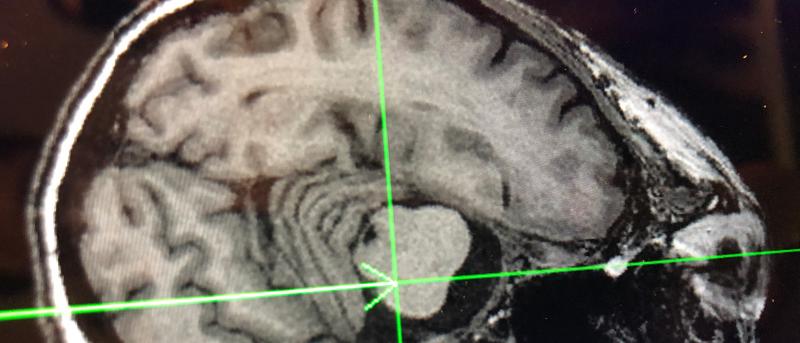 Opening the Blood-Brain Barrier with Focused Ultrasound
New Brain Cancer Trial Tests Novel Focused Ultrasound Technique for Drug Delivery
Ultrasound is typically synonymous with prenatal care, but soon an emerging platform called focused ultrasound could treat cancer. 
In a new clinical trial, oncologists Stergios Zacharoulis, MD, professor of pediatrics at Columbia's Vagelos College of Physicians & Surgeons, and Cheng-Chia Wu, MD, PhD, assistant professor of radiation oncology, are using a focused ultrasound technique developed by Elisa Konofagou, PhD, professor of biomedical engineering and radiology at Columbia Engineering to more effectively and safely deliver chemotherapy for pediatric patients with an aggressive type of brain cancer, diffuse intrinsic pontine glioma (DIPG). The new technique works to temporarily open the blood-brain barrier, a natural protective layer in our brain, that blocks pathogens, bacteria, viruses, and other detrimental microoganisms circulating in the bloodstream from entering the central nervous system. The blood-brain barrier also limits the ability of systemic medications like chemotherapy from reaching brain tumors, making it a key challenge in effectively delivering therapies for brain tumors.
"This has the potential for completely changing how we approach treatment for brain tumors," says Dr. Zacharoulis, a member of the Herbert Irving Comprehensive Cancer Center (HICCC) who specializes in pediatric neuro-oncology and a lead investigator of the trial. "If we can safely open the blood-brain barrier with focused ultrasound, we can potentially use other medicines and lower concentrations of medicines in a very targeted way, while also reducing toxicity level overall for the patient undergoing therapy."
There have been clinical studies investigating the effectiveness of using focused ultrasound to treat prostate and metastatic lesions to the bone (bone mets) but penetrating the blood-brain barrier with this technology has remained a hurdle in its potential to treat brain cancer, and it has not yet been extensively studied in pediatric brain cancer.
The phase 1 trial in DIPG, open now at Columbia and co-funded by the Focused Ultrasound Foundation, will test the delivery of chemotherapy in pediatric cancer patients via the blood-brain barrier using Dr. Konofagou's non-invasive focused ultrasound technology. The entire session per patient lasts about 20 to 30 minutes and occurs once a week over three weeks. The tumor will first be targeted by focused ultrasound to achieve blood-brain barrier opening after intravenous administration of microbubbles and subsequently perform intravenous administration of panobinostat that can reach the tumor at a higher dose than without opening the blood-brain barrier. The dose has been shown to increase by up to 8-fold in pre-clinical studies.
Blood-Brain Barrier: A Blockade to Treatment
While opening the blood-brain barrier with focused ultrasound has been an area of interest for years, researchers have continued to investigate how to do it safely and under controlled parameters. 
Focused ultrasound is a non-invasive technology that focuses multiple beams of ultrasound on a target deep within the body. Where the beams converge, the energy results in many important biological effects, creating the possibility of treating a variety of medical disorders. The technology, still in its clinical infancy, has been used to treat bone metastases and prostate cancer, and more recently, has proven successful in pre-clinical treatment of neurodegenerative diseases, such as Parkinson's and Alzheimer's, and human clinical trials in these diseases are currently under way.
"It was known that that the blood-brain barrier could be opened by ultrasound and microbubbles but we hypothesized that with the right ultrasound sequence and microbubble size, you could go from no opening to the largest volume and highest permeability of the barrier," says Dr. Konofagou, also a member of the HICCC and an expert in focused ultrasound and novel cancer therapeutics. 
Dr. Konofagou has devised a platform that uses focused ultrasound and microbubbles—gas-filled contrasting agents used for imaging and drug delivery—coupled with real-time MRI imaging for the treatment of disease. Given intravenously, the liquid-coated microbubbles travel to the treatment site. The gas inside these tiny bubbles vibrate and jolt once the ultrasound beam shines on them, and these vibrating microbubbles cause cells to pull apart, lending access to the protective barrier.
Says Dr. Konofagou, "We engage the blood vessels in the brain and use the vibration of the microbubbles to help 'lift' the barrier. When this happens, the blood vessels in the brain become more porous and more permeable. That's when we can cross the blood-brain barrier temporarily to target the tumor with drugs. Everything surrounding it remains intact." 
Dr. Konofagou has demonstrated the effectiveness of using focused ultrasound for drug delivery in earlier research in mice with neurodegenerative disease, and her lab also is interested in focused ultrasound ablation of benign and cancerous tumors in the breast and pancreas. She is working with clinicians on an open phase 1 trial at Columbia studying focused ultrasound drug delivery in Alzheimer's patients.
A Cross-Disciplinary Collaboration
The collaboration on the DIPG trial was born out of a former postdoctoral fellow's interest in combining his concentration in biomedical engineering with radiation oncology. Shutao Wang, MD, PhD, a member of  the Konofagou lab at the time, began working with Dr. Wu before completing his Columbia postdoctoral fellowship and pursuing medical school. More recently, through the active involvement of postdoctoral fellows Antonios Pouliopoulos, PhD, and Mark. Burgess, PhD, from the Konofagou lab together with their counterparts James Wei, PhD, and Zachary Eglander, MD, in the Wu lab, there have been published pre-clinical studies that were pivotal in propelling the technology forward for the IND approval in pediatric DIPG. The two teams have been continuously working together on focused ultrasound for cancer drug delivery since 2015.
Prior to opening the phase 1 trial in DIPG, the researchers demonstrated that focused ultrasound is a safe and feasible technique for repeated blood-brain barrier opening and chemotherapy delivery in glioma mouse models. In a paper published in the International Journal of Radiation Oncology, the researchers also showed that by increasing the blood-brain barrier opening with focused ultrasound they were able to treat the tumor with a targeted increased dose of chemotherapy without inflicting damage to the surrounding region and producing more harmful side effects. 
"This is an ideal example of what can transpire when researchers and clinicians from different disciplines collaborate, working together for immediate translation of a therapeutic benefit," says Dr. Wu, a lead investigator of the trial. "That's the beauty of being here at Columbia. Not only do we have different disciplines working together, from radiation oncology, neurosurgery, to pediatric neuro-oncology, we also have a world class cancer center at one of the top universities in the nation to think outside of the box and create exciting new treatments."
"While we are still early in our clinical research, it is exciting to move our focused ultrasound work beyond the lab," adds Dr. Konofagou. "We're not there yet, but we're hoping to make a difference in patients' lives."