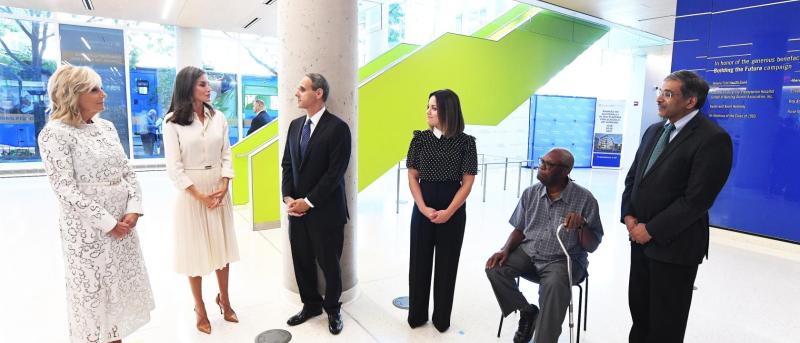 Jill Biden's Columbia Visit Shines Light on 'Hidden Heroes of Cancer Care'
The critical role nurse navigators play in cancer care attracted the spotlight during First Lady Jill  Biden's Sept. 21 tour with members of the Herbert Irving Comprehensive Cancer Center (HICCC).
Dr. Biden, joined by Queen Letizia of Spain, singled out her meeting with HICCC patient, Mario Sambula, and a member of his care team, Brianne Bodin, RN, who talked to the First Lady and the Queen about the work being done at Columbia to improve diversity and access to clinical trials, a persistent challenge in cancer care.
In remarks to a small audience of Columbia guests and members of the press, Dr. Biden shared Mario's story as a patient currently enrolled in a clinical trial at the cancer center, and how Bodin has helped guide him through the clinical trials process, which can be daunting for patients and their caregivers.
"As he navigated this confusing and frightening world of cancer treatment, her help made all the difference," said the First Lady. Asking them to stand, she added, "Mario, thank you for sharing your story, and Brianne, thank you for reminding us all just how far kindness and support can go."
In social media coverage following the speech, the First Lady underscored the special connection and partnership between nurse navigators and cancer patients, celebrating them as "one of the many hidden heroes of cancer care."
Sambula, 85, from Bronx, NY,  was diagnosed with prostate cancer in 2002 shortly after his retirement as a fabric cutter in New York City's garment district. After his cancer diagnosis, he completed treatment and felt well, but a few years later, the cancer returned and had spread. Faced with few options for treatment, that's when Sambula enrolled in a cancer clinical trial at Columbia, which stabilized his disease. He has been healthy since, for four years and counting.
Bodin helped coordinate Sambula's attendance at the Sept. 21 visit. He was happy to be there, to meet both the First Lady and the Queen.
The visit with the cancer center included meetings to learn about its global research collaborations in Spain and the Dominican Republic and about community outreach efforts to increase diversity and inclusivity in science and medicine.
During their session with the First Lady and the Queen, Bodin addressed the inequities that exist in healthcare and what the cancer center is doing to ensure research is representative of our community. 
"Our goal  is to expand access to clinical trials, especially to populations that have historically been underrepresented," she said. "We aim to make the process of finding and enrolling in a clinical trial as seamless as possible, while also being a source of compassionate, human connection that patients need and deserve."