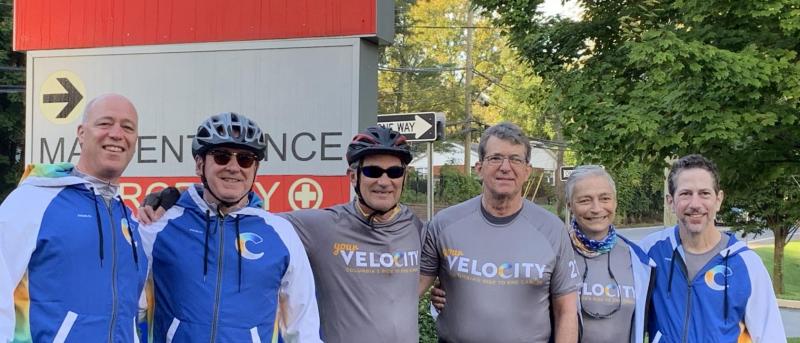 Fifth Annual Velocity Ride Raises $1.1 Million for Cancer Research
On October 3, the Herbert Irving Comprehensive Cancer Center (HICCC) held the fifth annual Velocity, Columbia's Ride to End Cancer, bringing together supporters of the HICCC to raise money for innovative cancer research and care. For the second year in a row, Velocity was held virtually, but participants still found plenty of opportunities to connect through social media and the Velocity Hub. Through the activity of their choice participants showed their commitment to making a difference at the HICCC, raising $1.1 million, to date, for Columbia's mission to end cancer. Thanks to a generous gift from the Crimson Lion/Lavine Family Foundation, all gifts made between Sept. 8 and Velocity Day on Oct. 3 were matched, helping to double the impact of Velocity participants and supporters. 
Over the past five years, thousands of people have participated in Velocity, raising over $6 million and funding 15 Velocity Fellows conducting cancer research at Columbia. Mike Furman, this year's top fundraiser and a HICCC patient, has been an avid Velocity supporter. 
"For me, the most incredible part is how many Columbia doctors, nurses, and staff are part of the Velocity community. It just shows you how invested Columbia doctors are in their patients. And why I'm so invested in Velocity," said Furman. This year, Furman was featured alongside several HICCC supporters and physicians in the Velocity Day Broadcast. Together, they shared their reasons for joining Velocity and cheered on other virtual participants as they began their activities for the day.
 Though the celebrations may be over, fundraising for Velocity will stay open through the end of the year. Visit here for more details.