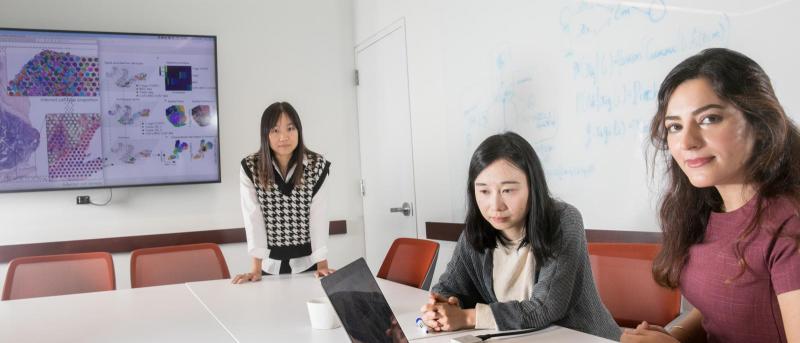 Elham Azizi Wins Chan Zuckerberg Science Diversity Leadership Award
Azizi lab to receive $1.15M grant for cancer research and to support diversity, equity, and inclusion in science and research.
Elham Azizi, PhD, Irving Assistant Professor of Cancer Data Research in the Irving Institute for Cancer Dynamics and the Herbert Irving Comprehensive Cancer Center (HICCC), has received a Chan Zuckerberg Initiative (CZI) Science Diversity Leadership award. The new $1.15 million grant, over five years, will support the Azizi lab in their work developing and integrating novel machine learning algorithms and genomic and imaging technologies to characterize the populations of interacting cell types in the tumor microenvironment and their underlying circuitry to guide improved and personalized cancer therapies.
The CZI Science Diversity Leadership award recognizes the leadership and scientific accomplishments of outstanding early- to mid-career researchers who — through their outreach, mentoring, teaching, and leadership — have a record of promoting diversity, equity, and inclusion in their scientific fields. The diversity award launched in January as a new collaboration between CZI and the National Academies of Sciences, Engineering, and Medicine. 
"This [award] program is unique in that it provides generous funding for both research and outreach activities, enabling us to make advances on both fronts," says Dr. Azizi, who also is assistant professor of biomedical engineering at Columbia Engineering. At the HICCC, Dr. Azizi is a member of the Precision Oncolgy and Systems Biology research program.  
"My personal experience with discrimination against women in Iran has shaped my philosophy in building a broadly inclusive program. I stand with the ongoing women-led uprising in Iran with the beautiful slogan of Women-Life-Freedom ignited by Mahsa Amini's death, though hers certainly not an isolated case and rather an embodiment of decades of systematic oppression of women. I was one of the fortunate ones who managed to immigrate and find extremely supportive mentors who lifted me at critical moments."
Dr. Azizi is one of 25 recipients, including fellow Columbia faculty member, Ishmail Abdus-Saboor, PhD, at the Zuckerman Institute, who has been recognized with the inaugural award.