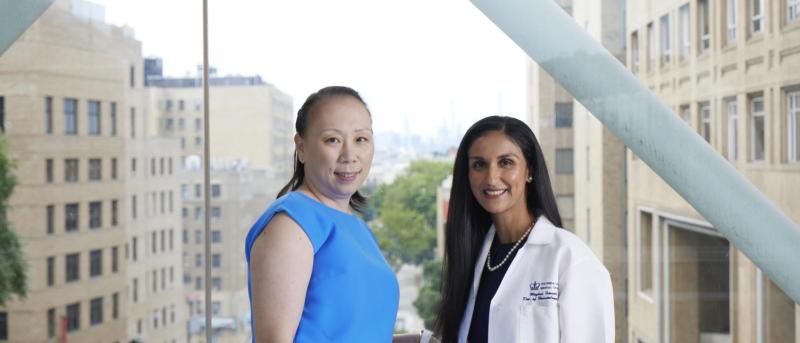 Elaine's Story: Beating Back Breast Cancer, Times Three
This spring, Elaine Alden found herself in the middle of Yankee Stadium receiving the VIP fan treatment as the team's honorary bat girl. The annual recognition by the Yankees franchise spotlights individuals with stories of inspiration, and this year, the focus was Elaine and her journey overcoming cancer.
Elaine, a resident of Bronx, NY, and triple-negative breast cancer survivor, was nominated for the honor by her oncologist, Dr. Meghna S. Trivedi who co-leads the Hereditary Breast and Ovarian Cancer Program at the Herbert Irving Comprehensive Cancer Center (HICCC). Diagnosed in 2018, Elaine's battle with breast cancer has had setbacks, including when the cancer returned two times after initially successful surgery and chemotherapy treatment. Through it all, she has maintained a close connection to her care team at Columbia and NewYork-Presbyterian, rooted in trust.
"A cancer diagnosis is scary. You want to Google everything about it, but not if you have a team of doctors that you actually trust," says Elaine. "I learned everything I had to know [about the cancer] from my doctors. It was good to have a trusted team -- to really, really trust those around you, making co-decisions about your care."
Triple-negative breast cancer refers to the lack of three markers — receptors to the female hormones estrogen and progesterone, as well as a protein called HER2 — commonly found in breast cancer. It accounts for about 10% to 15% of all breast cancers, and has a tendency to grow faster than other disease types. The absence of these markers on triple-negative cancer cells also means that patients aren't eligible for certain treatment options, such as hormone therapies or anti-HER2 antibodies. It can be difficult to treat but more and more progress has been made.
 "During the nearly four-year time period during which Elaine underwent treatment, we saw the approval of several new therapeutic agents for triple negative breast cancer. Despite the many challenges of a prolonged course of treatment, Elaine remained resilient," says Dr. Trivedi, a member of the HICCC and assistant professor of medicine at Columbia's Vagelos College of Physicians and Surgeons. "Through chemotherapy, immunotherapy, radiation, and multiple surgeries, she navigated her medical appointments while letting her vibrant personality shine through and pursuing the things that were important to her."
Prior to that special day at Yankee Stadium, Elaine and her husband, Chris, whom she calls her rock, were faced with navigating the second recurrence in the midst of a global pandemic. Both longtime educators, Elaine, an instructional coach, and Chris, a fourth-grade teacher, dealt with the added stresses and uncertainty that the COVID-19 pandemic placed on their jobs and their students.
There were moments for Elaine, particularly when she received the news in 2020 that her cancer returned for the second time, that she felt defeated. She credits Columbia's Psychosocial Oncology Division for being there when she needed that extra support.
"I learned that it's okay to feel, to feel the anger and the sadness, and that we don't just have to 'get over it'," she said. "That was something Dr. [Ian] Sadler taught me. He taught me to give myself space and grace because I would try so hard to suck it up at times and push through, but it's okay to acknowledge the feelings--all of the feelings--when we need to."
Sharing her story to support others
Shortly after the first diagnosis in 2018, Elaine worked with a photographer to document her transformation, pre-double mastectomy, post-op, and beyond. Through her photographer's network, the personal project morphed into a bigger media event.
In late 2019, ABC News aired a 20-minute segment spotlighting Elaine's cancer journey. To her surprise, Elaine, who calls herself "not a support group type of person" has felt compelled to share her story with the goal of helping others who might be going through the same or similar experience, and to raise awareness about breast cancer and the importance of early detection.
In 2022, she launched a nonprofit, Phoenix Purpose, an organization to provide support to patients going through cancer. The organization will work to give patients quick, immediate support, such as gift cards for services like transportation and food delivery, and help with other tasks linked to their care that can add a financial burden to patients and caregivers. The nonprofit, which she established with close friends, also is a way for her to honor her grandfather, father-in-law, and other loved ones who have died from cancer or who struggled with the disease.
While Elaine maintains that she isn't too keen on patient support groups and serving in that "cheerleader" role, Chris has a different take.
"As educators, our lived experiences are what grounds our lessons," he said. "Elaine gives constantly to everybody. She never thinks about herself. And even throughout this whole journey, she has always been thinking about what she can do to make sure other patients or caregivers can get help with navigating their care. The amount of feedback we've received by sharing her story and our lives and our ability to reach so many people has been insurmountable."