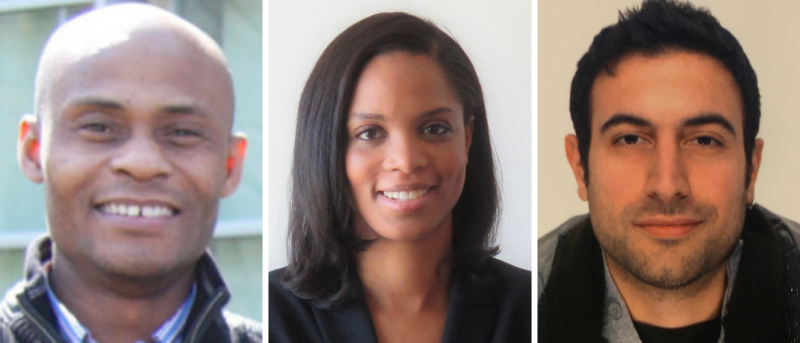 Career Awards to Support Outstanding Young Cancer Investigators
The Herbert Irving Comprehensive Cancer Center (HICCC) has awarded three Early Career Development pilot grants to Karie Runcie, MD, Uchenna Unachukwu, PhD, and Alessandro Vasciaveo, PhD.  
The annual awards, totaling $300,000, support senior fellows, instructors, and young investigators who are transitioning to a faculty position and who are in the early stages of cancer research projects. This year, the award recipients are focusing on projects in renal cell carcinoma, prostate cancer, and tuberous sclerosis and lymphangioleiomyomatosis, a rare disorder.
Award-winning projects:  
"Combination Anti-PD-1 and IL-1 Blockade Prior to Nephrectomy in Localized Renal Cell Carcinoma to Evaluate Novel Targets for Treatment of Renal Cell Carcinoma"
Karie Runcie, MD
Postdoctoral Clinical Fellow, Department of Medicine 
Combination immunotherapy regimens have revolutionized the treatment of metastatic renal cell carcinoma (RCC). Despite this, long-term prognosis remains poor for patients with advanced disease. There is a need for a deeper understanding of the kidney tumor microenvironment including predictors of response and mechanisms of resistance to immune checkpoint inhibitors to increase the number of patients achieving a durable and complete response to treatment. Dr. Runcie, under the guidance of her mentors, will apply novel immunologic techniques available at the Columbia University Human Immune Monitoring Core and methodologies developed within the Department of Systems Biology to deconvolute potential mechanisms of response and resistance to combination PD-1 and IL-1β blockade in RCC.  
"The Role of HMGA2 in Neurocristopathic Tumorigenesis in Tuberous Sclerosis and Lymphangioleiomyomatosis"
Uchenna Unachukwu, PhD
Associate Research Scientist, Department of Anesthesiology
Tuberous Sclerosis (TS) affects the kidneys, lungs, uterus and brain causing benign (non-spreading) cancers frequently in more than one organ at a time. The disease has been linked to a mutation that can turn off tumor suppressing genes (TS genes) 1 and 2, activating the mammalian target of rapamycin (mTOR) biological pathway responsible for increasing growth and energy utilization rates in our cells that lead to tumor formation. Administering blockers of the mTOR pathway slows tumor growth rate down in patients but does not get rid of the tumor cell itself necessitating an urgent need for TS therapies. Specializing in the lung manifestation of TS named lymphangioleiomyomatosis (LAM), earlier research resolved evidence suggesting that neural crest cells, a special type of stem cells typically associated with embryonic development in mammals, could be causing TS and LAM tumors. Additionally, Dr. Unachukwu and collaborators discovered that an embryonic gene named HMGA2 can be found in all TS and LAM tumors examined, signifying an important role of HMGA2 in the transformation of cells into tumors. In this study, the researchers will utilize both cell culture and mouse models to determine the role Hmga2 might play in tumors caused by these neural crest cells and as such define novel gene targets and biochemical mechanisms for drug development against the disease.
"Elucidating Cellular Rewiring as a Mechanism of Drug Resistance in Lethal Prostate Cancer"
Alessandro Vasciaveo, PhD
Associate Research Scientist, Department of Systems Biology
Cell plasticity contributes to intratumoral heterogeneity and is emerging as a driver of therapy resistance in several settings, including prostate cancer. Dr. Vasciaveo's project aims to develop a novel single-cell network-based framework to elucidate cell-adaptive mechanisms of drug resistance by integrating chromatin accessibility and gene expression data measured from the same cell. He will initially apply his method on lethal prostate cancer 3D organoids, developed by the laboratory of Michael Shen, PhD, including neuroendocrine prostate cancer (NEPC) where the epigenetic rewiring of regulatory networks has emerged as a major contributor to standard-of-care resistance. Additionally, he plans to leverage drug perturbation screening data to prioritize drugs and drug combinations inferred to abrogate the activity of Master Regulator (MR) proteins responsible for network-rewiring events that lead to drug resistance.