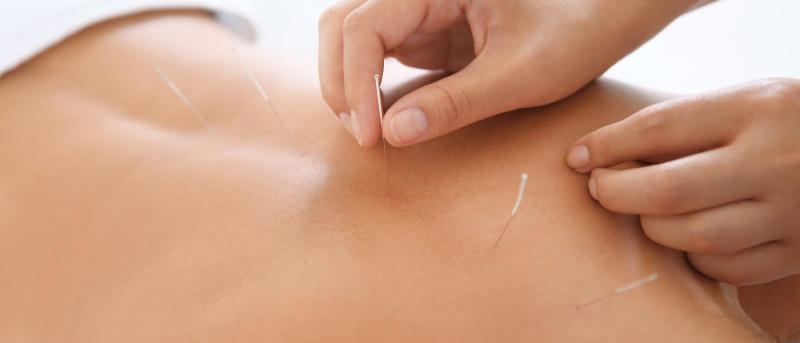 A Brief Course of Acupuncture Alleviates Joint Pain Tied to Cancer Treatment
For breast cancer patients suffering from side effects to hormone-based therapy, acupuncture could be the key to longer lasting pain relief.
Patients with hormone-sensitive breast cancer are treated with a class of drugs called aromatase inhibitors (AI), which lower estrogen, a key contributor to cancer growth. AIs are proven to help patients avoid cancer recurrence. But a majority of patients, more than 50%, ultimately don't adhere to the medication due to persistent joint pain and stiffness, a known side effect of taking AIs.
A randomized multi-center trial, led by Dawn Hershman, MD, and Katherine Crew, MD, and published in JAMA Network, examined the effect of acupuncture on reducing joint pain related to AIs in women with early-stage breast cancer. Dr. Hershman is American Cancer Society Professor of Medicine and Epidemiology at Columbia, deputy director of Cancer Care Delivery and Research and co-leader of the Cancer Population Science program at the Herbert Irving Comprehensive Cancer Center (HICCC), and director of Breast Oncology at NewYork-Presbyterian/Columbia, and Dr. Crew is professor of epidemiology at Columbia's Mailman School of Public Health professor of medicine at Columbia, and director of the HICCC's Clinical Breast Cancer Prevention program.
The study, which involved 226 postmenopausal women, showed that the patients who received true acupuncture for 12 weeks compared with those in the sham acupuncture group or the waiting-list control group experienced "significant" reductions in their joint pain at the one-year mark. (Sham acupuncture refers to an inactive procedure where thin needles that closely resemble the true acupuncture procedure are used.)
The findings suggest that short-term use of acupuncture offers long-lasting benefits for patients who experience AI-related joint pain, with pain relief continuing for 40 weeks after 12 weeks of acupuncture. 
"It was exciting to see that in addition to improving pain during the acupuncture treatment, that acupuncture resulted in better control of symptoms that persisted after completion of the treatment," says Dr. Hershman.
Acupuncture, used to treat myriad health issues, including back pain, stress, migraines, and nausea, has been studied for its broad pain-relief benefits and as an effective and safe alternative option to other painkillers that can be more addictive. Drs. Hershman and Crew are experts in investigating strategies for improving quality of life for people with cancer and reducing barriers for patients to receive cancer care. Some of Dr. Hershman's recent research has been focused on optimizing cancer patient outcomes through pain management and medication adherence interventions.
Although the duration of pain relief from acupuncture remains uncertain, researchers continue to investigate acupuncture as complementary to cancer care. In September, the Society for Integrative Oncology and the American Society of Clinical Oncology convened an expert panel around integrative oncology, which incorporates alternative medicine in cancer care, and published new guidelines recommending acupuncture for adult cancer patients suffering from AI-related joint pain. They also stressed a need for more research to better characterize the role of integrative medicine interventions in the care of patients with cancer.
The randomized clinical trial was conducted at 11 U.S. sites, including at the HICCC, from May 2012 to February 2016, with a scheduled final date of follow-up in September 2017. Women with early-stage breast cancer were eligible if they were taking an AI and scored three or higher on the Brief Pain Inventory-Worst Pain (BPI-WP) score survey (a 0-10 score range, with 10 equivalent to worst pain).
The patients in the true acupuncture group had a median baseline pain score of 6.7 out of 10, the median score for the sham acupuncture group was 6.3 and for the waiting-list control group, it was 6.5. At the 52-week evaluation mark, patients who received true acupuncture experienced a 2.7 point reduction in their pain scores, a 1.4 points decrease for the sham acupuncture cohort, and similarly 1.5 reduction in the waiting list group.
"Acupuncture for AI-related joint symptoms may not only improve adherence to these life-saving breast cancer therapies," says Dr. Crew, "but also provides a non-pharmacologic approach for managing side effects and improving quality of life in breast cancer survivors."
References
Comparison of Acupuncture vs Sham Acupuncture or Waiting List Control in the Treatment of Aromatase Inhibitor–Related Joint Pain
Dawn L. Hershman, MD, MS; Joseph M. Unger, PhD, MS; Heather Greenlee, ND, PhD; Jillian Capodice, MS; Danika L. Lew, MA; Amy Darke, MS; Lori M. Minasian,MD; Michael J. Fisch, MD; N. Lynn Henry, MD; Katherine D. Crew, MD, MS