Our Approach and Expertise
Make an Appointment
Our team of dedicated access representatives is here to help you make an appointment with the specialists that you need.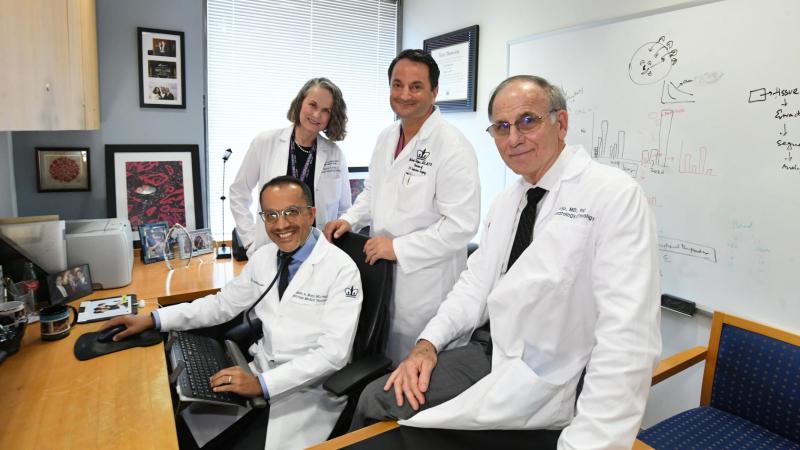 The Pancreas Center at Columbia Cancer is a comprehensive program focusing on diseases of the pancreas. Our program is one of the first dedicated multidisciplinary centers of its kind in the world, and we led the development of modern pancreatic cancer treatment.
If you or a loved one has pancreatic cancer, you need a team of experts dedicated to you. At the Pancreas Center, our specialists work together to find the best treatments available for each of our patients.
Our team includes oncologists, who diagnose and treat cancers; geneticists, who identify family members who may also be at risk; diagnostic and interventional gastroenterologists, who pinpoint problems and provide immediate relief of symptoms; top surgeons who perform innovative operations; palliative care specialists, who are experts in reducing cancer-related symptoms such as pain and nausea; and nurse practitioners to help coordinate patients' care.
Our team working together for you means you'll get the best care possible and have less to worry about. Our innovative technology and expertise combine to make us national leaders in the diagnosis and treatment of this challenging and complex disease.
Weekly Pancreas Center Conference
Every person who comes to the Pancreas Center gets the benefit of our wide expertise. Our team of experts meet every week to collaborate on current patient cases. Your doctor will present your history, current symptoms, and past and current imaging studies. Then the team will weigh in to design a course of treatment that's just for you.
Psychosocial Oncology Program
Being diagnosed with pancreatic cancer can bring pain, distress, fatigue, and depression for many patients and their loved ones. Our psychosocial oncologists are specially trained to work with cancer patients and their caregivers to help you handle these and other psychiatric complications that may come up.
We also host patient-centered events to help you cope with being diagnosed with and treated for pancreatic cancer. This includes monthly support groups and other educational events.
Nutrition Counseling
People with pancreatic cancer often have problems with eating or maintaining weight. Our nutrition counselors meet with you to assess your needs and develop a personalized eating plan.
Muzzi Mirza Pancreatic Cancer Prevention & Genetics Program
This program is dedicated to pancreatic cancer prevention and early detection. It aims to identify and treat people at the highest risk before they develop advanced disease. Ideally, you should be screened about 10 years before the earliest age of onset of cancer in your family.
Learn More About the Muzzi Mirza Pancreatic Cancer Prevention & Genetics Program
Pancreatic Cyst Surveillance Program
This program evaluates people with known or suspected pancreatic cysts. They are also called intraductal papillary mucinous neoplasm, or IPMN. Some cysts are unlikely to become cancerous, but others have a 70% chance of becoming cancerous. It's critical that all pancreatic cysts are detected, evaluated, monitored, and if necessary, removed. Our goal is to detect cancer early, and possibly prevent it.
Research Program
Our screening and genetics research program includes a robust research arm that focuses on identifying new and innovative early detection methods and new risk factors.
Learn More About The Pancreas Center
Pancreatic Cancer Support Group
The monthly Pancreatic Cancer Support Group helps you address emotional needs and talk to others in your shoes about coping with the financial difficulties from not being able to work, impact on family relationships, and more. Each meeting features a guest speaker followed by an open format for sharing or asking questions. Participants celebrate their joys and offer solace and support. The group has fostered many long-lasting friendships.
Learn About the Pancreatic Cancer Support Group