Our Approach and Expertise
Make an Appointment
Our team of dedicated access representatives is here to help you make an appointment with the specialists that you need.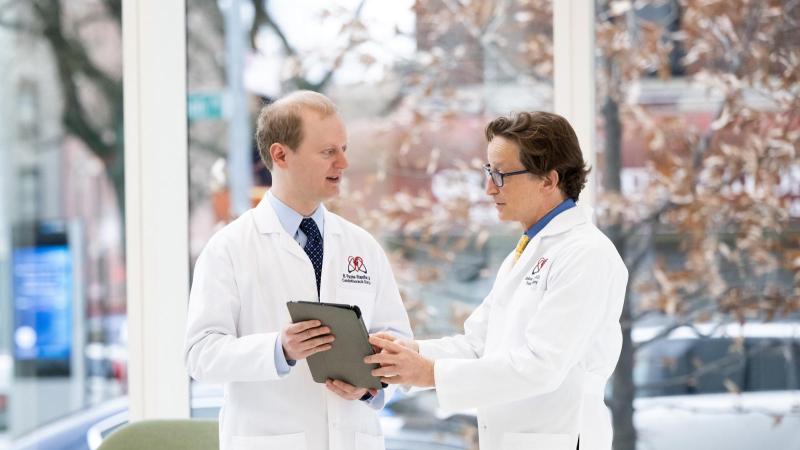 The field of precision medicine is expanding, especially in lung cancer. At Columbia Cancer, targeted personalized lung cancer treatment and research are at the center of what we do. Our world-renowned immunotherapy program offers patients the newest therapies and clinical trials, sometimes before they are widely available.
We take a research-based approach to giving you the best treatment possible, and our world-renowned academic research program investigates and creates new treatments for people with lung cancer.
We support and work to improve the quality of life for people with lung cancer through pain management and palliative care, nutrition, respiratory therapy, and other ways to relieve symptoms.
Specialized Centers for the Most Tailored Care
At Columbia, we know that lung cancer is a complex disease that requires specialized care. That's why we've established care centers with experts dedicated to your particular lung cancer care needs.
The Price Family Center for Comprehensive Chest Care brings together specialists across NewYork-Presbyterian Hospital and Columbia in one convenient location, offering you the most cutting-edge diagnostic tools, research, and therapies for lung cancer. Our clinical coordinators help you get all the care you need in one place. In most cases, patients can meet their entire care team in one day. Our aim is to make your care as seamless as possible so you have less to worry about.
The Women's Lung and Health Center is designed specifically to address the needs of women with lung disease, including lung cancer. We're also conducting research to better understand nonsmoking lung cancer in women and to develop better early screening for the disease.
Our High-Risk Lung Nodule Assessment Program draws on the expertise and resources across Columbia University Irving Medical Center to provide evaluation and follow-up care for people who have had long nodules found on CT scans, quickly connecting them with the full range of specialists they need.
A Team of Experts Providing Comprehensive, Coordinated Care
Every week, your multidisciplinary care team meets to discuss your case. The best minds in lung cancer treatment examine your tests, current course of treatment, and more to make sure you are receiving the most appropriate care for your cancer's genetic fingerprint. Studies show that this team approach improves outcomes for people with lung cancer.
Cutting-Edge Treatments
We customize your treatment with the most advanced chemotherapy drugs and drug combinations used today. Your treatment is based on your tumor's stage and biology and your specific health goals and needs.
We also recruit the power of your immune system through immunotherapy agents we've helped develop and test as the leader of major clinical trials. Our renowned lung cancer immunotherapy program is currently exploring using this treatment before lung cancer surgery.
We use 3D imagery to precisely deliver radiation to lung cancer cells to minimize exposure to nearby healthy tissue. We also use the first MRI-guided linear accelerator in the New York area to visualize tumor motion as we deliver treatment.
Nationally Recognized Thoracic Surgeons
Our thoracic surgeons are known for innovative, minimally invasive surgery that aims at giving you the best possible outcome with less recovery time. We offer video-assisted thoracoscopic lobectomies, which allows us to remove lung tumors through small incisions. We're pioneering robotic lung cancer surgery, which lets us work with greater magnification of the surgical field—and more precision. And we're using lung-sparing approaches that allow us to cure the cancer while only removing an entire lung if absolutely necessary.