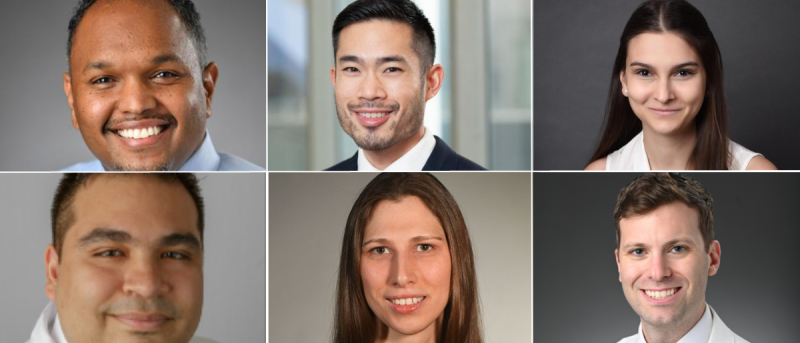 Inaugural Clinical Trialist Scholar Award Goes to Six Outstanding Early Career Investigators
The Herbert Irving Comprehensive Cancer Center (HICCC) at NewYork-Presbyterian/Columbia University Irving Medical Center (CUIMC) and the Irving Institute for Clinical and Translational Research have awarded six investigators a Clinical Trialist Early Career Development Scholars Award. The recipients are faculty members, instructors, research scientists or post-doctoral fellows who are on a career track as a clinical investigator or principal investigator of clinical trials. The award recognizes proposals for innovative clinical trials that aim to advance treatment and interventions for multiple areas of health and medicine, seeking increased access to clinical trials from underrepresented groups. The award is part of a larger Diversity in Clinical Trials Initiative launched by CUIMC in partnership with Pfizer.
"We're excited to announce this inaugural group of investigators who are all dedicated to pursuing innovative clinical trials that will greatly help our patients and communities," says Anil K. Rustgi, MD, director of the Herbert Irving Comprehensive Cancer Center and Herbert and Florence Irving Professor of Medicine.
The inaugural recipients of the award are Joel Gabre, MD; Jerard Z. Kneifati-Hayek, MD, MS; Ryan Moy, MD, PhD; Maria Diaz, MD; Benjamin Ranard, MD, MSHP; and Deborah Theodore, MD. Their exciting projects are widely diverse, from investigating screening and early detection method for sepsis to the study of a novel combination therapy for diffuse gastric cancer and examining treatment resistance in esophageal cancer to exploring a mindfulness-based intervention geared for patients suffering from long Covid.
"We look forward to the exciting outcomes of these studies," says Andrew Lassman, MD, associate director for clinical trials at the HICCC, scientific director for Network Capacity Resource in the Irving Institute for Clinical and Translational Research, and associate dean of clinical research compliance at Vagelos College of Physicians & Surgeons and John Harris Professor of Neurology at CUIMC. "This group's work represents an important step forward in clinical trials research, seeking to diversify clinical trial participation for the betterment of all patients."
"This program highlights the impact that clinical research has on clinical care, positively effecting generations to come," says Muredach Reilly, MBBCh, MSCE, director of the Irving Institute for Clinical and Translational Research and Herbert and Florence Irving Professor of Medicine.
Each awardee will receive $100,000 per year for two years to support their respective projects.
Congratulations to the inaugural recipients of Columbia's Clinical Trialist Scholars Award:  
Joel Gabre, MD
Assistant Professor of Medicine, CUIMC 
Project: Esophageal Adenocarcinoma Patient-Derived Organoids as a Personalized Medicine Strategy to Understanding Chemoradiation Resistance 
Treatment options for people with locally advanced esophageal adenocarcinoma (EAC) are primarily limited to chemoradiation followed by surgery. A recent emphasis in cancer therapeutics has focused on targeted therapies. To this end, Dr. Gabre will use patient derived organoids of EAC to identify tumor specific mechanisms for drug resistance that can later be exploited as a personalized medicine strategy based on the tumor's molecular features. 
Jerard Z. Kneifati-Hayek, MD, MS   
Assistant Professor of Medicine, CUIMC 
Project: Develop and Validate Novel Automated Measures to Detect Wrong-Imaging Order Errors for Use in Large-Scale Intervention Trials  
Incorrectly ordered imaging tests are a major cause of missed diagnoses but little is known about why these errors occur. Current methods measuring imaging order errors are limited by reporting bias and the need for patient chart review. This project proposes applying an innovative, systematic approach, the Retract-and-Reorder method, to develop a novel automated and reliable way to identify imaging order errors. 
Ryan Moy, MD, PhD  
Assistant Professor of Medicine, CUIMC; Cancer Genomics and Epigenomics Program, HICCC
Project: Targeting the FAK and MAPK pathways in diffuse gastric cancer 
Diffuse gastric cancer (DGC) accounts for approximately one third of new cases and is associated with worse survival outcomes compared to intestinal type tumors. Dr. Moy's research is built on prior research that found activation of cell signaling proteins FAK and MEK contributes to tumor growth in DGC. The study will evaluate the efficacy of combined FAK/MEK inhibition in a single-arm phase II trial in patients with metastatic DGC, as well as explore biomarkers of response. 
Maria Diaz, MD  
Assistant Professor of Neurology, CUIMC 
Project: Multimodality imaging for distinction between pseudo-progression and early tumor progression in glioblastoma  
To date in glioblastoma, no imaging or non-invasive laboratory test reliably differentiates true disease progression from pseudo-progression (transient changes related to treatment effects), yet the distinction is critical for continuing treatment decisions. This project investigates, and aims to ultimately determine, the sensitivity and specificity of imaging procedures - magnetic resonance (MR)-perfusion, MR-spectroscopy, and positron emission tomography (PET) - alone and in combination, in differentiating true progression from pseudo-progression.
Benjamin Ranard, MD, MSHP  
Patient Safety Research and Postdoctoral Fellow, NYP/CUIMC  
Project: A pragmatic, multi-center, factorial, randomized controlled trial of electronic sepsis-alerts for nurses and providers 
Sepsis is the most common cause of death of hospitalized patients in the U.S. The cornerstone of sepsis therapy is early identification and treatment. International guidelines recommend screening patients using systemic inflammatory response syndrome (SIRS) criteria; however, the best method of alerting providers and nurses about patients with potential sepsis is unknown. Dr. Ranard and team propose a new multi-hospital, factorial, randomized-controlled study examining the effectiveness of SIRS-based "pop-up alerts" in patients' electronic health record (EHR) to improve early identification and treatment of patients with sepsis with the goal of decreasing mortality. 
Deborah A. Theodore, MD  
Assistant Professor of Medicine at CUMC 
Project: Long-Covid-19 Alleviation through Learning Mindfulness (Long-CALM)
Patients with Covid-19 who develop post-acute sequelae of SARS-CoV-2 infection (PASC), better known as long Covid, face significant physical and psychosocial stress. To date, limited data exist to guide effective interventions for people living with PASC. Mindfulness, defined as paying attention to the present moment with non-judgment and acceptance, is a candidate treatment. Dr. Theodore proposes a clinical trial studying a mindfulness-based intervention to reduce stress in patients with PASC.