Byron Thomashow, MD
Virtual Visits/Telehealth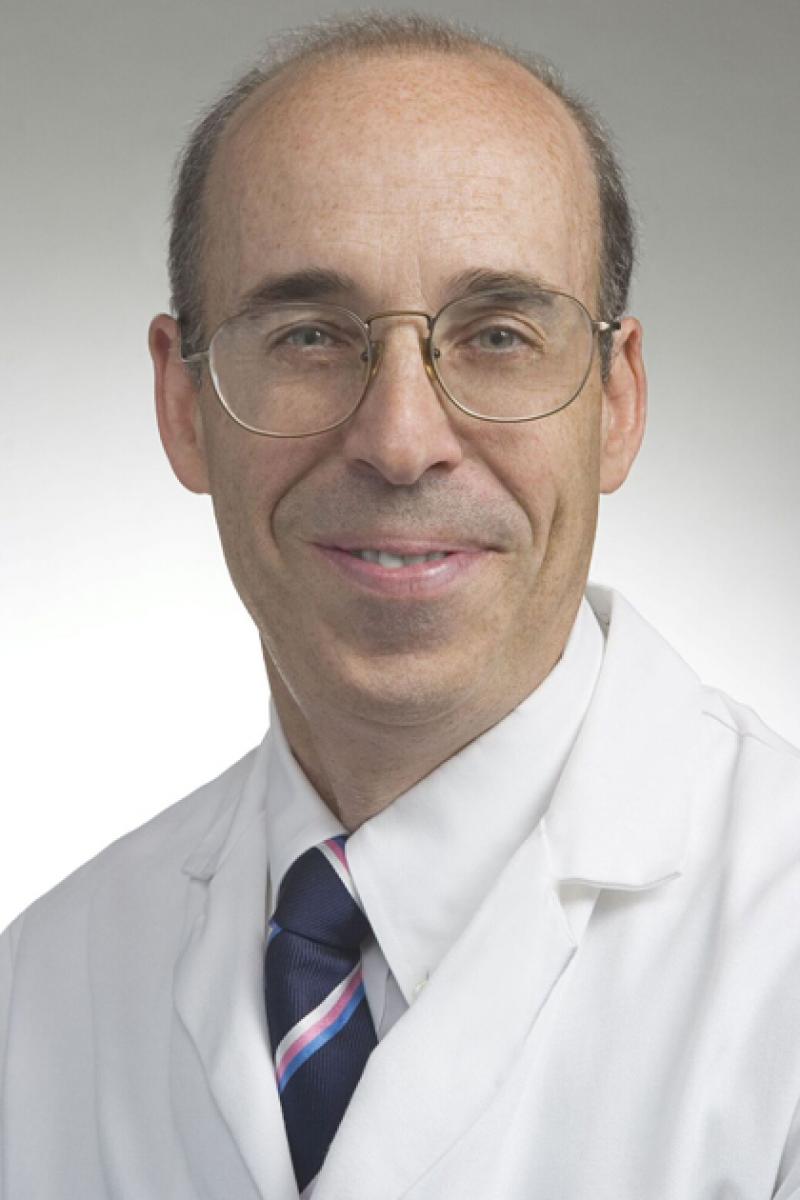 Overview
Dr Byron Thomashow is a Professor of Medicine Columbia University Medical Center and an Attending Physician at the New York-Presbyterian Hospital. He helped found the COPD Foundation in 2004 and served as Chairman of the Board of Directors for ten years. As of July 2018 he took on the role of Chief Medical Officer of the Foundation. He is the medical co-director of the Jo-Ann LeBuhn Center for Chest Disease on the Columbia campus and is medical director of the NewYork-Presbyterian Lung Volume Reduction program. He chaired the Respiratory Disease Council of the NewYork-Presbyterian Healthcare Network for many years, and co-chaired the NewYork-Presbyterian smoking cessation initiative leading to campus going smoke free. He has served as co-chair for the NY State COPD Coalition, cochaired the New York State COPD Summit in 2010, co-chaired COPD7 USA 2011, COPD8USA 2013, COPD 9USA 2015, COPD10 USA 2017, and co-chaired the COPDFoundation COPD Readmission Summits in October 2013 and March 2015. The Byron M Thomashow Professorship of Medicine Columbia University was established in 2006. He was awarded the 2013 American Thoracic Society Public Advisory Roundtable Excellence Award. In 2016 he received the Columbia University 2016 Leonard Tow Humanism in Medicine Award sponsored by the Arnold P. Gold Foundation. In 2017 he received the Albert Nelson Marquis Lifetime Achievement Award. In 2018 he received the JWWalsh Visionary Award from the COPD Foundation. He was a member of the steering committee and the co-primary investigator at the Columbia site for the National Emphysema Treatment Trial and has been and remains actively involved in multiple national clinical research projects.
Areas of Expertise / Conditions Treated
Allergy and Asthma Management
Alpha-1-Antitrypsin Deficiency
Asthma
Bronchiectasis
Bronchitis
Chronic Cough
Chronic Lung Disease
Chronic Obstructive Pulmonary Disease (COPD)
Emphysema
General Pulmonology
Hereditary Hemorrhagic Telangiectasia (HHT)
Hypersensitivity Pneumonitis
Idiopathic Pulmonary Fibrosis
Interstitial Lung Disease
LAM Lung Disease
Lung Cancer
Lung Nodules
Lung Volume Reduction Surgery (LVRS)
Pulmonary Diagnostics
Pulmonary Disease
Pulmonary Embolism
Pulmonary Fibrosis
Pulmonary Hypertension
Pulmonary Medicine
Restrictive Lung Diseases
Sarcoidosis
Tuberculosis
Academic Appointments
Professor of Medicine at CUMC
Administrative Titles
Medical Director, NYP Lung Volume Reduction Program
Medical Director, Jo-Ann LeBuhn Center for Chest Disease
Hospital Affiliations
NewYork-Presbyterian / Columbia University Irving Medical Center
Schedule an Appointment
Virtual Visits/Telehealth
Virtual Visits allow you to connect with your provider from the comfort, convenience, and safety of your own home.
New and Existing Patients:
Connect Patient Portal
For existing patients, login to make an appointment, view documentation or contact your care provider.
Location(s)
177 Ft. Washington Avenue
161 Fort Washington Avenue
Insurance Accepted
Quality Health Management
Quality Health Management
UnitedHealthcare
Columbia University Employee Plan
World Trade Center Health Plan
World Trade Center Health Plan
*Please contact the provider's office directly to verify that your particular insurance is accepted.
Credentials & Experience
Education & Training
Columbia University College of Physicians and Surgeons
Residency: St. Luke's-Roosevelt Hospital Center
Fellowship: Harlem Hospital Center
Board Certifications
Internal Medicine
Pulmonary Disease
Honors & Awards
Best Doctors in New York, New York Magazine, 1991-2015-2021
The Best New York Metro Area Doctors, Castle Connolly Guide, 1997-2020
Best Doctors in America, Castle Connolly Guide 2001-2016, 2017-2021
Castle Connolly Regional Top Doctor, 2021
The American Registry-America's Most Honored Doctors, 2021
Who's Who in the East, Marquis Publications, 1995-2016
Who's Who in the World, Marquis Publications 1996, 1998, 2000, 2003-2005, 2018, 2019, 2020
Who's Who in Medicine and Healthcare, Marquis Publications, 1997-2007, 2009-2012
Who's Who in America, Marquis Publications, 1998-2004, 2009, 2014-2016
Who's Who in Science and Engineering, Marquis Publications, 1998-1999, 2003-2004
Who's Who Top Doctors Honors Edition, 2020
New York Super Doctors 2008-2021, Super Doctors Hall of Fame 2017-Present
Alfred Markowitz Service Award, Society of Practitioners CPMC, 2002
Member, Program Committee NIH National COPD Conference 11/03
Columbia University Medical Center Medical Housestaff Teaching Award, 2004
Man of Good Conscience Award, National Society of Women Psychiatrists, 2005
Co-Chair, COPD Foundation National Conference-COPD and Primary Care 11/2006
Establishment of Byron M Thomashow Clinical Professorship of Medicine, Columbia University, 2006
Co-Chair, COPD Foundation National Conference, COPD 2007, 11/07
Co-Chair, COPD Foundation National Conference, COPD 2008, 11/08
Co-Chair, COPD Foundation Lung Health, 2010 Conference
Online expert, New York Times: COPD - One of Six Great Killers Series, 12/07
Columbia University Ewig Clinical Scholar, 2008-2009
Co-Chairman, COPD Foundation Fundraiser, 2008, 2009-2020
Co-Chairman, NewYork Presbtyerian Annual Gala, 2010
Co-Chairman, NY COPD Coalition, NY COPD Summit, 2009-2012
Member, Planning Committee U.S. COPD Coalition National Meeting, 2011
Co-Chairman, COPD7USA Conference, Washington, DC, December 2011, COPD 8 USA Chicago, June 2013
Honoree, Alpha-1 Foundation, 2011
Member, Steering Committee COPD Foundation Biomarkers Consortium, 2011-present
Member, Steering Committee Drive4COPD, 2012-2014
Co-Chairman, COPD8USA Conference June 2013, Chicago
Co-Chairman, COPD Foundation, COPD Readmission Summit, November 2013, Washington DC
Consultant to the National Institute of Medicine, 2013-present
Master Consultant to the National Institute of Medicine, 2015-present
Recipient, 2013 ATS Public Advisory Roundtable (PAR) Excellence Award
Recipient, 2014 Vitals Patients' Choice Award
Co-Chairman, COPD Foundation COPD Readmissions Summit, March 2015, Washington, DC
Co-Chairman, COPD9USA Conference June 2015 Chicago; COPD10USA July 2017 Chicago
Member, Planning Committee COPD10 Birmingham, England, 2016
Recipient, Columbia University Leonard Tow Humanism in Medicine Award, May 2016
Member, Gold Humanism Honor Society, 2016
NY Top Docs, 2016-21
America's Most Honored Professionals, 2017
Member, Columbia Academy of Clinical Excellence, 2017-present
Albert Nelson Marquis Lifetime Achievement Award, 2017
JWWalsh Visionary Award COPD Foundation November 2018
American Registry America's Most Honored Doctors 2020
Research
Research Interests
Chronic Obstructive Pulmonary Disease (COPD)
Exercise physiology
Lung volume reduction
Optical electronic plethymography
Selected Publications
Yawn BP, Han M, Make BM, Mannino D, Brown RW, Meldrum C, Murray S, Spino C, Bronicki JS, Leidy N, Tapp H, Dolor RJ, Joo M, Knox L, Zittleman L, Thomashow BM, Martinez FJ. Protocol Summary of the CAPTURE Validation in Primary Care Study. Chronic Obstr Pulm Dis. 2020 Nov 5. doi: 10.15326/jcopdf.2020.0155. Online ahead of print. PMID: 33156981
Aviv J, Chandraselkhar s, Thomashow B. COVID-19 era post viral vagal neuropathy presenting as persistent shortness of breath with normal pulmonary imaging. Int J Pul & Res Sci 4(4): IJOPRS.MS.ID.555641 (2020)
Tal-Singer R, Yawn B, Wise B, Thomashow B, Boyce DM. The COPD Foundation Coronavirus Disease 2019 International Medical Experts Survey: results. Chronic Obstr Pulm Dis. 2020; 7(3): 139-146. doi: http://doi.org/10.15326/jcopdf.7.3.2020.0164
Thomashow B, Carlomagno CG. In gratitude to James D. Crapo. Chronic Obstr Pulm Dis. 2020; 7(3): 134-135. doi: http://doi.org/10.15326/jcopdf.7.3.2020.0177
Mannino DM, Thomashow B Counterpoint –Can screening for COPD improve outcomes? CHEST 2020; 157(1)9-13. DOI:htpps://doi.org/10.1016/j.chest.2019.05.035
Müllerová h , Dransfield M, Thomashow B , Jones P, Rennard S; Fageras M ; Metzdorf N, Petruzzelli S, Rommes J , Sciurba F , Tabberer M, Merrill D, Tal-Singer R , on behalf of the COPD Biomarker Qualification Consortium and the CAT Governance Board. Clinical Development and Research Applications of the COPD Assessment Test (CAT). https://doi.org/10.1164/rccm.201907-1369PP
Lowe KE, Regan EA, Anzueto A, et al. COPDGene 2019: redefining the diagnosis of chronic obstructive pulmonary disease. Chronic Obstr Pulm Dis. 2019; 6(5): 384-399. doi: http://dx.doi.org/10.15326/jcopdf.6.5.2019.0149
COPD Foundation Board of Directors. Time to redefine? A statement of the COPD Foundation. Chronic Obstr Pulm Dis. 2019; 6(5): 430-432. doi: http://dx.doi.org/10.15326/jcopdf.6.5.2019.0168
Thomashow B, Crapo JD, Drummond MB, et al. Introducing the new COPD Pocket Consultant Guide app: can a digital approach improve care? A statement of the COPD Foundation. Chronic Obstr Pulm Dis. 2019; 6(3): In press. doi: http://dx.doi.org/10.15326/jcopdf.6.3.2018.0167