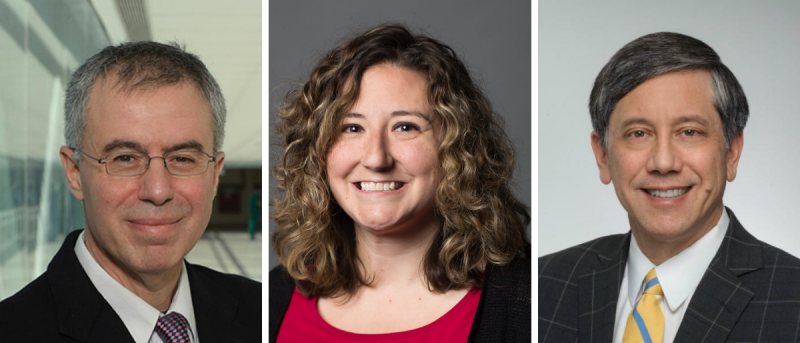 V Foundation to Support Innovative Cancer Research at the HICCC
Through three separate grants, researchers at the Herbert Irving Comprehensive Cancer Center (HICCC) will tackle innovative projects focusing on genetics, immunotherapy, and gastric cancers. Steven Reiner, MD, Alison Taylor, PhD, and Timothy Wang, MD, have recently received awards from the V Foundation for their work at the cutting-edge of cancer research.
Dr. Reiner serves as the Charles H. Revson Professor of Microbiology & Immunology and Pediatrics in the Department of Microbiology and Immunobiology and is a member of the Tumor Biology and Microenvironment research program at the HICCC. Dr. Reiner's work investigates patient response to immunotherapy, an alternative form of cancer treatment in which a patient's own immune system is prompted to attack cancer cells. Though immunotherapy presents a promising alternative to surgery or radiation, researchers are still looking to uncover why it can work as an effective treatment for some but not all patients. In his grant-winning project, Dr. Reiner is developing a blood test that can predict whether a patient will be responsive to immunotherapy before treatment. For those who don't initially respond to treatment, Dr. Reiner's lab will be investigating mechanisms to prompt an immune response that will make immunotherapy an effective treatment for all patients.
Dr. Taylor is an assistant professor of pathology and cell biology at Columbia's Vagelos College of Physicians and Surgeons and a member of the Precision Oncology and Systems Biology research program at the HICCC. Dr. Taylor's research focuses on understanding the role of aneuploidy, in which a patient has an abnormal number of chromosomes, in tumor development. More than 90% of tumor cells do not have the correct number of chromosomes, and scientists know that aneuploidy is a contributing factor in cancer formation. With that said, aneuploidy's role in the process of tumor development is still unanswered. With V Foundation support, Dr. Taylor will be utilizing CRISPR technology that allows researchers to cut chromosomes at specific locations and study the effects of changes in large chromosome segments. Her aim is to uncover how chromosomal changes contribute to cancer formation and build new cancer treatments.
Dr. Wang is a leading expert in gastroenterology cancer research and patient care and serves as division chief of Digestive and Liver Diseases at Columbia University Irving Medical Center and co-leader of the Tumor Biology and Microenvironment research program at the HICCC. Dr. Wang specializes in gastric cancers and has a specific research interest in "myeloid derived suppressor cells," a type of white blood cell that plays an important role in blocking T lymphocytes, the main immune cell that protects us against cancer. Grant support from the V Foundation will allow Dr. Wang to further explore how myeloid derived suppressor cells create resistance to certain immune therapies, with the goal of creating more effective therapies.
Established in 1993, the V Foundation is a top supporter of cancer research, enabling scientists to lead critical advances in our understanding and treatment of cancer. With their support, HICCC researchers hope to bring about exciting advancements for our patients.