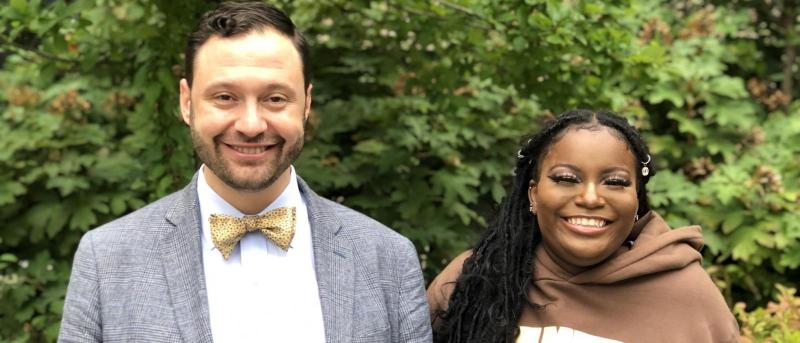 Sheneque's Story: Diagnosed with Cervical Cancer as a Teen, Now a Cancer Thriver
Cervical cancer is typically diagnosed in women between the ages of 35 and 44, but Sheneque Hanse was diagnosed at just 17 years old. A freshman in college at the time, Sheneque suddenly had to pause her college studies to focus on her cancer treatment and care. Under the care of her comprehensive cancer team at NewYork-Presbyterian/Columbia University Irving Medical Center, Sheneque is now disease-free and on a steady road of overcoming cancer.
Sheneque was diagnosed with advanced cervical cancer in the spring of 2019. Leading up to her diagnosis, she had visited an urgent care center for pelvic pain and excessive vaginal bleeding and blood-clotting.  A Bronx, NY, resident, Sheneque and her parents were seen and advised by a physician at NewYork-Presbyterian Lawrence Hospital in Westchester County to see Dr. Alexander Melamed, physician-scientist at the Herbert Irving Comprehensive Cancer Center (HICCC) at NewYork-Presbyterian/Columbia and cervical cancer specialist.
Learning that she had stage III cervical cancer and hearing the words "rare" and "cancer" didn't overwhelm Sheneque. Instead, she remembers feeling a sense of responsibility and determination to overcome the disease. 
"The news was very emotional for everyone around me, especially my parents," says Sheneque, now 20. "I was more like, let's get on top of this and let's do what we have to do. I trusted Dr. Melamed and all the nurses and doctors caring for me. I felt like everyone wanted to do everything they could to help me."
Sheneque underwent an aggressive treatment plan of chemotherapy and radiation, under the care of Dr. Melamed and Drs. Israel Deutsch and Christine Chin at Columbia's Department of Radiation Oncology. After partially failing to respond to treatment, her team conducted surgery, followed by immunotherapy. Unlike chemotherapy, cancer immunotherapy is a newer form of treatment that calls on a patient's own immune cells to invade and kill off cancer cells. While immunotherapy does not have the same side effects as chemotherapy, it is not free of complications.
For Sheneque, immunotherapy has worked successfully to keep her cancer in remission but with that milestone came a rare side effect. Following treatment, Sheneque experienced gradual, waist-down neuropathy and temporary paralysis for 11 months.
"It was so difficult to adjust to life in a wheelchair all of a sudden," says Sheneque, who regained her ability to walk in early 2021. "That was the worse time. I can't thank my doctors enough for working with me every single day through my rehabilitation." 
"We've had a lot of setbacks but she didn't give up. We didn't give up," says Dr. Melamed. "Her journey has been remarkable." 
Focused on the Future
Sheneque was born in Florida and raised in Jamaica and in the Bronx. As a child, she was serious about competitive cheerleading and even had the idea of starting a cheerleading camp for urban youth. Well into her freshman year in college, she began moving towards public relations as a potential major and career path, imagining working with celebrities and in entertainment one day. 
Those aspirations have all changed. Her patient experience at NewYork-Presbyterian/Columbia, including the many interactions with oncology nurses, nurse practitioners, physicians, and physical therapists, have now fueled an interest in pursuing a career in healthcare.
Nurses are the best, notes Sheneque. "During my hospital stays, I'd typically be the youngest person in the room. The nurses, especially during the pandemic when I couldn't have visitors, were always so comforting and nurturing, and so were my doctors. I never felt alone, never felt scared." 
Sheneque has resumed college this fall in Connecticut after taking the two-plus-years to focus on her health. She is considering serving as a patient advocate and a voice for young people with cancer, and has documented her cancer journey on social media. 
"If I can share any part of my experience with young cancer patients, I would say to always express your emotions," says Sheneque. "Whatever you need to do to make yourself feel better, feel comfortable is top priority, even to your loved ones and parents. Your well-being and mental health matter most. You're number one."