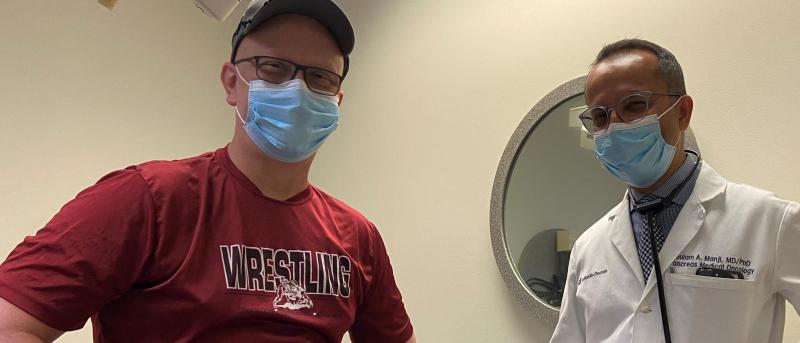 Peter's Story: Overcoming the Odds with Pancreatic Cancer
The year 2020 marks one of the toughest times in Peter Ball's life. The 54-year-old resident of Wappingers Falls, NY, who also goes by Tim, beat back pancreatic cancer three years earlier with a combination of surgery and chemotherapy. He had been considered cancer-free since April 2018.
Just as the COVID-19 pandemic hit New York City in March 2020, his wife had heart valve replacement surgery and was hospitalized a week later with a life-threatening infection. Peter stayed by her bedside, praying for her recovery. She finally bounced back after two long months, but then in September, he found out that his pancreatic cancer had recurred.
His oncologist, Dr. Gulam A. Manji at the Herbert Irving Comprehensive Cancer Center (HICCC), recommended a clinical trial that combined chemotherapy, immunotherapy, and another agent that targets an immunosuppressive pathway. Peter began the experimental treatment in December 2020 and is still on it today.
"His tumor came back within the abdomen in an area called the peritoneum, which is a common site of recurrence. Soon thereafter he started on this clinical trial," says Dr. Manji, director of gastrointestinal medical oncology and assistant professor of medicine at Columbia's Vagelos College of Physicians and Surgeons. "Usually patients with peritoneal disease have a poor outcome relative to patients whose tumor metastasizes to other areas. However, he's done very well over the last two years."
Peter was diagnosed in June 2017 after noticing changes in his bowel movements that didn't go away, even with a healthy diet and lower stress levels. Imaging tests found a mass on his pancreas.
While study results  from the clinical trial that Peter is participating in are expected in the next year, the novel drug combination has given him a new lease on life. He was able to return to work as an equipment manager for Metro-North Railroad, his employer for close to 30 years. His energy level is high enough to where he can tackle physical projects at home, like yard work and car maintenance. He and his wife, who recently celebrated their 30th anniversary in August, can travel and go on vacation.
Within a day or two of treatment, he typically experiences some nausea and fatigue. But overall, side effects — including hair loss, muscle cramps, and neuropathy in his fingertips and feet — have been largely tolerable.
"There are days where, with the exception of a few reminders, I feel 100 percent," says Peter. "On many days, I forget that I have pancreatic cancer."
Innovative therapy for pancreatic cancer
Pancreatic cancer accounts for about 3% of all cancers in the U.S. and often has a grim outlook. The disease is notoriously challenging to treat, with an estimated 11% five-year survival rate. The incidence of pancreatic cancer is rising, with some reports predicting that the number of new cases and deaths will more than double by 2030.
Immunotherapy alone is an appropriate treatment for less than 2% of patients with pancreatic cancer, according to Dr. Manji. These particular tumors contain a signature which associates with treatment response.
"When you combine chemotherapy with immunotherapy alone, studies have shown that, unfortunately, the majority of patients do not fare better than those who just get standard chemotherapy," he says. "Current research in pancreas cancer suggests that there exist immunosuppressive pathways that need to be targeted in combination with chemotherapy and immunotherapy."
Throughout this whole process, Peter tried his best to keep a positive attitude in the face of his disease, even after being told his cancer had come back as stage four. He encourages others to look into clinical trials and not fall into the stigma that pancreatic cancer is an automatic death sentence.
"The clinical trial was a no-brainer, only because I know there are limited treatment options for pancreatic cancer," he says. "I would absolutely tell anyone who is on the fence about engaging in a trial to really give it very strong consideration."