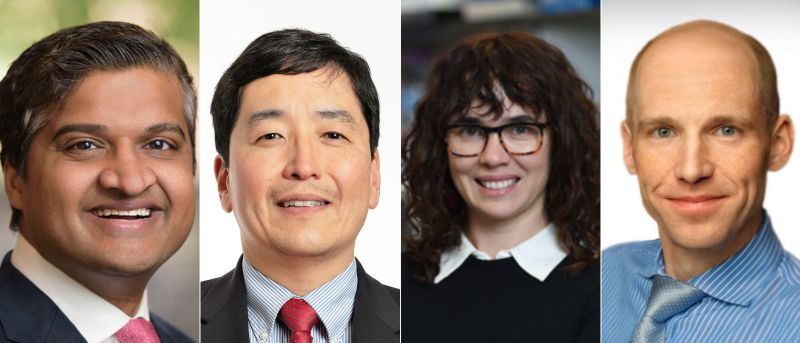 New Class of Velocity Fellows Champion Leading-Edge Research
Four Columbia University cancer researchers have been named Velocity Fellows and awarded pilot grants to support early-stage cancer research. The awardees will share $375,000 in seed funding, made possible by proceeds from Velocity: Columbia's Ride to End Cancer to benefit the Herbert Irving Comprehensive Cancer Center (HICCC) at NewYork-Presbyterian/Columbia University Irving Medical Center. 
The new Velocity Fellows are: Lauren Houghton, PhD, assistant professor of epidemiology at Columbia University Mailman School of Public Health; Chin Hur, MD, professor of medicine at Columbia University Vagelos College of Physicians and Surgeons (VP&S); Markus D. Siegelin, MD, associate professor of pathology and cell biology at VP&S; and Neil Vasan, MD, PhD, assistant professor of medicine at VP&S.
"The annual Velocity ride raises important funds each year to move the needle in cancer research and care, including this critical support of early-stage research by our outstanding investigators," says Anil K. Rustgi, MD, director of the HICCC and Irving Professor of Medicine. "We congratulate our fellows who are incredibly innovative and conducting life-changing research that will help us in our collective mission to end cancer."
Velocity began in 2017 as a cycling fundraising event to raise money for cutting-edge research and expert patient care based at the HICCC. This year, the movement celebrates six years of impact, encompassing over 3,000 participants who have traveled 73,000 miles and raised more than $6 million in the process. Fifteen Columbia University cancer researchers have been named Velocity Fellows in years past, across 11 different departments and 3 different schools at Columbia, and this new class of awardees brings the total to 19. All Columbia faculty who are engaged in new or established cancer or cancer-relevant research are eligible for the Velocity pilot grant, with special consideration for disease teams or researchers who participated in the Velocity Ride.
Registration is now open for Velocity 2022: The Further You Go, The Closer We Get, which is taking place both in person and virtually on October 2, 2022. Velocity Day is a chance for a community of passionate individuals — friends, family, survivors, patients, doctors, nurses, and researchers — to come together and bring us closer to the end of cancer. Participants are welcome to ride, walk, run, or complete any activity of their choice in the name of raising money to support cancer treatment and research. 
The Winning Projects:
"NEW PARADIGM Breast Cancer in Black Women"
Lead Investigator: Lauren Houghton, PhD
Co-Investigator: Jasmine A. McDonald, PhD, assistant professor of epidemiology
Between 1976 and 2009, the incidence of early-onset breast cancer — in other words, diagnosis occurring at younger than 55 years old — has doubled in the U.S. In particular, Black women are more likely to be diagnosed at younger ages, with more aggressive tumor types, and have higher mortality rates compared to white women. Knowledge of hormonal mechanisms that underlie these trends is important to identify biomarkers that can improve risk assessment. Dr. Houghton's mixed-method project will explore the potential of the full steroid metabolome, which includes metabolic components typically thought of as "stress" and "male" hormones, to independently predict early-onset breast cancer in Black and white women. She will also interview Black women to understand their perspective of using biomarkers in cancer screening. 
"Real World Integration of Liquid Biopsy Cancer Tests into Gastrointestinal Cancer Early Detection"
Lead Investigator: Chin Hur, MD
Co-Investigator: Fay Kastrinos, MD, associate professor of medicine
The field of cancer early detection faces a period of intense upheaval as a growing number of early detection tests based on liquid biopsy technologies become available. The sheer number of products and the scope of cancers targeted will not allow for lengthy, rigorous evaluation of potential benefit and harm before the tests enter the marketplace. With this project, Dr. Hur and collaborators aim to use innovative deployment of simulation modeling and data-driven investigation to inform the utilization of liquid biopsy tests for cancer early detection and control. In particular, the study will analyze the potential integration of liquid biopsy testing for colorectal cancer, gastric cancer, and esophageal cancer screening in the context of endoscopic screening and surveillance.
"Targeting Metabolic Liabilities Induced by AURKA Inhibition in Glioblastoma"
Lead Investigator: Markus D. Siegelin, MD
Co-Investigator: Guoan Zhang, PhD
Glioblastoma, the most common primary brain tumor in adults, has a poor prognosis. Due to the inherent heterogeneity of glioblastoma, a single treatment is unlikely to elicit a durable therapeutic effect on this disease. Recent research has demonstrated that a fundamental understanding of tumor cell metabolism and how treatments affect it might lead to new therapeutic approaches. Dr. Siegelin aims to investigate whether the anabolic tumor cell metabolism of glioblastomas is regulated through Aurora kinase A (AURKA), an enzyme that shows significantly higher expression in cancer tissues than in normal control tissues for multiple tumor types. The results will provide further biological insight of the underlying molecular pathways involved in glioblastoma, which may facilitate combination treatment strategies involving AURKA inhibition. 
"Large scale functional examination of PIK3CA variants and PI3K inhibitor sensitivity in breast cancer"
Lead Investigator: Neil Vasan, MD, PhD
Precision oncology requires predicting how cancer gene variants function in each patient. PIK3CA mutations are frequent in estrogen receptor positive metastatic breast cancer and are a predictive biomarker of response to PI3K inhibitors. For example, three common PIK3CA mutations predict for increased PI3K inhibitor sensitivity. However, there are approximately 1000 rare PIK3CA variants, representing 40% of PIK3CA mutant tumors across cancers, with unknown pathogenicity or response to PI3K inhibitors. To solve this problem, Dr. Vasan plans to develop a mutational scanning platform to measure the functional and therapeutic impact of all single amino acid PIK3CA variants. Such a compendium would provide a roadmap to guide current and future treatment strategies for patients with breast cancer and other tumor types.