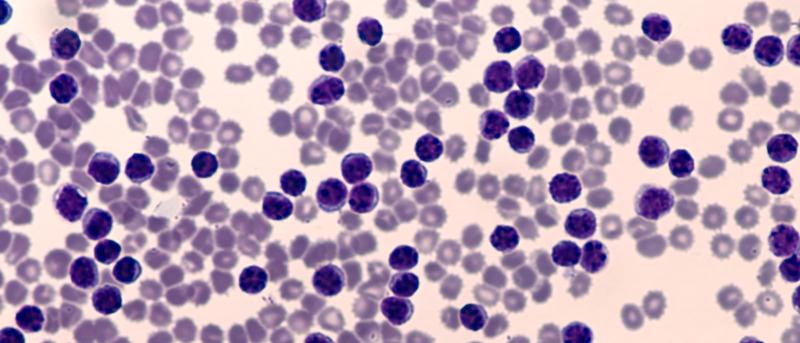 Key Advances in Targeted Therapy for Chronic Lymphocytic Leukemia: Q+A with Nicole Lamanna, MD
Chronic lymphocytic leukemia (CLL) is a type of blood cancer in the bone marrow and lymph nodes, and the most common type of leukemia in adults in western countries. CLL mainly affects older adults, with 70 years old being the average age of diagnosis. In 2022, there were more than 20,000 new cases of CLL in the U.S.
Targeted therapies for CLL, such as Bruton's tyrosine kinase (BTK) inhibitors, have demonstrated superiority over more traditional chemoimmunotherapy in patients with CLL, both in the frontline and relapsed, refractory settings, when the cancer comes back or no longer responds to treatment. BTK inhibitors are drugs that block a key part of the B-cell receptor signaling pathway, which CLL requires for growth and survival.
In a multinational, phase 3, head-to-head clinical trial--called the ALPINE study--investigators compared two BTK inhibitors, zanubrutinib versus ibrutinib. Ibrutinib was approved by the U.S. Food and Drug Administration (FDA) for the treatment of CLL in 2013. Zanubrutinib, on the other hand, is a novel BTK inhibitor. Findings from the study, published December 13 in the New England Journal of Medicine, showed that  patients who received zanubrutinib have significantly longer progression-free survival with less cardiac side effects compared to those who received ibrutinib.
A leading clinical investigator focused on CLL, Nicole Lamanna, MD, was actively involved with ALPINE and other critical investigations whose latest results were presented at this year's American Society of Hematology (ASH) Annual Meeting, held December 10-13 in New Orleans, LA. Dr. Lamanna, an associate professor of medicine at Columbia's Vagelos College of Physicians and Surgeons (VP&S) and member of the Herbert Irving Comprehensive Cancer Center (HICCC) at NewYork-Presbyterian/Columbia, focuses on the development of safer, more effective combination therapies for patients with CLL.
"It is an exciting time for patients with CLL," says Dr. Lamanna. "We have many studies evaluating novel targeted combinations and newer therapies that look promising in patients with relapsed refractory disease or Richter's transformation, an aggressive complication associated with an extremely poor prognosis."
Dr. Lamanna shares her insights on the latest in CLL treatment, the new findings presented at ASH, and what else is on the horizon.
What is the current state of CLL treatment and care?
The treatment of patients with CLL has been transformative in the past 5 to 10 years. Targeted therapies such as BTK inhibitors, of which there are several, and the BCL2 inhibitor known as venetoclax offer incredible efficacy against CLL.
Currently, patients have multiple options of therapy. They can either take continuous daily oral therapy with a BTK inhibitor, with or without a monoclonal antibody, until time of progression. Alternatively, patients can take a time-limited approach [short-term] with a combination of venetoclax and monoclonal antibody which affords deeper depths of remission compared to chronic continuous monotherapy with a BTK inhibitor by itself (ie no evidence of disease after therapy) allowing dose discontinuation and then active monitoring until they need re-treatment.
Could you elaborate on the findings from the ALPINE study and an update on the BRUIN study results presented at ASH?
The Phase 3 ALPINE study compared two covalent BTK inhibitors, zanubrutinib versus ibrutinib, in over 600 previously treated CLL patients. Ibrutinib was the first covalent BTK inhibitor initially approved in 2013. This clinical trial demonstrated decreased cardiac side effects with zanubrutinib as compared to ibrutinib. In addition, at 24 months, patients treated with zanubrutinib also had an improvement in overall response rate (84% vs. 74%) and progression-free survival (78% vs. 66%) compared to ibrutinib. There were also less discontinuations due to drug toxicity or progressive disease with zanubrutinib. We look forward to ongoing follow-up of this study.
Another key clinical trial, the Phase 1/2 BRUIN study is exploring the safety and efficacy of a noncovalent BTK inhibitor called pirtobrutinib, which has demonstrated activity in patients who have previously relapsed after either covalent BTK inhibitors or venetoclax-based therapy. It has also demonstrated activity in patients who have developed BTK-resistant mutations from their prior covalent BTK inhibitor therapy and in patients with Richter's transformation. The side effect profile with this drug is very favorable, and we look forward to more data with this agent.
What developments are on the horizon for CLL treatment that you are most excited about?
There are many reasons to be excited given the rapid evolution of therapy for CLL patients. There are several other time-limited approaches being evaluated currently, such as all-oral combinations of drugs such as BTK inhibitors and venetoclax. We are looking at minimal residual disease in patients who are receiving time-limited approaches so we can tailor therapies better for patients depending upon their disease characteristics. There are also new therapies being evaluated for patients with multiply relapsed, refractory disease that look promising — for example, noncovalent BTK inhibitors, ROR1 inhibitors, bispecific monoclonal antibodies, and BTK degraders.
References
Brown JR, Eichhorst B, Hillmen P, Jurczak W, Kaźmierczak M, Lamanna N, O'Brien SM, Tam CS, Qiu L, Zhou K, Simkovic M, Mayer J, Gillespie-Twardy A, Ferrajoli A, Ganly PS, Weinkove R, Grosicki S, Mital A, Robak T, Osterborg A, Yimer HA, Salmi T, Wang MD, Fu L, Li J, Wu K, Cohen A, Shadman M. Zanubrutinib or Ibrutinib in Relapsed or Refractory Chronic Lymphocytic Leukemia. N Engl J Med. 2022 Dec 13. doi: 10.1056/NEJMoa2211582. Epub ahead of print. PMID: 36511784.