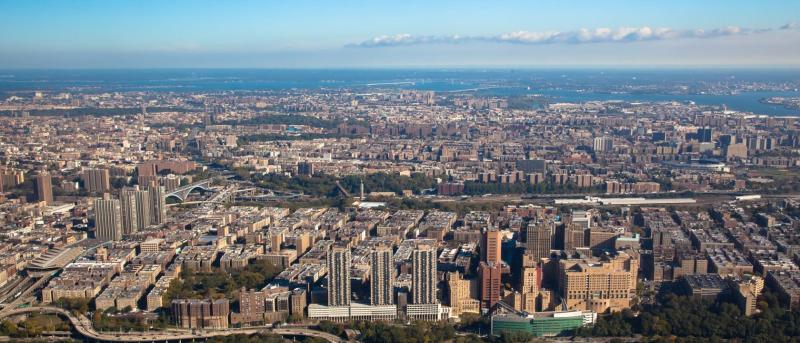 How Environmental Exposures Affect Cancer Risk: Q+A with Ana Navas-Acien, MD, PhD
The genetic changes that lead to cancer can occur naturally, but sometimes they may happen as a result of exposure to carcinogens, or cancer-causing substances, in the environment. For example, living in an area with air pollution is a well-established risk factor for lung cancer, and most mesotheliomas are thought to be caused by breathing in asbestos fibers. In total, the National Toxicology Program has identified more than 250 substances that are known or likely to cause cancer in humans.
"We know that there are many established carcinogens that are present in the air that we breathe, the water that we drink, and the food that we eat, and this affects most populations globally," says Ana Navas-Acien, MD, PhD, a professor of environmental health sciences at Columbia University Mailman School of Public Health and member of the Herbert Irving Comprehensive Cancer Center. "With the problem of climate change and the impacts on cancer that we anticipate, it's really important for us to be prepared to address the ongoing common challenges."
Dr. Navas-Acien — who was recently appointed as one of six members of President Biden's National Cancer Advisory Board — sheds light on cancer-causing substances in drinking water, how certain groups are disproportionally affected, and the impact of climate change on cancer risk.
---
You've done a significant amount of research on arsenic in drinking water. Where does the arsenic come from, and what have you found in terms of cancer risk?
This is something I care a lot about. In the United States, there are parts of the country that are geologically very rich in inorganic chemicals known to be carcinogenic, and one of them is arsenic. The naturally occurring arsenic is then released from these geologic sources into groundwater, particularly in places like the Southwest and also the Midwest.
At the same time, we've done enormous amounts of mining in this country for many decades. All of that activity has resulted in many abandoned mines that have contributed to increased arsenic concentrations in the air, water, and soil. So, the release of arsenic into the environment is a result of both manmade and natural activity.
We've done extensive research on the health effects of arsenic exposure in drinking water, and we found connections to several cancers, including lung cancer, prostate cancer, and pancreatic cancer. 
---
Are some populations more at risk of arsenic exposure than others?
There are issues of environmental justice that are quite present, which means that not all populations are exposed equally. And unfortunately, some communities are more exposed than others. I am very interested in looking at who is exposed to environmental carcinogens, and how can we prevent those exposures from taking place, so that we can really prevent more people from developing cancer.
In a recent study, we looked at county-level associations between racial/ethnic composition and public water arsenic concentrations. The results show that higher proportions of Hispanic/Latino and American Indian/Alaskan Native residents are associated with significantly higher arsenic concentrations. The same can be said for uranium, a chemical substance that is toxic to the respiratory, kidney, and reproductive systems.
Such disparities — which are often the result of environmental racism — are really of concern for us, and we are trying to contribute this evidence so that policy changes can be set in place for communities to be protected.
---
Why is it especially important now to think about our environmental risk for cancer?
Environmental exposures are widely prevalent, and most people are affected by them. With the problem of climate change and the impacts that we anticipate, the challenges brought on by environmental exposures are just going to keep growing.
For instance, evidence supports that drought is going to impact the levels of these inorganic chemicals that are in drinking water. The levels are expected to increase over the years, which means that we are going to have to respond even better to prevent exposures to these carcinogens from happening. The same with air pollution, which also impacts cancer risk. It's very important for us to recognize how the environment affects health, and cancer in particular. 
---
Lastly, tell us about your upcoming role as a member of President Biden's National Cancer Advisory Board.
After being a scientist for more than 30 years, I'm excited to contribute from a different perspective. My role is to provide guidance to the Director of the National Cancer Institute, together with all the members of the committee, regarding strategies for cancer research and funding.
I value this appointment as recognition of environmental health as a key strategy to tackle the cancer epidemic. It is truly a great honor, as well as a great opportunity to help communities that are the most affected by environmental carcinogens through prevention interventions and strategies.