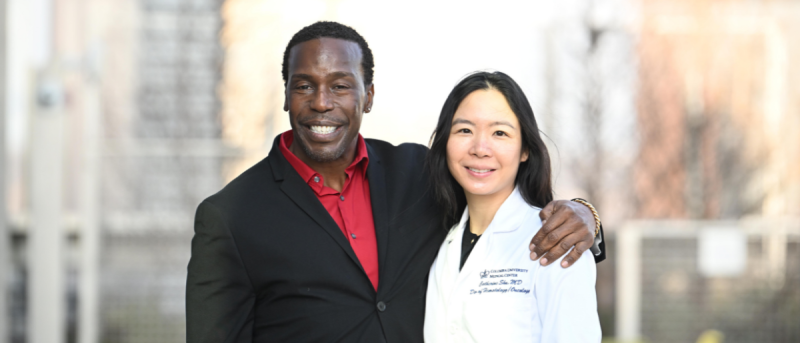 Featured Voice: A Thank You Letter to Oncologists That Are Not Only Capable, but Caring
No one wants to have to go through cancer alone. In this Featured Voice for the HICCC cancer survivor Oswald Peterson pays tribute to his oncologist, Catherine Shu, MD, sharing how the bond patients form with their doctors can be just as powerful as the treatment they receive.  
As I write this, I live in a moment I was not supposed to have lived, I take a breath that was not supposed to be mine. Being snatched from the jaws of death will give you a greater appreciation of things like moments and breaths. These moments that I am fortunate to have and the breaths that I am blessed to take have all been made possible by the amazing Dr. Catherine Shu and my team at the Herbert Irving Comprehensive Cancer Center and NewYork-Presbyterian.
In January 2017, I was diagnosed with a very aggressive form of stage four lung cancer, that had metastasized throughout my body. It was in my spine and my lymph nodes, and my left lung was basically one big tumor filling up with fluid. That fluid was also in my heart, and I had cancerous nodules and blood clots in my back and chest. To say the outlook was not good would be an understatement. I was weeks away from dying.  
While in the hospital one day, God sent an angel to me, Dr. Catherine Shu. Dr. Shu's professionalism, dedication and obvious genuine care was instantly apparent. She introduced me to immunotherapy, speaking always in a way that I would understand. She gave me not only hope, but the will to live. Dr. Shu and my care team at the HICCC offered me world-class treatment with the touch of a caring friend. They made me feel like family. The course of treatment Dr. Shu charted out, coupled with her expertise, saved my life. She did the impossible, because my recovery was only an inch short of resurrection after feeling like I was at death's door. 
Through the quality of care I received, I was able to get back my quality of life. Today, thanks to the care of Dr. Shu I'm not only talking breaths, I'm taking trips, I'm taking my partner down the aisle, and I'm taking life by the horns. It's amazing to find a doctor, staff and institution that is not just capable, but caring. Dr. Shu is truly a miracle worker, and a credit to her profession. I don't think the word exists that can explain how immensely grateful I am for Dr. Shu and her life-saving care.  
Thanks to the immunotherapy regimen Dr. Shu provided, Oswald has no evidence of disease and only requires annual checkups to monitor his condition. He's made the most of that time away from the hospital, traveling recently to Thailand with his partner and planning their wedding for the summer of 2024.