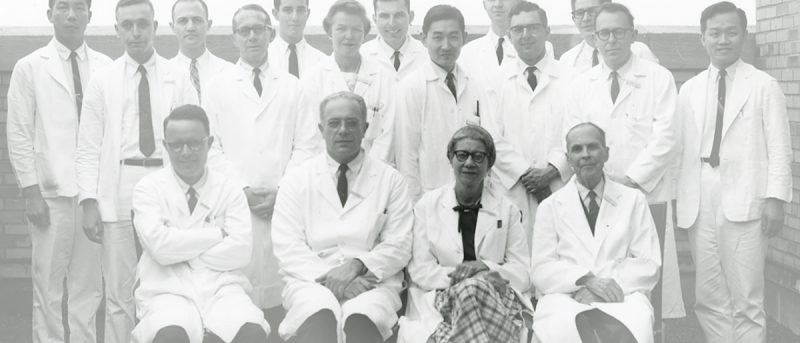 Dr. Virginia Kneeland Frantz: Paving the Way for Women in Medicine
Virginia Kneeland Frantz, MD, is a well-known name at Columbia University Irving Medical Center, with the Virginia Kneeland Frantz Society for Women Faculty created in 2014 to serve, support, and celebrate the careers of women in science and medicine at the Vagelos College of Physicians and Surgeons (VP&S). The story of Virginia Kneeland Frantz MD'22, however, is less known.
Dr. Frantz, known as VKF to friend and colleagues, began her remarkable medical career in 1918, when she was accepted to the College of Physicians and Surgeons, as VP&S was then known, one of five women in a class of 74 students. VP&S had just begun admitting women the previous year, due to the efforts of Gulli Lindh, MD'21, a Barnard College graduate. Dr. Frantz excelled and graduated second in her class—behind another woman. (Dr. Frantz married fellow student Angus Frantz during medical school, later divorcing in 1935).
After graduating, Dr. Frantz became the first woman admitted to the two-year surgical residency program at what is now NewYork-Presbyterian, followed by respective appointments to the faculty and hospital as instructor in surgery and outpatient surgeon. At the time, young surgeons in these positions could be selected after a few years to join the regular hospital staff. But Dr. Frantz's senior colleagues believed patients would not accept a woman surgeon, and on their advice, she instead pursued a career in surgical pathology.
As one of the early pioneers of surgical pathology, Dr. Frantz made a series of important cancer discoveries. In the 1940s, she was among the first to demonstrate that radioactive iodine was effective in diagnosing and treating metastatic thyroid cancer. With surgeon Allen O. Whipple, she was the first to describe the insulin-secretion of pancreatic tumors, and her text on tumors of the pancreas—the Armed Forces Atlas of Tumor Pathology—became the standard on the subject.
Her medical contributions also extended outside the field of cancer. During World War II, Dr. Frantz studied the control of bleeding during surgery and helped discover how oxidized cellulose could aid wound healing. The product was developed under her direction (and later sold by Ethicon under the name Surgicel) and used on the battlefield. For her military contributions, Dr. Frantz received the  Army-Navy Certificate of Appreciation for Civilian Service.
Outside of Columbia, Dr. Frantz blazed a trail for women in medicine. She served two terms at the helm of the New York Pathological Society and, in 1961, became the first woman president of a major national medical association, the American Thyroid Association. 
Despite paving the way for women in medicine, Dr. Frantz didn't consider herself a feminist, and in 1957, she initially rejected the New York Infirmary's Elizabeth Blackwell Award for Distinguished Service to Medicine by a Woman, saying, "I can accept recognition as a doctor but not as a female doctor." She changed her mind, however, after learning about Blackwell's place in history as the first woman to earn a medical degree in the United States and her role in making it possible for women physicians to obtain internship training.
As an educator, Dr. Frantz's contributions were equally noteworthy. Upon her retirement in 1962—after 40 years of teaching—the medical board of Presbyterian Hospital lauded Dr. Frantz for her "searching, yet humorous questions… [that] constantly challenged her students to replace rote memory with constructive and critical thought." 
"The true extent of Mother's charisma as a teacher revealed itself when she died in 1967," wrote her son Andrew, a professor of medicine at VP&S until his death in 2010. "I received almost 400 letters of condolence… Most of them came from doctors completely unknown to me, who identified themselves as former P&S students. They said they felt they had to tell some member of her family how much her teaching had meant to them, and in many cases, changed the course of their lives."
To young women and young men, Dr. Frantz advised, "If you go into medicine with stardust in your eyes you will be quickly disillusioned. But if you are crazy enough to be determined to do it… the rewards are enormous."