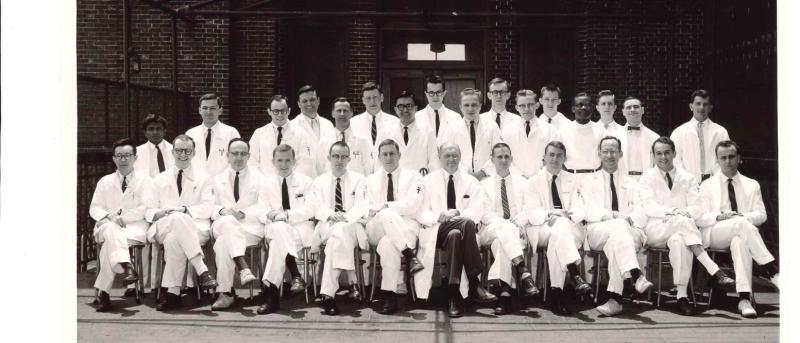 Dr. Kenneth A. Forde: An Early Advocate for Cancer Screenings, Champion for Diversity
In 1982, Spencer E. Amory, MD, was interviewing for his residency at Columbia University Irving Medical Center when he met the man who would become his lifelong mentor, Kenneth A. Forde, MD.  Once he matched at Columbia, Dr. Amory spent as much time as possible connecting with Dr. Forde, absorbing his knowledge and techniques, emulating his compassionate interaction with patients, and observing his natural gift to lead and innovate. Today, Dr. Amory is the Jose M. Ferrer Clinical Professor of Surgery at Columbia University Vagelos College of Physicians and Surgeons (VP&S), the same professorship once held by the late Dr. Forde.
"Dr. Forde was a general surgeon and then a colorectal surgeon before that became a specialty. He involved me in endoscopy and minimally invasive surgery when few in surgery understood the importance of these novel techniques.  He was an early proponent of colonoscopy for colon cancer screening," says Dr. Amory. "He had the vision of the path ahead in surgery and in colon cancer prevention and management. He also understood the importance of training surgeons with diverse backgrounds."
Diversity matters
A distinguished leader in surgery, medicine, and academia, Dr. Forde applied a strong but gentle approach to enacting change during his longstanding career. As the only Black student in his graduating class from VP&S in 1959 and one of the few Black faculty members at Columbia (he joined in 1966), he helped foster the importance of diversity in academia and medicine. Even before DEI, short for Diversity, Equity, and Inclusion, became a recognizable term in the workplace, Dr. Forde had the foresight—taken from his own experience with discrimination—that diversity matters. 
"In this campaign Dr. Forde was at first a foot soldier, and later a general," says Dr. Amory. "In his early career he was the advance scout who surveyed the territory identifying obstacles and neutralizing threats. His tools in this effort were his intellect, his excellence, and his interpersonal skills. He made it possible for others like me to be welcomed. He cleared a path and subsequently strategized to recruit and retain us."   
Among the organizations that honor Dr. Forde's service to Columbia is the Kenneth A. Forde Diversity Alliance (KAFDA). Established in 2014, the group brings together underrepresented medical students, resident physicians, fellows, graduate students, faculty, research scientists, and allies across the medical center. KAFDA aims to empower the community through networking opportunities, diversity awareness, mentoring relationships, community service and leadership development opportunities.
"He was a 'gentle giant' who always took the high road when faced with adversity," says Trisha Hargaden, a longtime administrative coordinator in the Department of Surgery who assisted Dr. Forde from 1997 until his retirement in 2006.
"In the early days, he experienced a new patient walking out of his office when they realized he was the surgeon performing the procedure," Hargaden adds. "He never became bitter as a result of the many slights he received. He focused on the bigger picture – advocating for colon cancer screening and educating people at the grass roots level as well as people in positions of power that could make a difference."
Raising awareness for screenings
Dr. Forde pioneered the importance of screenings, specifically colonoscopies, for the early detection and prevention of cancer. His research expertise ranged from identifying markers for colon cancer and recognizing the involvement of polyps in cancer development. He spearheaded the use of endoscopy as a diagnostic and surgical tool. 
In 2000, Dr. Forde got his more than 15-minutes-of-fame when journalist Katie Couric documented and aired her first-ever colonoscopy by Dr. Forde on the Today Show. It was an up close and personal "day in the life" experience that helped raise awareness for colonoscopies as essential for early detection of colon cancer, a measure—and message—that was not yet widely known or shared. 
At the end of the procedure, which Couric described as a "not-so-bad" experience, viewers got to witness Dr. Forde's pleasant and gentle nature. The two shared a few laughs on-screen, and the segment served as one of the first widely disseminated messages around colon cancer screening and prevention awareness. More than six million television viewers tuned in, and reportedly the on-air procedure led to a nationwide increase in colonoscopies.
Paying it forward
People began to refer to the jump in colonoscopy procedures as the "Couric effect" following that episode, but one could say there was also somewhat of a "Forde effect." Dr. Forde's impression on people—his colleagues, staff, patients, contemporaries—gave way to a platform to strategically influence people into areas that were near and dear to him, such as aiding and mentoring a diverse pool of next-generation physicians and leading by example to impact change.
"When you look at the societies that Dr. Forde was a member of or cofounded," says Hargaden, "you can see that his very presence in these societies and the committees he served on helped broaden the inclusivity of the membership to include minorities and helped bring the colon cancer screening message to a wider audience that included minorities."
Dr. Forde cofounded the Society of American Gastrointestinal Endoscopic Surgeons (SAGES) in 1981 and served as its president in 1983. He used the skills gained from navigating discrimination to gain acceptance for minimally invasive surgery and grow SAGES to what is now the largest surgical society in the U.S. He also was president of the New York Society for Gastrointestinal Endoscopy and New York Surgical Society.
The Forde legacy
Dr. Forde's Columbia career dates back to 1959 when he earned his medical degree from the College of Physicians and Surgeons. He completed his surgical internship and residency at Bellevue Hospital and Columbia in 1964. In 1966, after serving in the Army, he joined Columbia faculty, rising to full professor in 1983 and holder of the Jose M. Ferrer Professor of Clinical Surgery. After his retirement, he served as a trustee of Columbia University, a position he held until his death in 2019 at age 85.
"In addition to being a visionary and an incredible mentor he also was a friend in every sense of the word," Dr. Amory says. "For someone with his stature, he was incredibly humble. He did not dwell on his many accomplishments and was quick to recognize that his achievements were aided by the efforts of so many others."