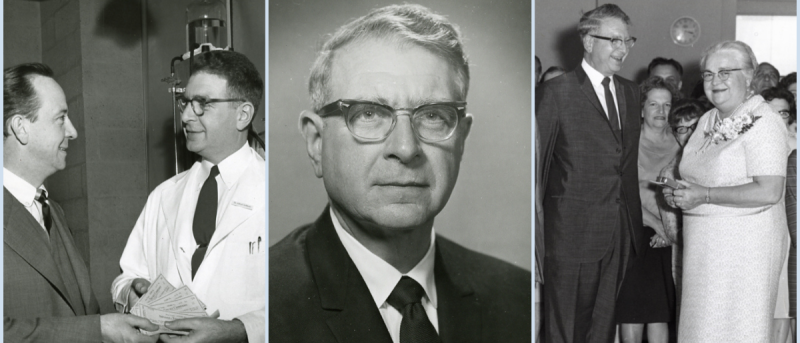 Dr. Alfred Gellhorn: A Cancer Visionary and Advocate for Diversity and Representation in Medicine
"A truly good man who was committed to improving society through education and an unswerving courageous champion of social justice."
When Alfred Gellhorn, MD, was appointed director in 1952 of the Institute of Cancer Research at Columbia –a predecessor to the Herbert Irving Comprehensive Cancer Center (HICCC)— the idea that curing cancer was possible was not widely held. Dr. Gellhorn, however, pushed ahead, recruiting doctors and scientists interested in studying cancer, including trainees who became renowned experts in the field. 
His list of recruits included such giants as Bernard Weinstein, MD, PhD, who pioneered the study of environmental pollutants and cancer and is credited for establishing the molecular epidemiology field, and Paul Marks, MD, who led Memorial Sloan Kettering Cancer Center as its chair and chief executive officer in the 1980s and 1990s. 
When the Francis Delafield Hospital at Columbia-Presbyterian Hospital was established in 1950, the institute gained an important clinical arm, helping Dr. Gellhorn with his goal of developing a residency program in cancer. Eventually, he founded a dedicated cancer research and training program at Columbia that linked clinicians and researchers, one of the first such programs in the country.
Dr. Gellhorn began his career as a trained surgeon, only shifting his focus to cancer, when  he joined the faculty at Columbia's College of Physicians and Surgeons in 1943. During his 25-year career at Columbia he held professorships in medicine, physiology and pharmacology, and served as chief of medical service at Delafield Hospital. A cancer pioneer, he published over 200 papers on cancer and chemotherapy, and in 1963 was named president of the American Association for Cancer Research, the first and largest research organization dedicated to cancer research and discovery.
His daughter, Christina Gellhorn, a longtime administrator at Columbia's Institute for Cancer Genetics, describes her dad as an inspirational leader and futurist. "He was a physician, reformer, humanist, mentor, and as noted by many, as a result of his time at Columbia as director of the Institute of Cancer Research, a visionary," she says. 
"He championed inclusion of women and minorities in the field of medicine, a topic that is of much discussion at Columbia today and yet another example of Dad, throughout his life, being ahead of his time."
In 1968, Dr. Gellhorn left Columbia and joined the University of Pennsylvania to serve as dean of the School of Medicine. He was credited for infusing medical education with a sense of social mission and expanding the school's focus to include other disciplines across the University, like health policy and medical ethics. At Penn, he also turned his attention to improving representation of women and people of color in science and medicine—both at the student and faculty level.  
From pioneering cancer to reforming medical education
Among many major efforts focused on what we now refer to as DEI (Diversity, Equity, and Inclusion), Dr. Gellhorn established at Penn a department of community medicine and a community-based mental health consortium, in large part to increase Penn's relationship with its surrounding diverse community and build engagement with community health partners. After his retirement from Penn in 1973, DEI became central to Dr. Gellhorn's next career endeavor. 
As vice president for health affairs at the City College of New York, he created a unique, six-year combination bachelor of science-medical degree program called the Sophie Davis School of Biomedical Education. This program aimed to recruit high school students in New York City interested in pursuing a career in primary care medicine with a focus on serving low-income urban communities. 
Dr. Gellhorn, who passed away in 2008 at the age of 94, held at least four different careers in medicine, health policy, and education, since his time at Columbia and the cancer center. In 1983 he was appointed director of medical affairs at the New York State Department of Health, serving under David Axelrod, a past senior advisor in the Obama Administration. Dr. Gellhorn helped shape several initiatives, including a landmark Harvard study of adverse events in hospitalized patients, and the efforts to set a maximum-hours standard for medical residents in training. Dr. Gellhorn also cofounded the Gateway Institute for Pre-college Education, a program implemented in 2000 in New York City's public high schools to help minority and low-income students pursue medical careers.
In remarks at the time of Dr. Gellhorn's death, fellow physician and colleague, Arnold S. Relman, MD, shared, "Alfred was a truly good man who was committed to improving society through education, and he was an unswerving courageous champion of social justice."