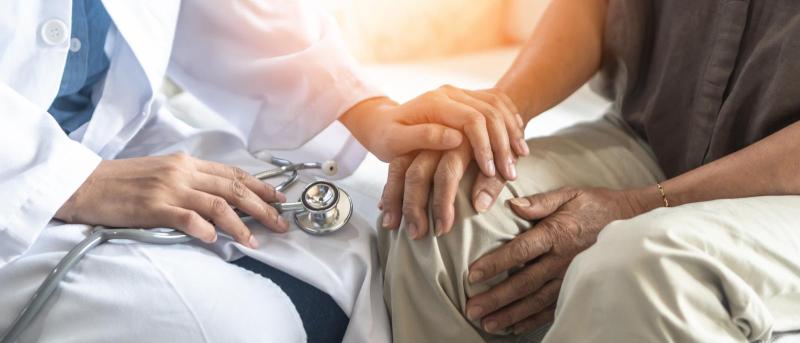 COVID-Related Cancer Treatment Delays May Increase Racial Inequities in Cancer Outcomes
The ripple effects of the COVID-19 pandemic in healthcare are widespread. Many people have either hit pause on their current treatments for cancer, routine screenings and other health care needs, or discontinued them altogether.
A new study reveals that Black and Hispanic patients, who already shoulder a disproportionate burden of poor cancer outcomes and have been heavily impacted by COVID-19, are suffering from greater treatment delays or discontinuations, which could lead to a widening of existing inequities in cancer care.
The study was recently published in JAMA Network Open.  
"COVID-19 pandemic-related cancer treatment delays—especially delayed pharmacotherapy—is likely to contribute to worsening inequities in cancer survival among groups already vulnerable to poorer outcomes," says the study's lead author Adana Llanos, PhD, MPH, a member of the Herbert Irving Comprehensive Cancer Center (HICCC) at NewYork-Presbyterian/Columbia University Irving Medical Center (CUIMC) and associate professor of epidemiology at the Mailman School of Public Health.
Dr. Llanos is a cancer epidemiologist and inequities researcher. Her work delves into the topics of molecular and social determinants of health and the crucial role of sociobiologic mechanisms in the landscape of persistent racial and ethnic health care inequities.
"We hypothesized that due to the COVID-19 pandemic, there would be obvious impacts on cancer care that might be more appreciable among individuals belonging to racial and ethnic and marginalized groups. This is essentially what we found in our analysis of data from the ASCO Survey on COVID-19 in Oncology (ASCO Registry)."
The new study investigated a cohort of 4768 patients with both cancer and a COVID-19 diagnosis and found that compared to their white counterparts, Black patients were 35% more likely to experience cancer treatment delays or discontinuations of treatment, and Hispanic patients were 14% more likely to do so. Black and Hispanic individuals experienced more cancer treatment delays by at least 14 days. Cancer treatments that were delayed or not conducted included surgery, drug-based treatment or radiotherapy.
The findings suggest that place and area-level social determinants of health, such as proportion of residents without health insurance, with only a high school education or lower median household income—are associated with who is more likely to experience treatment delay or discontinuation. The results underscore the idea, according to researchers, that residents of socioeconomically disadvantaged areas are more likely to experience various forms of health inequalities, independent of individual-level factors associated with those outcomes.
"Unfortunately, the full impact of delayed oncology care that occurred during the pandemic cannot yet be fully estimated," says Dr. Llanos, "but understanding the broad-reaching effects of the COVID-19 pandemic and the impact of social determinants of health are critical for identifying opportunities to improve clinical practice and develop cancer care delivery models to improve outcomes in vulnerable groups."
This retrospective, registry-based cohort study used data from the ASCO Registry of patients receiving cancer care who had positive test results for SARS-CoV-2 infection, collected from April 1, 2020 (the height of the COVID-19 pandemic) to September 26, 2022. The work was supported by a grant from Conquer Cancer Foundation-ASCO.