The Irving Family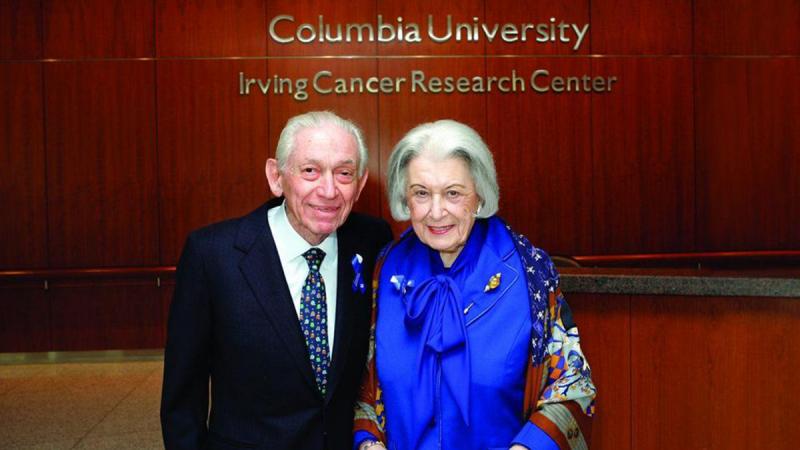 In 2017, Herbert and Florence Irving gave a transformative $700 million gift to Columbia University and NewYork-Presbyterian to dramatically advance research and clinical programs for the treatment of cancer.
The Irvings' extraordinary philanthropy has been felt across a wide range of scientific disciplines, including cancer genomics, immunology, computational biology, pathology, and biomedical engineering. A key focus is to further advance cancer research and clinical care in Columbia's Precision Medicine Initiative which, in partnership with NewYork-Presbyterian, is exploring the genetic and genomic basis of cancer and other life-altering diseases.
The Irving name has long been a familiar part of Columbia and the Columbia campus of NewYork-Presbyterian. The Medical Center is home to the Herbert Irving Pavilion, the Irving Cancer Research Center, the Irving Institute for Clinical and Translational Research, the Irving Radiation Oncology Center, the Irving Bone Marrow Transplant Unit, and the Herbert Irving Comprehensive Cancer Center, as well as a long list of named professorships, faculty chairs, and clinical and research facilities. The Irvings' generosity began with their 1987 endowment of the Irving Scholars program for early-career clinical investigators, and their donations over the past three decades to Columbia University and NewYork-Presbyterian total more than $900 million. The 20-acre medical center campus shared by the two institutions in upper Manhattan was renamed in 2016 to honor the Irvings, and the institutions are now known as Columbia University Irving Medical Center and NewYork-Presbyterian/Columbia University Irving Medical Center.
Both Florence and Herbert Irving were born and raised in Brooklyn. Herbert Irving, who died in 2016 at the age of 98, was a co-founder and former vice chairman of Sysco Corporation, the nation's largest food distributor. Florence Irving, who died in 2018 also at the age of 98, served in leadership positions on the boards of several non-profit institutions, including The Metropolitan Museum of Art.
"Herbert and I have always been proud to help the terrific doctors at Columbia and NewYork-Presbyterian," said the late Florence Irving. "It meant everything to him to be able to support world-class research and caregiving that makes a difference in people's lives. I am honored, as he always was, to be associated with these great institutions and the special people who make them what they are."