Piero Dalerba, MD
Assistant Professor of Pathology & Cell Biology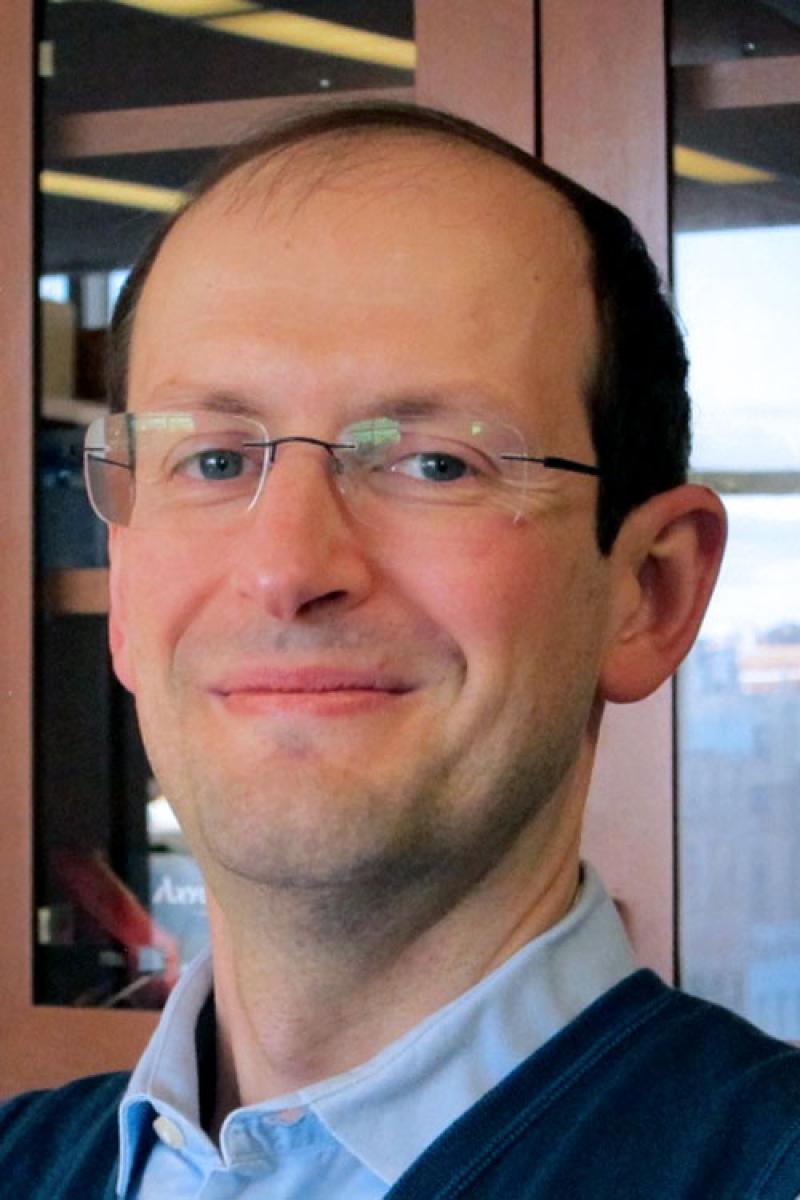 Overview
Academic Appointments
Assistant Professor of Pathology & Cell Biology
Credentials & Experience
Education & Training
MD, 1995 University of Milan (Italy)
Honors & Awards
2022 - Seed Fund Award - Columbia Stem Cell Initiative (CSCI)
2019 - VELOCITY Fellow Grant Award - Columbia University Irving Medical Center (CUIMC)
2018 - Young Investigator Grant (YIG) - Breast Cancer Alliance (BCA)
2018 - "Kara Gelb" Memorial Grant - Adenoid Cystic Carcinoma Research Foundation (ACCRF)
2017 - Schaefer Research Scholar - Columbia University Medical Center (CUMC)
2016 - Runyon-Rachleff Innovation Award - Damon Runyon Cancer Research Foundation
2012 - NCCN Young Investigator Award - National Comprehensive Cancer Network (NCCN)
2012 - Siebel Scholars Program - Siebel Stem Cell Institute and The Thomas and Stacey Siebel Foundation
2011 - BD Biosciences Stem Cell Research Grant - BD Biosciences
2006 - CIRM Training Grant - California Institute for Regenerative Medicine (CIRM)
2004 - FIRC "Leonino Fontana e Maria Lionello" Fellowship - Italian Foundation for Cancer Research (FIRC)
2002 - 9th International PBI "Valentina Lana" Research Prize in Molecular Immunology - Italian Society for Immunology, Clinical Immunology and Allergology (SIICA)
2001 - FIRC Research Fellowship - Italian Foundation for Cancer Research (FIRC)
1996 - MURST Clinical Fellowship - Italian Ministry for Scientific and Technological Research (MURST)
Research
Our guiding principle is:
"Considerate la vostra semenza,
nati non foste a viver come bruti,
ma per seguir virtute e canoscenza."
- Dante, Inferno, Canto XXVI, 118-120
The three major research interests of our laboratory are:
a) Discovery of biomarkers that are predictive of tumor response to anti-neoplastic drugs, in order to improve therapeutic guidelines and decision-making algorithms for cancer patients (with a special focus on colon, breast and salivary gland malignancies);
b) Application of single-cell technologies (e.g.. single-cell RNA-sequencing) for the analysis of tissue cell composition, with a special focus on the identification and molecular characterization of "cancer stem cells" populations in epithelial malignancies (e.g., colon cancer, breast cancer, adenoid cystic carcinomas of the salivary glands), as well as their normal counterparts in healthy tissues (i.e. stem cells of the intestinal, mammary and salivary gland epithelia).
c) Development of new anti-tumor drugs, designed to have selective toxicity against specific sub-types of human epithelial cells, in order to achieve the pharmacological elimination of specific lineages of cancer cells (e.g., goblet cells in mucinous adenocarcinomas, luminal cells in mammary and salivary gland carcinomas).
We also firmly believe that the value of academic research is not only measured by its contribution to the advancement of human scientific knowledge, but also by the successful mentoring of new generations of young scholars and investigators: https://mentorfirst.org
Research Interests:
Predictive biomarkers in medical oncology
Cancer stem cells
Colon cancer
Breast cancer
Adenoid cystic carcinomas of the salivary glands
Links:
Trainees:
Selected Publications
Wu Z., Trevino A.E., Wu E., Swanson K., Kim H.J., D'Angio B., Preska R., Charville G.W., Dalerba P., Egloff A.M., B., Uppaluri R., Duvvuri U., Mayer A.T. and Zou J. Graph deep learning for the characterization of tumour microenvironments from spatial protein profiles in tissue specimens. Nature Biomedical Engineering, 6:1435-1448 (2022), https://pubmed.ncbi.nlm.nih.gov/36357512
Li T., Akinade T., Zhou J., Wang H., Tong Q., He S., Rinebold E., Valencia Salazar L.E., Bhansali D., Zhong Y., Ruan J., Du J., Dalerba P., and Leong K.W. Therapeutic nanocarriers inhibit chemotherapy-induced breast cancer metastasis. Advanced Science, 9:e2203949 (2022), https://pubmed.ncbi.nlm.nih.gov/36220339
Dalerba P. Estimating the Economic Value of CDX2 as a Predictive Biomarker to Guide Treatment Decisions in Stage II Colon Cancer. Value in Health, 25:382-384 (2022), https://pubmed.ncbi.nlm.nih.gov/35227449 
Raab W.J. Mazzocchi A. Radice P. Sahoo D. Castelli C. and Dalerba P. A microsatellite in the coding sequence of HLA-A/B is a mutation hotspot in colon cancer with microsatellite instability. Gastroenterology, 162:960-963 (2022), https://pubmed.ncbi.nlm.nih.gov/34653421 

Shigeo Hisamori, Junko Mukohyama, Sanjay Koul, Takanori Hayashi, Michael Evan Rothenberg, Masao Maeda, Taichi Isobe, Luis Enrique Valencia Salazar, Xin Qian, Darius Michael Johnston, Dalong Qian, Kaiqin Lao, Naoya Asai, Yoshihiro Kakeji, Vincenzo Alessandro Gennarino, Debashis Sahoo, Piero Dalerba, Yohei Shimono. Upregulation of BMI1-suppressor miRNAs (miR-200c, miR-203) during terminal differentiation of colon epithelial cells. Journal of Gastroenterology, 57, 407–422 (2022) https://pubmed.ncbi.nlm.nih.gov/35244768.
Viragova S., Aparicio L., Zhao J., Valencia Salazar L.E., Schurer A., Dhuri A., Sahoo D., Moskaluk C.A., Rabadan R. and Dalerba P. Phenotypic dissection of epithelial lineages and therapeutic manipulation of differentiation programs in human Adenoid Cystic Carcinomas (ACCs). bioRxiv, posted: January 21, (2022), https://www.biorxiv.org/content/10.1101/2022.01.19.476843v1
Dalerba P., Bruce Levin , John L Thompson. A Trial of Lopinavir-Ritonavir in Covid-19. N Engl J Med. 2020 May 21;382(21):e68.
Bettina Kunze, Frederik Wein, Hsin-Yu Fang, Akanksha Anand, Theresa Baumeister, Julia Strangmann, Sophie Gerland, Jonas Ingermann, Natasha Stephens Münch, Maria Wiethaler, Vincenz Sahm, Ana Hidalgo-Sastre, Sebastian Lange, Charles J Lightdale, Aqiba Bokhari, Gary W Falk, Richard A Friedman, Gregory G Ginsberg, Prasad G Iyer, Zhezhen Jin, Hiroshi Nakagawa, Carrie J Shawber, TheAnh Nguyen, William J Raab, Piero Dalerba, Anil K Rustgi, Antonia R Sepulveda, Kenneth K Wang, Roland M Schmid, Timothy C Wang, Julian A Abrams, Michael. QuanteNotch Signaling Mediates Differentiation in Barrett's Esophagus and Promotes Progression to Adenocarcinoma. Gastroenterology. 2020 Aug;159(2):575-590.
Junko Mukohyama, Taichi Isobe, Qingjiang Hu, Takanori Hayashi, Takashi Watanabe, Masao Maeda, Hisano Yanagi, Xin Qian, Kimihiro Yamashita, Hironobu Minami, Koshi Mimori, Debashis Sahoo, Yoshihiro Kakeji, Akira Suzuki, Piero Dalerba, Yohei Shimono. miR-221 Targets QKI to Enhance the Tumorigenic Capacity of Human Colorectal Cancer Stem Cells. Cancer Res. 2019 Oct 15;79(20):5151-5158.
Mara Roxana Rubinstein, Jung Eun Baik, Stephen M Lagana, Richard P Han, William J Raab, Debashis Sahoo, Piero Dalerba, Timothy C Wang, Yiping W Han. Fusobacterium nucleatum promotes colorectal cancer by inducing Wnt/β-catenin modulator Annexin A1. EMBO Rep. 2019 Apr;20(4):e47638.
Itamar Kanter, Piero Dalerba, Tomer Kalisky. A cluster robustness score for identifying cell subpopulations in single cell gene expression datasets from heterogeneous tissues and tumors. Bioinformatics. 2019 Mar 15;35(6):962-971.
Dalerba P. The dynamic identity of intestinal cancer stem cells. Cell Stem Cell, 20:743-745 (2017). https://pubmed.ncbi.nlm.nih.gov/28575688 
Dalerba P., Sahoo D., Paik S., Guo X., Yothers G., Song N., Wilcox-Fogel N., Forgo' E., Rajendran P.S., Miranda S.P., Hisamori S., Hutchison J., Kalisky T., Qian D., Wolmark N., Fisher G.A., van de Rijn M. and Clarke M.F. CDX2 as a prognostic biomarker in Stage-II and Stage-III colon cancer. The New England Journal of Medicine (N.E.J.M.), 374:211-222 (2016). https://pubmed.ncbi.nlm.nih.gov/26789870 
Cominelli M., Grisanti S., Mazzoleni S., Branca C., Buttolo L., Furlan D., Liserre B., Bonetti M.F., Medicina D., Pellegrini V., Buglione M., Liserre R., Pellegatta S., Finocchiaro G., Dalerba P., Facchetti F., Pizzi M., Galli R. and Poliani P.L. EGFR amplified and overexpressing glioblastomas and association with better response to adjuvant metronomic temozolomide. Journal of the National Cancer Institute (J.N.C.I.), 107:djv041 (2015). PubMed ID: 25739547
Wu A.R., Neff N.F., Kalisky T., Dalerba P., Treutlein B., Rothenberg M.E., Mburu F.M., Mantalas G.L., Sim S., Clarke M.F. and Quake S.R. Quantitative assessment of single-cell RNA-sequencing methods. Nature Methods, 11:41-46 (2014). PubMed ID: 24141493
Dalerba P. and Clarke M.F. Oncogenic miRNAs and the perils of losing control of a stem cell's epigenetic identity. Cell Stem Cell, 13:5-6 (2013). PubMed ID: 23827702
Willingham S., Volkmer J.P., Gentles A.J., Sahoo D., Dalerba P., Mitra S.S., Wang J., Contreras-Trujillo H., Martin R., Cohen J.D., Lovelace P., Scheeren F.A., Chao M.P., Weisskopf K., Tang C., Naik T.J., Volkmer A., Storm T.A., Mosley A.R., Edris B., Schmid S.M., Sun C.K., Chua M.S., Murillo O., Rajendran P.S., Cha A.C., Chin R.K., Kim D., Adorno M., Raveh T., Tseng D., Jaiswal S., Enger P.O., Steinberg G.K., Li G., So S.K., Majeti R., Harsh G.R., van de Rijn M., Teng N., Sunwoo J.B., Alizadeh A.A., Clarke M.F. and. Weissman I.L. The CD47-signal regulatory protein alpha (SIRPa) interaction is a therapeutic target for human solid tumors. Proceedings of the National Academy of Sciences of the USA (P.N.A.S.), 109:6662-6667 (2012). PubMed ID: 22451913
Dalerba P., Kalisky T., Sahoo D., Rajendran P.S., Rothenberg M.E., Leyrat A.A., Sim S., Okamoto J., Johnston D.M., Qian D., Zabala M., Bueno J., Neff N.F., Wang J., Shelton A.A., Visser B., Hisamori S., Shimono Y., van de Wetering M., Clevers H., Clarke M.F. and Quake S.R. Single-cell dissection of transcriptional heterogeneity in human colon tumors. Nature Biotechnology, 29:1120-1127 (2011). PubMed ID: 22081019
Shimono Y., Zabala M., Cho R.W., Lobo N.A., Dalerba P., Qian D., Diehn M., Liu H., Panula S.P., Chiao E., Dirbas F.M., Somlo G., Pera R.A., Lao K. and Clarke M.F. Downregulation of miRNA-200c links breast cancer stem cells with normal stem cells. Cell, 138:592-603 (2009). PubMed ID: 19665978
Dalerba P., Dylla S.J., Park I.K., Liu R., Wang X., Cho R.W., Hoey T., Gurney A., Huang E.H., Simeone D.M., Shelton A.A., Parmiani G., Castelli C. and Clarke M.F. Phenotypic characterization of human colorectal cancer stem cells. Proceedings of the National Academy of Sciences of the USA (P.N.A.S.), 104:10158-10163 (2007). PubMed ID: 17548814
Liu R., Wang X., Chen G.Y., Dalerba P., Gurney A., Hoey T., Sherlock G., Lewicki J., Shedden K. and Clarke M.F. The prognostic role of a gene signature from tumorigenic breast cancer cells. The New England Journal of Medicine (N.E.J.M.), 356:217-226 (2007). PubMed ID: 17229949
Dalerba P. and Clarke M.F. Cancer stem cells and tumor metastasis: first steps into uncharted territory. Cell Stem Cell, 1:241-242 (2007). PubMed ID: 18371356
Dalerba P., Cho R.W. and Clarke M.F. Cancer stem cells: models and concepts. Annual Review of Medicine, 58:267-284 (2007). PubMed ID: 17002552
Dalerba P., Guiducci C., Poliani P.L., Cifola I., Parenza M., Frattini M., Gallino G., Carnevali I., Di Giulio I., Andreola S., Lombardo C., Rivoltini L., Schweighoffer T., Belli F., Colombo M.P., Parmiani G. and Castelli C. Reconstitution of human telomerase reverse transcriptase (hTERT) expression rescues colorectal carcinoma cells from in vitro senescence: evidence against immortality as a constitutive trait of tumor cells. Cancer Research, 65:2321-2329 (2005). PubMed ID: 15781646